by
posted on October 18, 2021
Support NRA Shooting Illustrated
DONATE
Off-body carry is attractive: you just stick your gun in a bag and tote it along with you. You don't have to worry about the inconvenience and discomfort that can come with "dressing around the gun," and it's certainly quick to grab that bag and haul it with you when you're running to the store or out to dinner. However, truly off-body methods come with the danger of putting the bag down and having it easily stolen or lost, not to mention the risk of not being able to easily get to the gun because the bag isn't where we expect it to be.
Fortunately, there's an in-between solution, and one that is getting more options every day: carrying a gun in a bag that is worn attached to your body, so it's harder to lose track of because you don't need to actively hang on to it. The only trick is making sure that the bag looks like it belongs, on you and in your environment.
Since the most common of these solutions is the lowly fanny pack, it can be difficult to accomplish that trick. Given the convenience of not having to wear real pants and a belt, let alone dressing for ideal concealment, though, I'm always on the lookout for ones that can work anyway. The latest of these I've discovered is the HIP Gunner Concealed Carry Fanny Pack, made by Elite Survival Systems (ESS) and retailing at $49.95.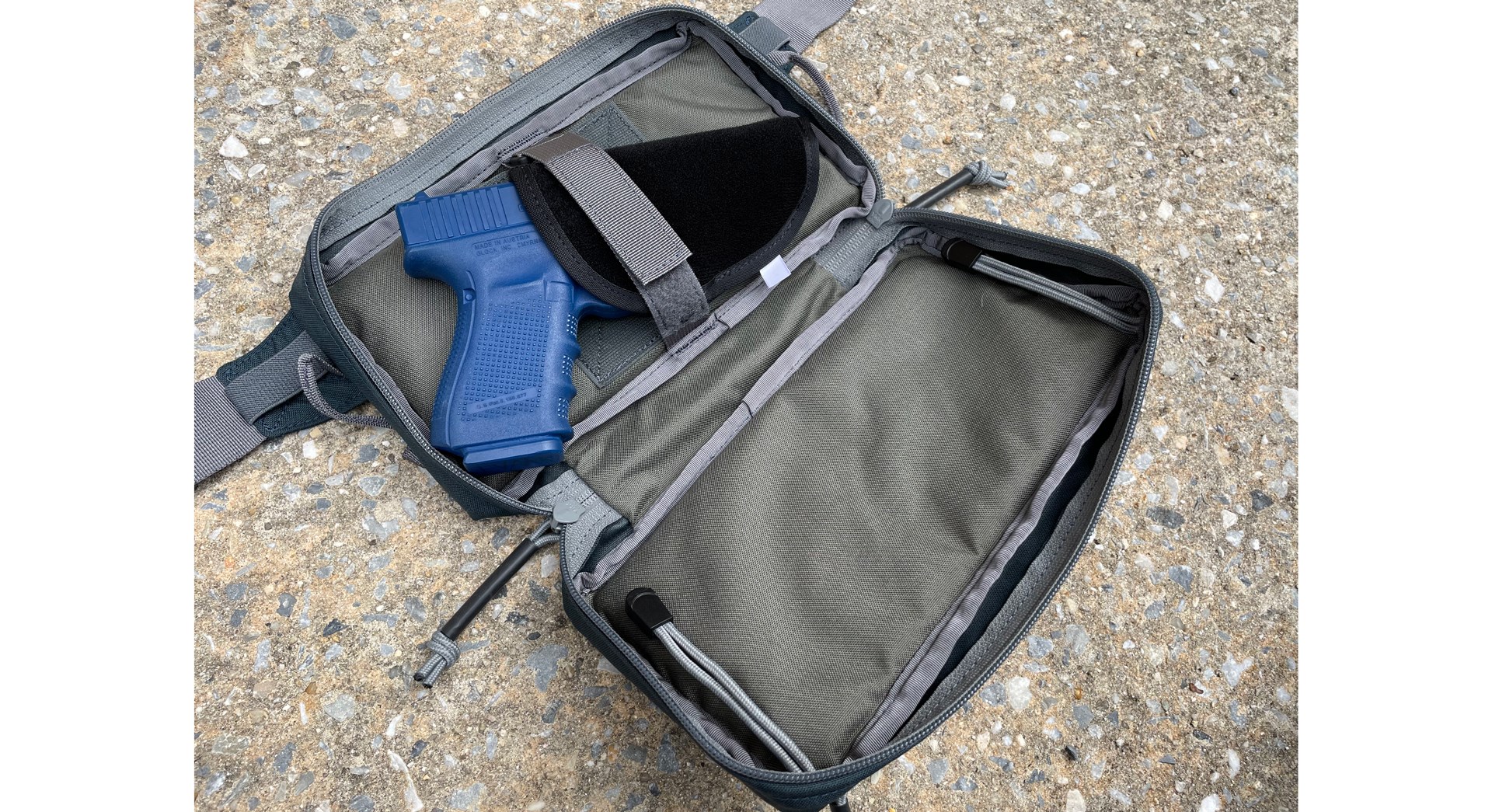 Let's face it: fanny packs, especially those meant for carrying guns, always look either a little bit dorky or a whole lot tactical. In order not to stand out too much, a relatively neutral look is preferred, and ESS does a great job here. This example is their very grayish indigo blue, but black and a lighter heather gray are also available. Branding is subtle and not overtly firearm-related, though the zipper pulls are quite large and stiff.
Since they are simple paracord, it would be easy to modify them to something smaller and more personalized, so not really a big deal if you think they will be too noticeable where you would use the bag. As for attaching the fanny pack to you, the waist strap extends to allow for up to about a 55-inch total circumference. It can be shortened on both ends to allow some flexibility on where the buckle lands, and elastic bands on the strap help neatly corral any excess.
Even though the entire fanny pack doesn't have a large footprint—about 10 inches wide, 5 1/2 inches tall, and 3 inches thick when empty—the available space is used well through two large compartments. The front is roomy enough for a cell phone and small wallet, some snacks, or an individual first aid/trauma kit, any of which can give you a plausible non-gun reason to be using the bag.
The rear compartment is where the gun goes. It has light padding for the front and rear panels, disguising any printing from a gun and keeping that hard metal and plastic from pressing directly against wearer. A mesh backing for the entire pack also helps with comfort, by increasing airflow and wicking away sweat. The gun compartment unzips completely around three sides, and is large enough for a Glock 19 or similar-sized handgun. It has pull tabs inside each upper corner that can be threaded through the opening between the two zipper pulls that close the compartment. By yanking down on a pull tab, the entire compartment opens up so that the gun can be drawn. It's a clever way of allowing for a relatively quick one-handed draw whether you wear the bag around your waist or across your chest, and whether you are right- or left-handed.
ESS includes two soft holsters that work with the fanny pack, by attaching to a hook-and-loop panel at the back of the rear compartment. They work best with subcompact and larger guns, all the way up to a 1911. The panel has a strap that goes around the holster, keeping it securely in place, and you can add the included thumb break straps for extra retention for the gun itself. The holster, strap, and padding combine to protect the trigger well although you can, of course, also use your own hard holster shell with a loop-side panel attached.
Overall, it solves the problem of an off-body bag that can't be easily left behind, in a discreet and complete package that comfortably carry a decent sized gun in a safe and accessible manner. If you're in need of this type of solution, the ESS HIP Gunner pack is worth considering.