The market for large-format pistols is robust and growing. While that simple observation is easily backed up by a quick look at various companies' product lines, the "why" behind this growing popularity is more nuanced. Unless trench coats are your thing, this firearm type is not exactly concealable. Too front-heavy for one-handed use and lacking any rear support as they are stockless, they aren't well-suited for precision fire at carbine distances, either. When chambered in centerfire-rifle calibers, their short barrels result in unpleasantly loud reports and excessive flash when fired in close confines. So, why does it seem as though every semi-automatic rifle manufacturer now offers a scaled-down, pistol version of one of their carbine platforms? The answer is actually fairly simple: Large-format pistols bridge the gap between EDC handguns and full-size rifles.
These mid-size firearms often share the same operating controls, layout and many of the same parts as their parent platforms. Those familiar with the long-gun version can easily make the transition to the large-format pistol form of the same firearm. This firearm class also allows one to reap many of the benefits of a full-power rifle cartridge in a much smaller package. Unlike small handguns chambered in rifle calibers, large-format pistols won't leave you feeling like you hit a steel pole with an aluminum baseball bat each time you fire. With all the instability of modern society, having an easily packable firearm that extends one's defensive range beyond traditional handgun distances seems like smart insurance.
While most large-format-pistol makers simply scale down one of their mainstay rifles, CMMG has done what the company tends to do well: break the mold. It stuck with direct-impingement operation (in two of the three available chamberings), as well as the company's clever naming convention with the Dissent pistol line. However, CMMG managed to do it in a "bufferless" design that shrinks the Dissent down to a much shorter overall length than traditional AR-style pistols.
CMMG accomplishes this feat through the employment of a "Compact Action Direct Impingement" operating system. In its direct-impingement configuration, the Dissent uses a traditional gas tube and carrier key up front, but lacks any receiver extension (buffer tube), buffer or buffer spring behind the receiver. To make this work, CMMG's engineers created a shortened bolt-carrier group (BCG) that rides on twin overhead guide rods within the confines of a higher-than-standard AR upper receiver. Recoil springs on each rod are compressed as the carrier moves rearward along the guide rods, and then send the BCG forward to feed and chamber a cartridge. It's almost as if someone looked at a .22 LR BCG for an AR—which CMMG happens to lead the industry in producing—and decided they were not going to bed until they adapted the same principle to work with centerfire-rifle cartridges.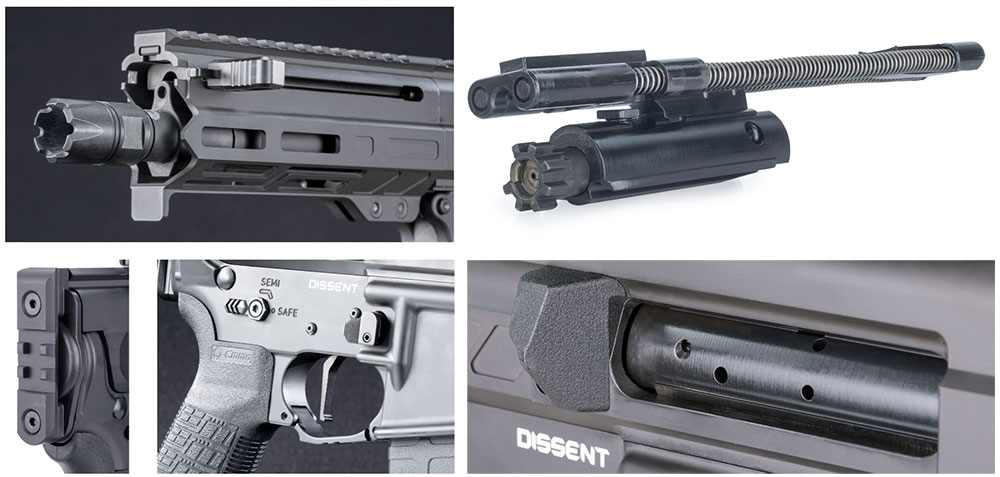 While no buffer tube is present, a Picatinny rail section is attached to a threaded adapter plug in the rear of the lower receiver. Without the rail adapter in place, the back of the Dissent's bolt carrier would protrude from the CMMG upper receiver due to the latter's extended height over a standard lower. This rail section keeps the rear of the BCG safely contained within the upper and allows mounting of a rail-mounted buffer tube, brace assembly or stock adapter (NFA rules apply). Or, to keep things trim, a sling mount can be positioned on this rearmost rail section.
CMMG advertises that the Dissent's upper receiver assembly may be used on any mil-spec lower by switching the rail adapter from the Dissent to the new lower receiver. At the time of this writing, there are no Dissent uppers available for sale, nor can I find any spare rail adapters as an accessory option. I'm not sure why one would choose to go to the trouble of removing the adapter from one lower to install on another, but it's good to know that it's at least possible in theory. I attempted to attach the Dissent's upper to both an LWRCI M6 lower and an Anderson Manufacturing AM-15 lower. The Anderson was a perfect fit, but the LWRCI would not allow alignment of the rear takedown pin. Both were standard mil-spec lower receivers, indicating that some minor fitting may be necessary to make certain lowers work with the Dissent's upper- receiver assembly. 
Field stripping this system is simple. After ensuring the pistol is unloaded, the upper can be "shotgunned" from the lower just the same as an AR by driving the captive rear takedown pin out from left to right. From there, retracting the charging handle will allow the rear portion of the BCG—which retains the dual guide rod and recoil-spring assembly—to slide back out of the upper. You can then grasp it and remove the entire BCG. The carrier is similar to a standard AR model that has been shortened just aft of the firing pin's rear. The gas key is part of a larger assembly, which houses the front ends of the dual springs and guide rods.
The rear portion of the BCG, which retains the guide rods' back ends, can be rotated upward and off each one in turn. The rods will then slide freely out through the front of the carrier, and the springs can be removed from the rear. The left-side guide rod holds the cam pin captive, so it must be removed in order to free the bolt assembly. From there, the AR-style retaining pin, firing pin, cam and bolt come out in normal fashion. Aside from having to scrape and chip away at some seriously caked-on carbon that arrived inside my test sample, the teardown and range-prep process was simple. Reassembly is a simple reverse of the above steps.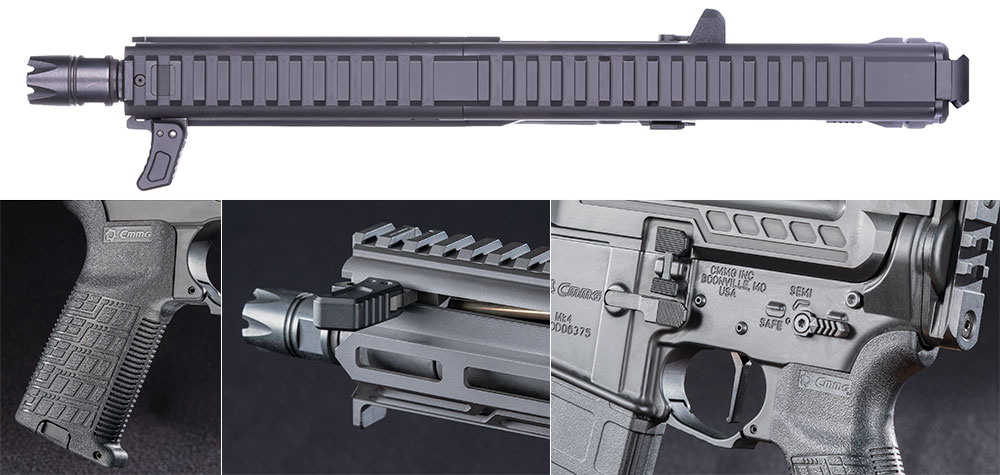 Moving outside to the user interface side of things, the Dissent uses CMMG's "Zeroed" series of components. These include the pistol grip, 60/90-degree ambidextrous selector and extended trigger guard. Fire control is managed through Triggertech's AR-D two-stage trigger, which is flat except for a slight, forward-pointing hook at the bottom. A short, 9-ounce first stage and crisp 2-pound, 9-ounce second stage made for easy manipulation of my test pistol. Oversize, push-button mag releases are present on each side of the lower and a bolt stop with enlarged top and bottom paddles is in the usual AR location.
A non-reciprocating, left-side charging handle rides in a slot in the freefloat fore-end's side. It locks forward via an AR-style latch and does not function as a forward assist. A mirror-image of the charger slot is present on the right side, suggesting that the easily-removable handle can be swapped over. However, the charger itself is intended for the left side only. An optional right-side charger is available from CMMG for $59.95. The side-slotted fore-end is 5.5 inches long and extends the receiver top rail for a total length of 12.25 inches. An integral and smartly-positioned handstop hangs at six o'clock on the forward-most edge of the handguard. While no QD sockets are present on the Dissent, M-Lok accessory slots are available on the handguard's sides and bottom.
The Dissent's medium-contour, 6.5-inch barrel features a pistol-length gas system and nitride finish. Its 1:7-inch twist is appropriate for everything from light target loads to heavy defensive expanders. Although the low-profile gas block is non-adjustable, a linear compensator helps reduce muzzle movement when shooting heavier loads. The comp has aggressive teeth and could double as an effective glass breaker or strike tool in a pinch.
Keeping in line with the large-format pistol's purpose, I tested it between rifle and EDC handgun distances. It comes optics-ready from the factory, so I outfitted my test sample with a small red-dot optic and a single-point, bungee-type sling to help stabilize a few drills. I also decided to forgo any brace attachments for accuracy testing, instead supporting the Dissent on a simple front rest at 50 yards. Even with the lack of rear brace support and the limitations of an illuminated, 5-MOA "plex" reticle, the Dissent turned in groups that are more than capable of dealing with threats out to reasonable distances. In particular, Black Hills' 70-grain GMX load shot very well and gave the best velocity performance out of the Dissent's short barrel.



After capturing on-paper accuracy and muzzle-velocity results with three ammo types, I moved on to a series of practical drills. Starting at 7 yards, I eventually worked my way back to 50 yards. I stayed on my feet out to 40 yards, and then dropped to a knee at 50. In all cases, I extended the pistol as far as the single-point sling would allow, using tension to help steady my position. While not my favorite style of shooting, I nonetheless kept all shots centered on my silhouette targets without any difficulty. 
As a southpaw, I appreciated that the polymer brass deflector kept hot cases out my face. The linear compensator did its job perfectly, directing the short-for-caliber pistol barrel's movement rearward during recoil. Whether off the bag rest or using sling tension for support, my sight quickly returned to target after each shot. The only functional problem I had was a simple failure to lock back on an empty magazine, right after shot number 45. Before and after that, everything ran flawlessly over the course of 125 rounds. 
Overall, the pistol felt good in hand, but I did have some southpaw issues with the controls. I quickly regretted not having swapped sides with the aggressively edged ambi selector paddles prior to shooting. The larger, left-side paddle dug into the base of my trigger finger with each shot, forcing me to alter my grip. Normally, I can get away with leaving the larger paddle set up for a righty, but I'd swap this set were it my firearm to keep.  
Another problem came from the close proximity of the enlarged bolt stop to the left-side magazine release. The bottom of the bolt stop nearly touches the mag release and as a result, I inadvertently pressed the magazine release several times, dropping the mag while locking the BCG to the rear. Lefties—who are blind to the left side of the pistol while in shooting positions—may want to consider swapping either the enhanced bolt stop or the left-side mag release for a smaller, mil-spec version to reduce the chances of hitting both buttons at the same time.
While cleaning the pistol before and after testing, I noticed that a polymer spacer which nests between the BCG guide rods was chewed up on its front corners. Without more testing, I cannot say whether this is from initial wearing-in, or something that will get progressively worse with more use. I couldn't detect a difference between my two cleanings, and the marred piece did not interfere with BCG function. The other observation was really a reaffirmation that pistol-length DI gas systems are as dirty as the day is long. That's not unique to the Dissent, but rather a reminder that when using a firearm with a gas port that's only a few inches in front of the chamber, our maintenance routines need to be stepped up a notch or two. 
In addition to the "Armor Black" Cerakote version that I tested, CMMG offers the Dissent's 7075-T6 aluminum receivers in charcoal green, coyote tan, midnight bronze, sniper gray and titanium finishes. With at least two common caliber choices (5.56 NATO and .300 BLK, with a 5.7x28 mm version also available), fitting this handy pistol into one's bag o' options is less likely to require stocking an additional ammo type, too. Taking the Dissent's many attributes together, it appears to be a reliable and compact firearm that will give its owners another tool with which to be well-defended, should the need arise.