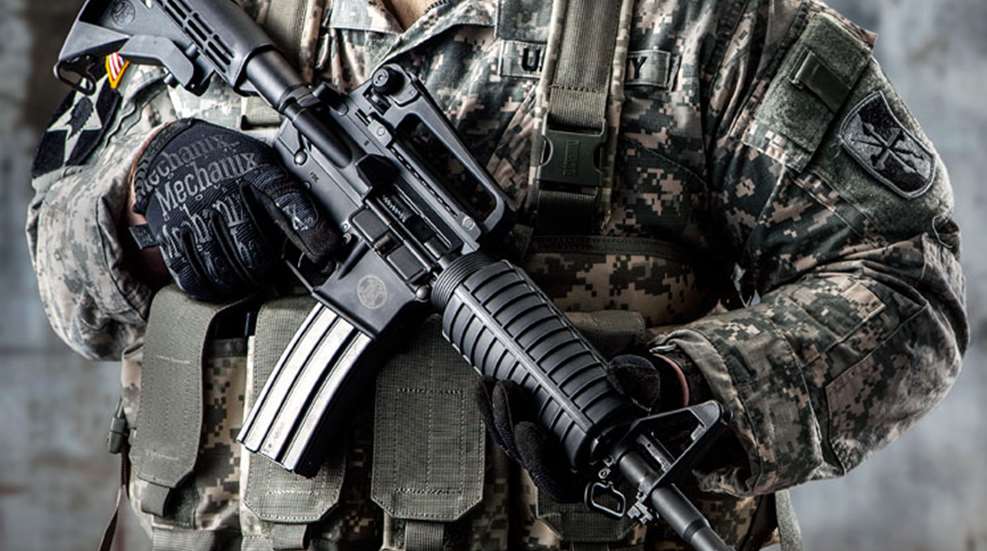 I have a confession to make: Somewhere along the road of building and shooting ARs every day for the past few years, I have become a black-rifle snob. This realization hit me when I was recently asked to take a look at FNH USA's FN 15. I was less-than-enthusiastic, because it is about as plain an AR carbine as you can find on the market today. In this age of free-float tubes, match triggers, premium barrels, high-tech muzzle brakes and modular rails—most of which I strongly advocate—a civilianized M4 carbine does not get more than a passing glance. Thankfully, the old Steve quickly reminded upper-crust Steve that the basic AR carbine is the very platform the vast majority of first-time AR shooters start with, yours truly included. Therein lies the beauty of carbines like the FN 15: they are simple, and they work.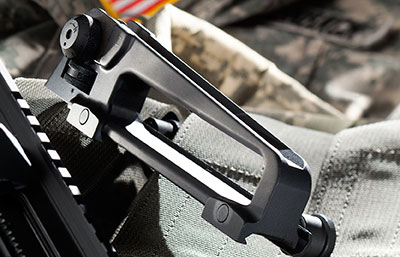 FN Herstal is well-known around the world for its military armaments. The American in-house branch, FNH USA, is also no stranger to the U.S. arms market, and FN has been supplying complete firearms and key components to the U.S. military for many years via FN Manufacturing in South Carolina. Chances are good if you served in uniform during the past couple of decades, you carried FN-built guns or components at some point. FNH USA's firearms wear their "Military Born, FN Manufactured" moniker with justified pride, applying those same principles of quality manufacturing to the civilian market. Occasionally, I use FN's 5.56 NATO barrels in my custom work, because they are extremely durable and well made. I expected my test subject would be a top-notch, basic carbine. I was not let down.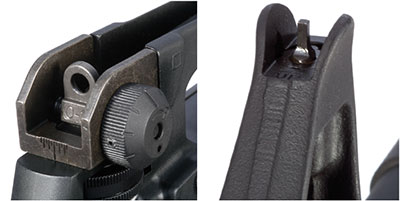 The FN 15 is essentially a 16-inch-barreled, semi-automatic M4 carbine. When I removed my test unit from its corrosion-resistant packaging, I thought FN decided to cut corners by not providing a rear sight for the flattop upper. After complaining about that to my staff (Handloader Steve and Janitor Steve) for a couple of minutes, I noticed one of the small boxes in the shipping container was labeled "Carrying Handle." Well, I am nothing if not hasty to judge. The shipping box also contained a 30-round, aftermarket magazine, cable lock and manual. FNH USA deserves a pat on the back for its execution of the latter item. Many manufacturers include boilerplate manuals that do more to confuse new AR shooters than to help them. The handy, pocket-size FN 15 manual is simple, but filled with info and useful tips from which even a veteran shooter can benefit. 

The FN 15's rear sight is situated at the aft end of the removable carry handle and is a standard, dual-aperture setup. Like its M16A2 and M4 counterparts, the sight is click adjustable for windage and has 100-meter elevation graduations. Front sighting comes by way of a fixed, carbine-height, front-sight assembly. Like most U.S. military front post designs, fine elevation adjustments may be made either with a purpose-built front sight adjustment tool (not included), or the tip of a cartridge, by pressing down on the front sight detent pin and rotating the post up or down. The six-position, collapsible buttstock—complete with not-so-useful military-style sling loop—and the A2 grip will be familiar, while the two-piece, carbine-length handguards are the larger, oval style with a single heat shield under each half.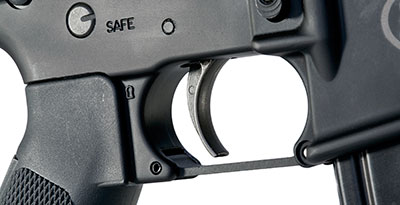 Removing the handguards reveals an M4-contour, 16-inch, chrome-lined 1:7-inch-twist barrel, complete with the turned-down profile required for grenade-launcher attachment—seldom a concern for civilians, but true to the gun's origins. The chrome-lined bolt carrier and standard bolt are both phosphate-coated, with the latter bearing magnetic particle inspection markings. 
Completing the mil-spec feel of this little rifle is a standard, out-of-the-box, single-stage trigger. I am usually horrified by stock triggers to the degree that I have to wear mittens to keep from dropping in better trigger assemblies prior to testing. I had no such urge with the FN 15's unit. Dry-firing revealed a slightly creepy, but otherwise clean-breaking trigger. My scale measured it at 6.75 pounds, which is a good, safe weight and does not feel as bad as it reads once you get used to it.

The only internal upgrade I saw in the FN 15 was an enhanced extractor spring. I have found that although mil-spec AR extractor spring/buffer units work fine when new, they tend to wear out much more quickly than enhanced extractor springs. It is a simple change to the standard 5.56 NATO AR bolt every manufacturer should incorporate.
The FN 15 is built for general-purpose use, just like its battle-hardened cousins, so I did not expect to get precision performance out of it on target. Still, as a numbers geek who tracks all sorts of data points on the guns and components I use in my business, I measured several key dimensions on my test gun to see how it compared to others. The numbers looked good, especially with the throat and chamber areas tighter than most other nonmatch barrels I have measured.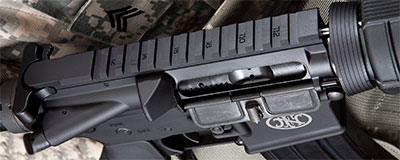 FN claims its AR variants are both accurate and reliable, so I figured I'd test both aspects of the carbine for myself. My one nit-picky complaint popped up during pre-inspection: The bore was filthy. Since the firearm appeared to be new and in a sealed package, I do not think I inherited another gunwriter's range mess. Rather, I think the combination of barrel proof-testing and/or finished carbine-function testing and whatever oil the company uses in the bore resulted in a gunk that took more time to clean than expected on a new gun. It was pure black and thick. Once removed, the bore shone like a diamond in a goat's backside.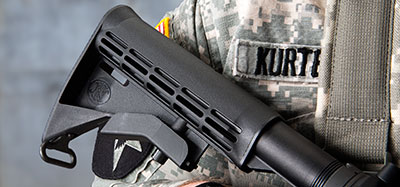 My game plan was to mount my trusty 3-12X test scope, then fire a variety of common 5.56 NATO loads with bullets ranging from 55 to 77 grains that best suited the 1:7-inch-twist barrel. I included an M855 "green tip" variant in the mix, since this carbine doesn't fall far from the mil-spec tree. After the standard five, five-round group tests for accuracy, velocity and reliability at 100 yards, I loaded several 30-round magazines and worked through close-range drills using the FN 15's iron sights from 10 to 25 yards.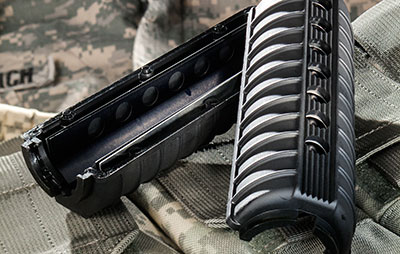 Testing this rifle reminded me there is much to be said for simplicity. The FN 15's light weight, compact size and no-frills controls freed up both brain and body to concentrate on the one thing a rifle like this should do above all else—put rounds on target—and the handy AR did just that without a hiccup through the 200-round event. The acceptable trigger made grouping much less a chore than I expected, and rapid strings were likewise no trouble.
I have tested a number of stock ARs and similarly styled battle carbines over the years, and they do not often show anything akin to accuracy without upgrades. The FN 15 tested was a different animal. While a 1.3-MOA average [for all ammo tested] at 100 yards may not sound all that impressive, it places my test gun far above most others in the "standard-issue" category, including my Army-issued M4s and M16s. Part of my living is made tuning and accurizing rifles for people. I am always a bit apprehensive about signing up to make someone's rifle shoot better, sight unseen. But when my pre-testing results in a 1.3-MOA average—including a 1-MOA average for the best ammo tested—I know I have a rifle that can be tightened up significantly.
If I had a mind to turn the FN 15 into a tack-driver, I would dive in with confidence. My range testing and measurements told me the barrel is as good as I expected from FN. A less-creepy trigger, free-float fore-end and a bit of internal tweaking would be the only upgrades required to appreciably improve downrange performance. But that is Tinkerer Steve talking. Practical Steve says the FN 15 is just fine "as-is" for anything from home defense to a bug-out gun or camp carbine. I am adding it to the short list of basic ARs I recommend anytime someone wants a simple, reliable long gun for general-purpose use.