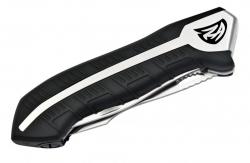 Now, they are introducing the Revelation AMP 3-in-1 Field Dressing Knife and the Revelation AMP Folding Knife.
"A lot of hunters prefer a folding knife," says Howard Tripp, Co-founder and Chief Innovation Officer of Revo Brand Group. "And of course, a lot of game is found and field dressed after dark."
Like other Real Avid knife products, the 3-in-1 folding knife has more functionality than first meets the eye. It includes a blade, plus a bone saw and a generous, oversized gut hook to make field dressing easy and complete.
Features and specifications include:Two super-bright, water-sealed LED lights, batteries includedRazor sharp locking 3.5'' drop point, 440 surgical stainless bladeRazor-toothed locking bone saw with over-sized gut hookRecessed on/off switchLimited lifetime warranty5'' rubberized handle for sure grip with wet handsBallistic nylon sheathMSRP: $59.99
If a single-blade knife is your choice, the Revelation AMP Folding Knife will fit the bill. It features a 3.5", 440 stainless steel drop point blade, a ballistic nylon sheath and a rubberized handle with a liner lock. Overall size is 9" and MSRP is $49.99
About Real Avid: Real Avid is a company that solves real-world problems for hunting and shooting enthusiasts, with original thinking. Real Avid products are inventive, unique in their marketplace, and make people in the field more prepared and capable. Instead of a mass-market approach, Real Avid products are specific to the needs of individuals in their personal outdoor pursuits. Visit www.RealAvid.com for more information and to see the full line of Real Avid products.