When it comes to changing the sights on a semi-automatic handgun, there's a number of ways to do it. You can bring it to a gunsmith — a good number of gun stores have someone on staff who can, at the very least, swap sights for you. Generally, this runs somewhere around $20-30, although it may run as high as $50. If you're only going to do this once, it's the way to go, no question about it. You can chuck the slide in a vise (carefully) and drift the sights out with a brass punch and a hammer, too — although this is not recommended for sights containing tritium vials, as the glass pipes can break. Or, you can buy a dedicated sight pushing tool like the Real Avid Master Sight Pusher.
If you've decided on the last option, there's even more choices to make. Do you get a sight installation tool dedicated to a certain platform, or opt for a more universal fit?

It's a pretty good assumption that one might have more than one brand of handgun, so the broadest application will allow the greatest return on your dollar — why limit yourself to a Glock tool, when you can get one that will change out M&P sights, XD sights and even dovetailed 1911 sights? One of the great features of the Real Avid Master Sight Pusher is the device can be used on a wide variety of handguns, both on the rear sights but also on dovetailed front sights.
Another great feature is in the tool itself. A number of sight tools require them to be placed in a vise, or that the slide upon which the sights are being installed is placed in a vise. With the Master Sight Pusher, the weight of the tool, combined with the rubberized carry handle and Easy Torque handle, make for a supremely solid device that does not require additional stabilization. Once you've secured the pistol slide in the Master Sight Pusher, removing old sights and installing new sights is quite easy — in fact, you're going to want to go slow and turn the handle carefully, because it's not going to require a ton of force.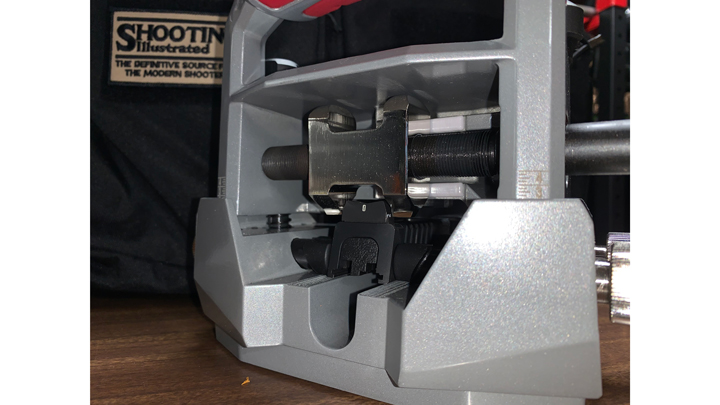 If there's a downside — and it's hard to really consider this a downside — it's that there's a lot required to get ready to change sights. Five total points-of-contact keep the slide firmly in place: there's a vertical stabilizer that prevents longitudinal movement, while two pairs of clamps prevent the slide from moving laterally. Parallel lines scored into the aluminum base help make sure the slide is both centered and in proper orientation for the sight pusher, and with twin clamps it will take a bit of back-and-forth to make sure everything's centered and tight. But, this is a good thing. You're going to want to take your time doing this, not rushing it.
At an MSRP of $149.99, the Real Avid Master Sight Pusher is an investment. Maybe you want to swap out the three-white-dot sights for night sights? Suppressor height sights? Want to get into micro-red-dots and bought a new slide milled for an RMR? Or, maybe you started practicing more and noticed the rear sight started moving in the dovetail. It happens. With the Master Sight Pusher, that's a quick and easy fix.




Sure, you can bring your slide to a gunsmith and have them do it; if you're only swapping sights once that's definitely more cost-effective. However, if you've had to change sights more than once, it's a reasonable assumption that something like the Real Avid Master Sight Pusher will save time and money in the long haul.