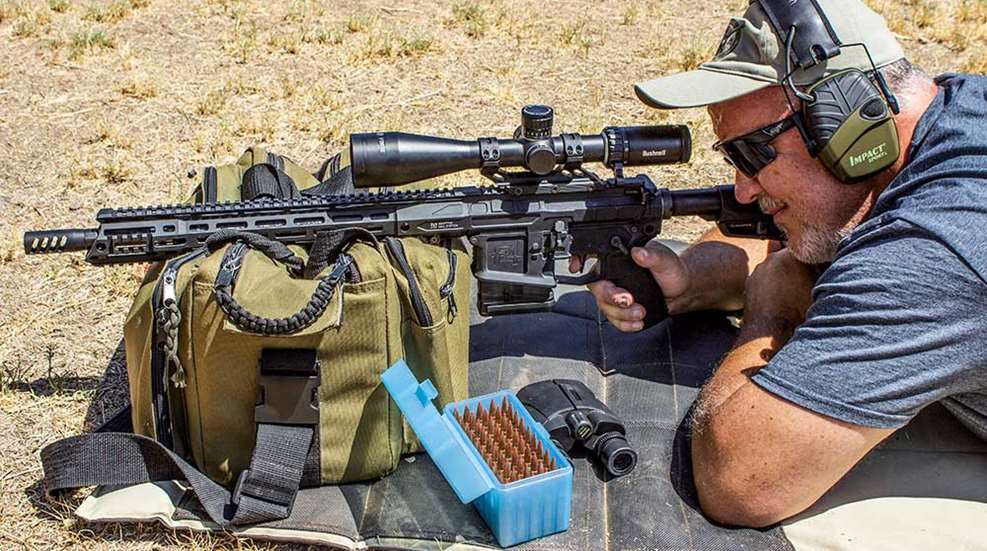 The AR platform continues to be the cornerstone of the American rifle market. This is driven as much by innovation as any other point. Nowhere is this more evident than in the workshop of F4 Defense. The company is a veteran-owned manufacturer of innovative small arms and accessories based in Leonardtown, MD.

The company first got the attention of the gun world with its Adaptive Rail System and has not looked back since. One of its most recent reveals has been an option many people have been in search of for decades: an AR-10-style rifle in an AR-15 size. F4's answer to this challenge is the SF-10 Small Frame AR-10.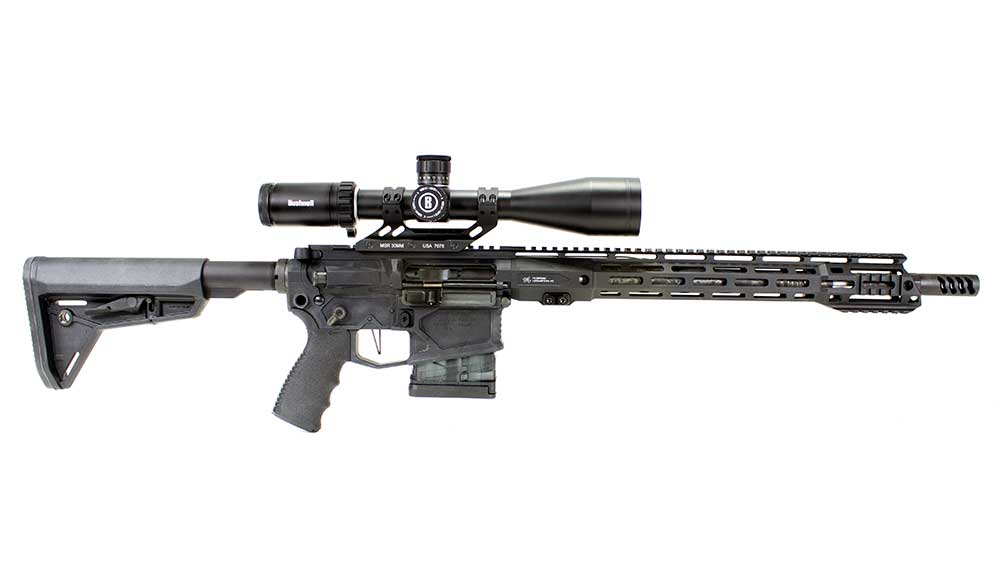 The SF-10 is a DPMS GEN II-compatible small frame AR-10. The SF-10 is a true, small-frame, AR-10 precision rifle chambered in a wide range of competition and hunting calibers. What this really means is that the gun is almost the exact same size as a 5.56 NATO AR-15. Of course, the magwell is different, along with the barrel, but essentially it has the feel of a smaller AR-15 that runs larger calibers. 

One of the major differences besides size and weight is reliability. The old-school, AR-10 design struggles at time to chamber certain cartridges outside of .308 Win. and bullets with shorter overall length. The answer that F4 came up with is a lower bore axis. This improves the overall feed geometry. In traditional AR-10s, the angle the round must achieve to enter the chamber from the magazine can be fairly steep. The lower bore axis on the small-frame AR-10 lends itself to creating a more linear path for the bullet to travel as it's stripped off the magazine.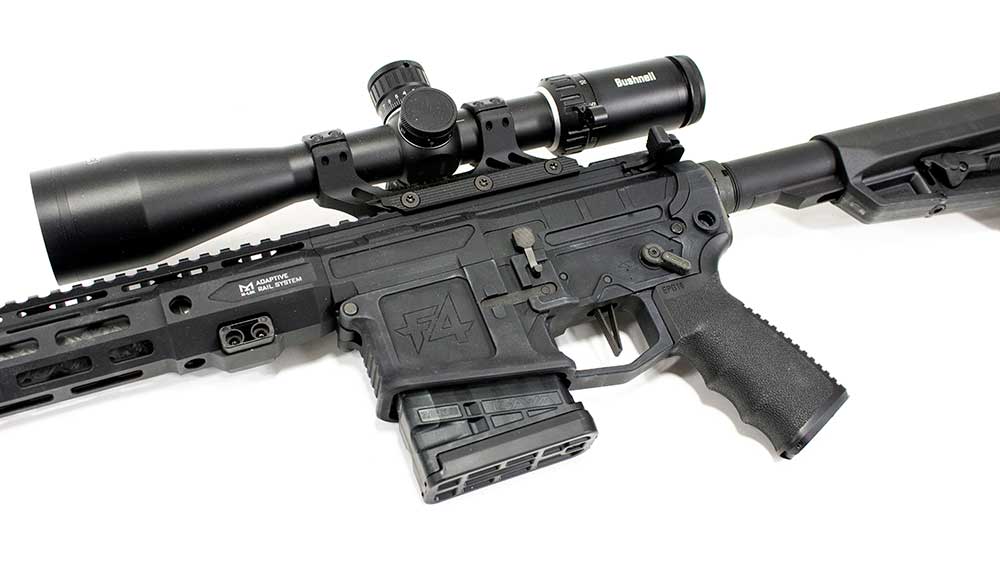 Another benefit beyond more reliable feeding is damage reduction. Damage to the projectile tip is less likely because the travel is smoother. This does matter when we are talking about getting absolute precision out of a rifle. Many times, we see hollow point and ballistic/polymer-tipped projectiles in the high-end, match-grade ammunition world. These projectiles are susceptible to damage during feeding. The more linear and streamlined travel of that projectile in the small-frame AR-10, because of the lower bore axis, results in less damage and more uniformity between shots.
Beyond the interesting geometry incorporated, the SF-10 is a well-constructed rifle. It has a precision CNC-machined receiver made from 7075-T6 billet aluminum. It is available with three barrel options; a 16-inch Proof Research carbon fiber with 1:8-inch twist, an 18-inch Proof Research stainless steel with a 1:1-inch twist and an 18-inch Craddock Precision match, fluted, stainless-steel barrel with a 1:10-inch twist. Trigger-wise you can choose between a TriggerTech Adaptable AR Primary trigger (two-stage) or a single-stage Efltmann Tactical trigger. The list goes on, but what matters more than anything is performance.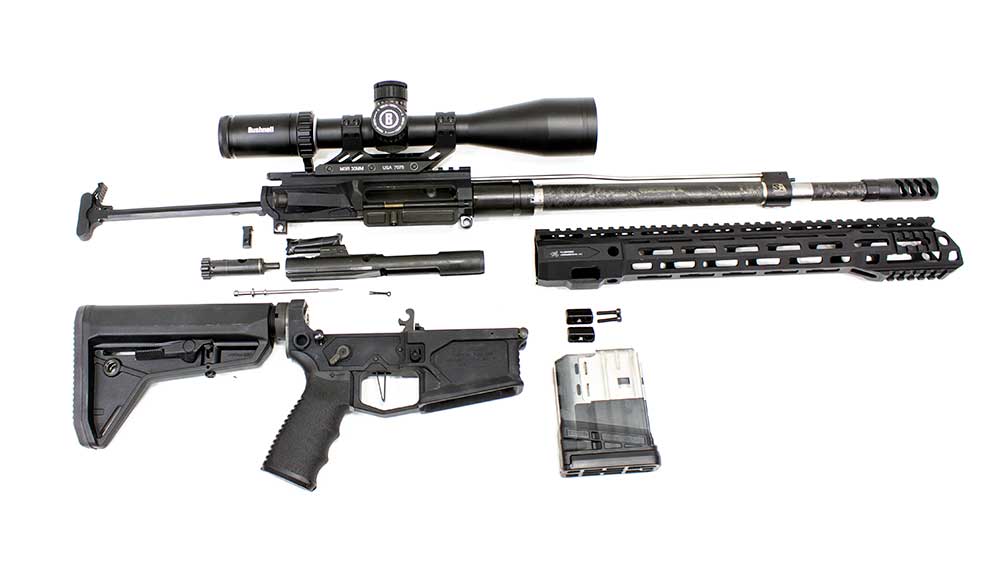 The rifle I received was chambered in .308 Win. with a 16-inch Proof Research carbon-fiber barrel. I topped the gun with a Bushnell Forge 4.5-27x50 mm optic. This is an optic with solid performance and would make a great addition to this good-looking rifle. With a high-end rifle, it is important to run serious ammo. For this early morning Arizona range day, I used Federal 168-grain Gold Medal Match, Black Hills 168-grain Match HPBT and Remington Premier 168-grain Match.

While an AR-platform precision rifle is capable of speed, my focus today was absolutely on shooting very small groups. I benched the rifle using a bag rest and a rear sand sock. Wind was a non-factor on a warm Arizona morning, and after a brief zero confirmation, I went to work.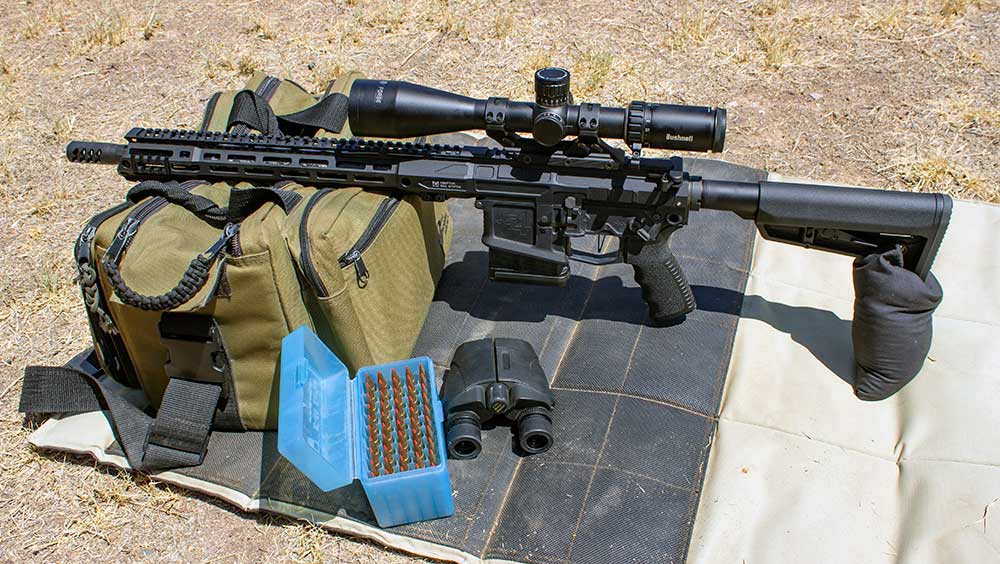 Beyond performance, there are a couple things I noticed with the SF-10. First was the recoil pulse. It is noticeably different than a standard AR-10. There is no major jump in the gun because of reduced weight, and in fact, I felt less recoil than I do on other standard AR-10s. 

The Efltmann trigger broke at about three pounds and was super-clean. I took my time on all of the shots to keep the barrel nice and cool. While it has many benefits, a carbon-fiber barrel does get warm pretty quickly, and I wanted the data to be as even as possible. At the end of the session, I had a tidy pile of brass and some great data.

While each round fed and performed well, the Federal 168-grain Gold Medal Match won the day with a .75-inch group. My average with that load came out to .79 inch. In second place, performance-wise, was the Black Hills match load, which had a best group and an average group size of .80 inch, showing amazing consistency. Still turning in impressive performance was the Remington Premier match load, with a best group of .85 inch and an average group size of .90 inch. All loads were fired with three 5-shot groups at 100 yards.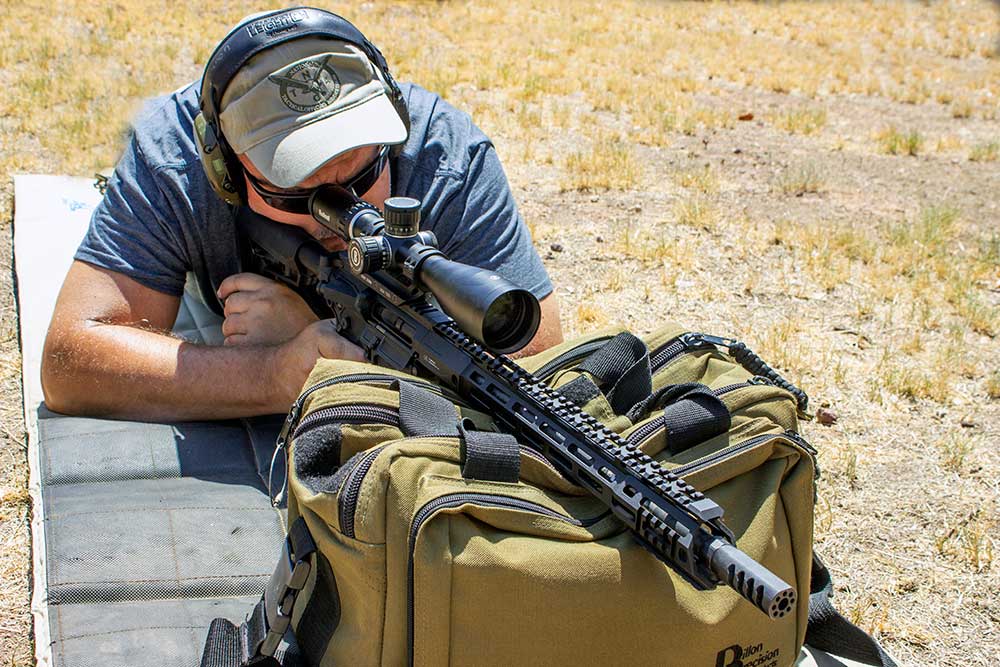 With the development of a reliable, small-frame .308 Win. AR rifle, the dynamics of many things are put into flux. I have long been an advocate for law-enforcement use of a .308 Win. gas gun for a designated marksman team. It is faster between shots than a bolt gun and provides solid accuracy for distances these teams are forced to engage at. However, this rifle would make an exceptional personal-defense gun as well. It is super-close in size and weight to an AR-15, yet it runs .30-caliber rounds.  

If I get to choose what I am forced to shoot a threat with, I would prefer a .30-caliber round. Regardless of what application you choose for it, the F4 Defense SF-10 Small Frame AR-10 is a solid performer and right on par with what we have been getting from F4 since the company's beginnings.   

F4 Defense SF-10 Technical Specs
Receivers: CNC Machined Aluminum Billet 7075-T6

Caliber: .308 Win.

Barrel & Gas System Specs:

16-inch

 Proof Research Carbon Fiber 1:8 | Intermediate

18-inch

 Proof Research Stainless Steel 1:10 | Intermediate

18-inch

 Craddock Precision Match Fluted Stainless Steel 1:10 | Intermediate

Fire Control Group: TriggerTech Adaptable AR Primary Trigger (two-stage) or ELF Match Trigger (single-stage)

Handguard: 15.8-inch ARS-Lite

Selector: Radian Talon Short-throw Ambi Selector

Charging Handle: Radian Raptor (AMBI)

Muzzle Device: APA Little Bastard Muzzle Brake or Seekins Precision ATC

Stock: MFT Minimalist

Gas System: Superlative Arms Adjustable Gas Block

Buffer System: Hydraulic Buffer and Tubb's Flat Wire Spring

Finish:  Type III Class II Anodized Black

Weight: 6.65 pounds (Carbon Fiber), 7.35 pounds (18

″

SS)

Magazines: Lancer L7 AWM (2)