Designs in the high-end precision-rifle market have gone in two distinct directions—heavy precision rifles designed for long-range accuracy and ultra-lightweight models made with maximum portability in mind. At least one rifle company has melded these two into a single product; the Christensen Arms Modern Precision Rifle combines the accuracy and shootability of a heavy chassis rifle with the portability and weight of a flyweight rig.


We tested a Christensen Arms Modern Precision Rifle chambered in 6.5 Creedmoor, a package that weighs in at 7 pounds, 14 ounces. The rifle's light weight is primarily due to the use of innovative materials in its construction, namely carbon fiber. Carbon fiber has been around for decades, but it was Christensen Arms that brought it into the firearm mainstream by using it to create lightweight but stiff barrels way back in 1995. This company already produced carbon-fiber parts for other industries, so the learning curve was less steep than it could have been. Still, the company worked on a prototype for two years before releasing a barrel to the public.

Carbon fiber-wrapped barrels offer three main advantages over traditional steel barrels: decreased weight given similar contours, faster cooling time and increased rigidity compared to barrels of the same weight. In short, carbon-fiber barrels give shooters the ability to save weight while maintaining rigidity and without the wandering point-of-impact of a barrel that heats up rapidly.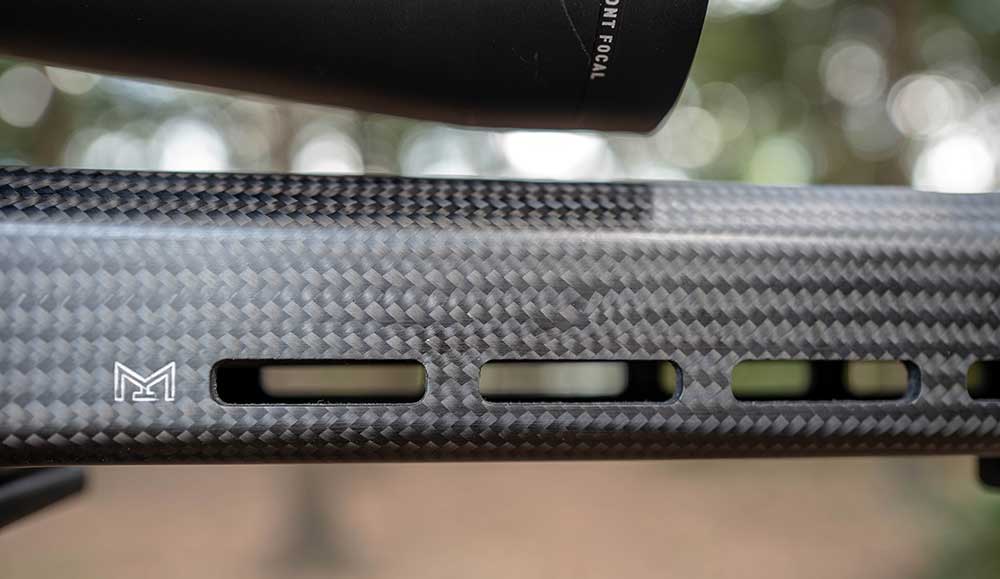 There is a lot of marketing hype when it comes to products in the shooting world and very little unbiased data is available. Fortunately, ballistician Brian Litz tested various aspects of numerous barrels in his book, "Modern Advancements in Long Range Shooting, Volume II." Litz's tests substantiated Christensen Arms' claims and showed that the company's barrels are some of the best on the market (steel or carbon) when it comes to point-of-impact shifting.

Lightweight stocks are nothing new, but the rage in precision shooting these days is using chassis-style stocks, usually constructed of aluminum. While these stocks offer plenty in terms of adjustability, modularity and stability, many of them are heavy. This is where the Christensen Arms Modern Precision Rifle shines: its folding, fully-adjustable chassis-style stock is both functional and extremely light. The chassis is constructed of 7075 aluminum but the free-floating fore-end and cheekpiece are built from weight-saving carbon fiber.

The stock is adjustable for both length-of-pull and comb height, so it can accommodate different shooters as well as optics of varying sizes. With the push of a button, the stock folds forward and locks onto the receiver area with a powerful magnet, cutting the overall length down to 34 inches for travel. The fore-end is M-Lok compatible and also features a short Picatinny-rail section at the forward 6 o'clock position for mounting a bipod. Six QD/flush-cup sling mounts are available at various points on the stock.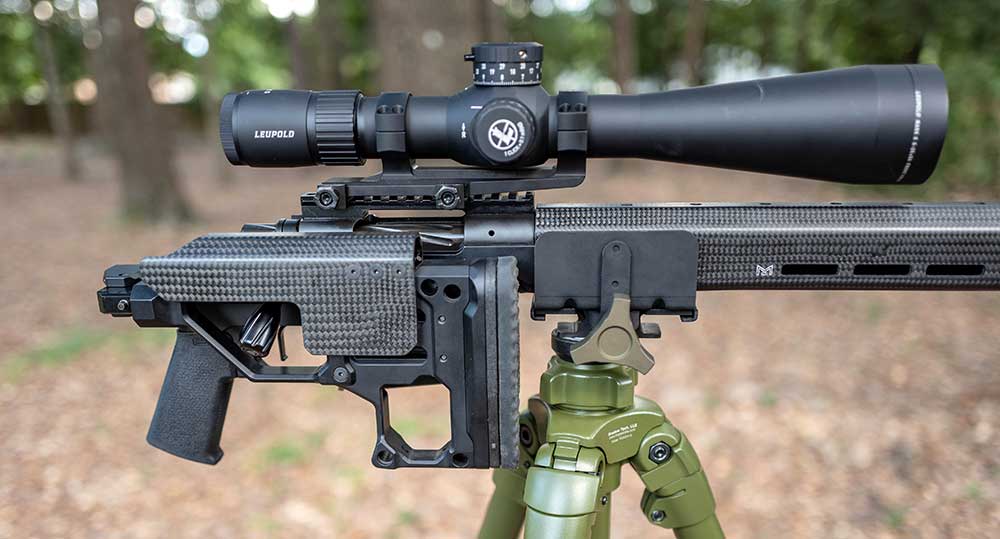 One main component on this rifle is built from steel and that is the Christensen Arms Model 14 action. This round-body, push-feed action is built on a Remington-700 footprint but with tighter tolerances than anything you'll find coming from Ilion, NY. I've toured the facility where these actions are built, and the dedication to precision is second to none. The bolt is fluted, the handle is skeletonized and features an oversized bolt knob. The extractor is an M16-style and magnum calibers feature dual ejectors.

Both the action and bolt are black nitrided, which makes them smooth to run and just about impervious to the elements. When working the bolt on this rifle, it immediately apparent how well-built this rifle is. The action is fed via an AICS-compatible magazine and a Magpul unit ships with the rifle. The modular nature of the chassis allows for the use of any AR-pattern grip and the Magpul MOE is standard. A large, easy-to-manipulate magazine release sits at the leading-edge of the triggerguard.

The 2-pound flat trigger was my favorite feature on the Christensen Arms Modern Precision Rifle, since it consistently broke with no discernable take-up or creep. I found the trigger to be extremely-conducive to precision shooting both from the bench and from supported field positions. The safety is a standard Remington style that sits just to the right of the bolt shroud and the receiver-mounted bolt stop makes bolt removal painless.

The 22-inch button-rifled barrel is constructed of 416 stainless steel and nitrided before being carbon-fiber wrapped. The 1-8-inch twist should stabilize any 6.5 mm bullet that will fit inside the magazine. It is of a fairly-thick taper, since adding dimension doesn't mean a big jump in weight, and it measures 1.915 inches at its narrowest point. The barrel is threaded 5/8-24 TPI at the muzzle and is equipped with an eight-port, adjustable, stainless-steel baffle brake. This brake does an excellent job in eliminating recoil but, like all brakes, does increase muzzle blast and noise.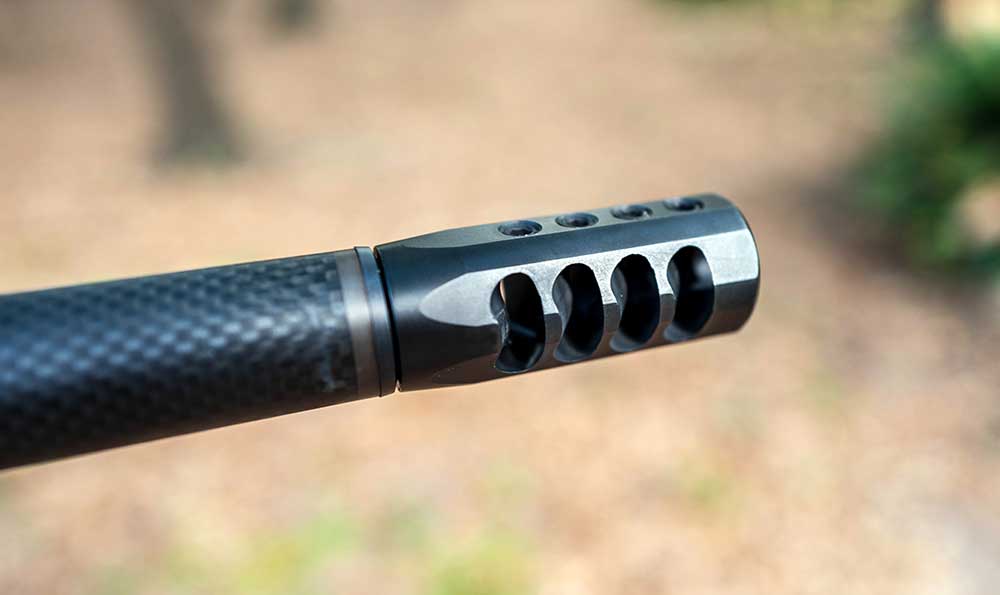 We mounted Leupold's new Mark 5HD 5-25x56 scope to the Christensen Arms Modern Precision Rifle using a 35 mm mount and the 20-MOA Picatinny rail that came with the rifle. I tested this rifle extensively over a period of several weeks using two of the most-accurate factory rifle loads on the market: Hornady's 140-grain ELD-M Match and PRIME Ammunition's Match+ 130-grain OTM.

Both loads shot consistently well in this rifle and our example shot far better than the sub-MOA standard that Christensen Arms advertises. Three-shot groups with the Hornady load averaged 0.59 inch at 100 yards while the Prime average was 0.51 inch. We shot the rifle from various positions out to 500 yards and found that it maintained the same 0.5-MOA groups downrange we were able to achieve at the 100-yard line. Beyond accuracy, this rifle performed with 100 percent reliability and met every reasonable expectation that we placed upon it.

Thanks to a stock that was adjustable to fit comfortably and a very effective brake, recoil was minimal. With light recoil, a great trigger and a fantastic optic, the Christensen Arms Modern Precision Rifle was lots of fun to shoot. The rifle balances just under the front guard screw and has an overall weight that is light enough to be handy while heavy enough to be stable. There aren't many rifles on the market that could do double-duty on the Precision Rifle Series circuit and on a back-country mountain hunt, but this one fits the bill.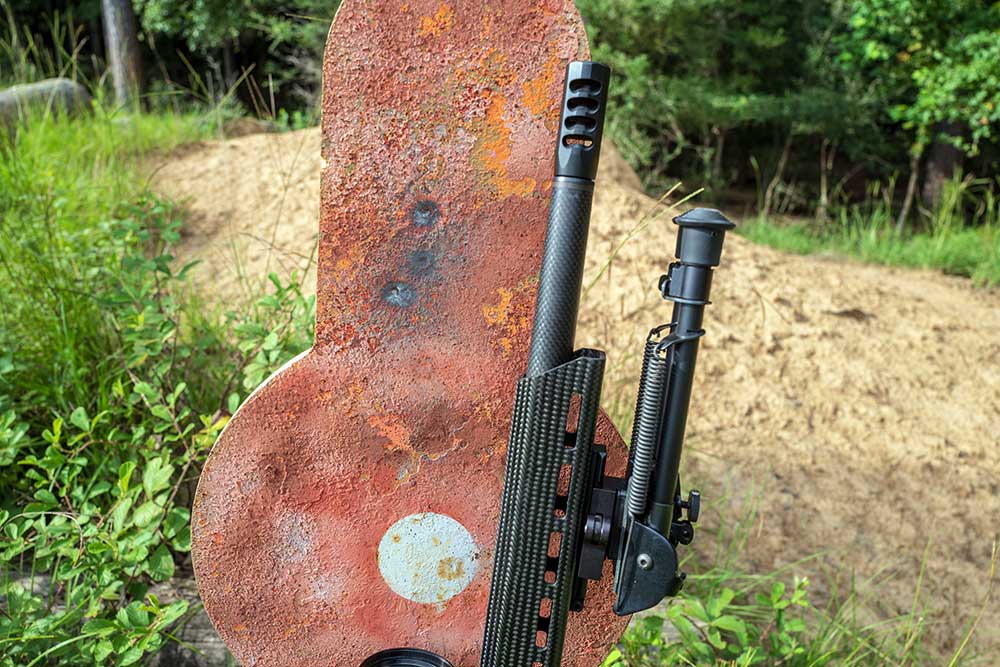 The Christensen Arms Modern Precision Rifle is available in several chamberings, including 6.5 Creedmoor, 6.5 PRC, 308 Win., 300 Win. Mag. and 300 Norma Mag. Barrel-length options range from 16-27 inches and weights vary according to caliber, action size and barrel length. Our short-action test rifle retails at $2,295 which, admittedly, isn't an everyman price, but there is a great deal of value packed into that cost.

This is a rifle that couldn't have existed just a few years ago but, thanks to innovative materials, quality machining and some imagination, Christensen Arms has developed a rifle borrows the best elements from long-range competitive shooting, lightweight mountain hunting and tactical precision-rifle shooting into a capable and portable package. Add in the optics and ammunition that we have available to us and all you have to do is bring some skill to the table. You still can't buy that.

Specifications:

Christensen Arms Modern Precision Rifle
Manufacturer: Christensen Arms
Caliber: 6.5 Creedmoor (Tested)
Action Type: Bolt-action repeater
Capacity: 5-rounds, accepts AI-style magazines
Barrel: 22-inch carbon fiber-wrapped stainless, threaded 5/8-24 TPI
Rifling: 4-groove 1-in-8inch Twist, Right Hand 
Sights: 20-MOA Picatinny rail for scope mounting
Trigger: Single-stage adjustable, 2.0 pounds
Stock: 705 Aluminum and carbon fiber folding chassis-style
Length: 42.5 inches (Adjustable)
Weight: 7.87 pounds
Suggested Retail Price: $2,295