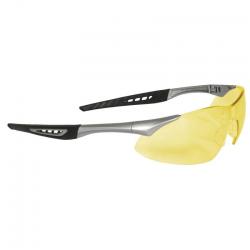 When fogged lenses cause a missed shot or compromise good shot placement, it's very frustrating and can quickly turn a good hunt into a bad hunt.
Radians understands that hunters and shooters don't want to miss a shot due to sudden temperature shifts that make glasses fog. As part of their anti-fog arsenal, Radians recently introduced a large selection of X-Treme Anti-Fog shooting glasses in innovative styles and lens colors as well as traditional favorites to suit any need.
The primary feature of the new line is the X-Treme Anti-Fog coating. This hydrophobic coating creates a sheeting action where the water quickly slides off the surface of the lens, without impairing the user's vision. Both sides of the lenses are dipped into the coating and then heated to cure the coating to the lens. Safety glasses with a cured anti-fog coating, such as the Radians X-Treme brand, are safer than spray-on applications, which require hunters to remove their safety glasses during the application process thereby exposing their eyes.
All Radians X-Treme Anti-Fog Shooting meet or exceed ANSI Z87.1+ standards and are available in a variety of styles and lens colors, such as Clear, Amber, and Smoke. Included in the Radians' family of X-Treme Anti-Fog Shooting Glasses are the:
Rock™ MSRP $14.99
Origin™ MSRP $17.99
Barrage™ MSRP $14.99
Journey™ AP Camo MSRP $12.99
Women's Shooting Glass MSRP $15.49
Revelation™ MSRP $14.49
Outback™ MSRP $11.49
Hunter™ MSRP $7.49
For more information on Radians X-Treme Anti-Fog Shooting Glasses or our vast selection of personal protection products, visit www.radians.com or call 1-877-723-4267.