When I built my first precision AR-15, about ten years ago, I wanted to go all-out and use the best mount money could buy. Previously, I had gotten by with whatever the big-box store had in their hunting department, and that had always served me relatively well. I say "relatively" well because there were occasions when I would discover that the contents of my trunk have shifted, only to put weight on my optic, snapping the mounting hardware in one place or another. I've also grown to regard those rings and mounts as "one-time-use" items, as the screws or threads would often strip as I torqued them down. Shortly after a friend of mine introduced me to Warne Scope Mounts and I haven't looked back since. 
Well, maybe that's not entirely true. While I still have that original mount and have taken it off and reinstalled it on numerous projects I sometimes wonder if I bought more mount than I needed. I mean truth be told eight cap screws aren't needed to hold a scope tight enough to stay put under .223 recoil, especially with a brake installed. Also, if that friend weren't world-class rifle shooter Kelly Bachand, I probably wouldn't have gambled the $140 on a mount that was so exclusive only top shooters have ever heard of them. Warne isn't oblivious to this rationale and during recent years they have been working on the development of a line of high-quality options designed to get Warne products in the hands of more shooters. The project's goal was to produce sleek, slim gear to satisfy the needs of the everyday shooter fielding everyday gear. That line was introduced at the start of 2020 and is appropriately named – Vapor.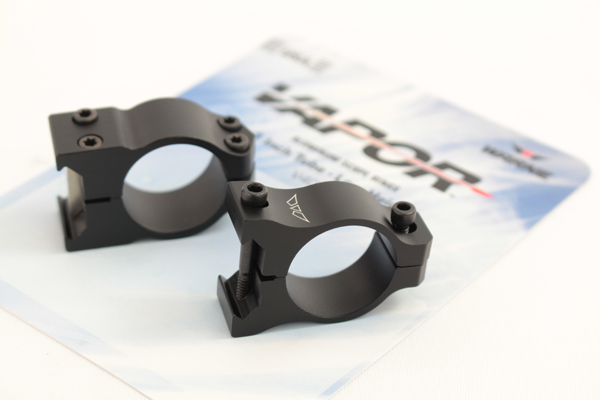 Warne's Vapor gear is unique for an entry-level line from such a high-end manufacturer. For starters, it is actually made by them, as in the same US facility, on the same machines that make their premium lines. In this world of "new and improved," that low-cost addition is usually forged from inferior metal. No, these are the real deal and the cost-cutting measures are actually very smart and easy to swallow. For starters, they simplified the line only to include the most popular tube sizes, 1-inch, and 30mm. Having fewer SKUs to keep up with means longer production runs and in turn more supply. Availability offsets the supply/demand balance in the buyers' favor and drops prices. On the same token Warne simplified the design lines to crank out more of them and in turn, got the price down to nearly half of that of the next level up. 
The Vapor line consists of two-piece base sets, two-piece ring sets, and one-piece MSR mounts. Viewing the MSR mount made it very easy to see exactly what Warne was looking to accomplish. Thanks to the new line it now has that three-tiered product line up that every business goes after with Vapor being good, XSkel being better and Skyline being best. When you compare the new Vapor MSR mounts to the next step up you'll notice that they are still built from a solid piece of aluminum, except in the Vapor's case it is 6000 series metal instead of 7000 series. The slightly softer metal is a little less expensive and faster and easier to cut, again helping to speed production. Also, the buyer can have the Vapor MSR mount in any color that they want, just so long as it's black (to quote the late Henry Ford). This limited color selection is also part of the price reduction suite. Finally, the Vapor MSR mount has four cap screws to the Xskel's eight. While the XSkel uses some heavy-duty nuts to allow a torque rating as high as 65 in/lbs., the Vapor's simplified cross-bolt system is only rated to 25 in/lbs. So, what does that mean? That means that under 6.5 Creedmoor recoil even 300 rounds didn't change the zero. Pretty specific example you say? Well, that's where I tested it to, and it's still going strong on that rifle under commercial use. Now I understand that the Vapor might not be up to the task of getting dumped aggressively into a barrel on a 3-gun stage or handle getting rolled around in the bed of a pickup truck but the gun it is on is never going to see service like that.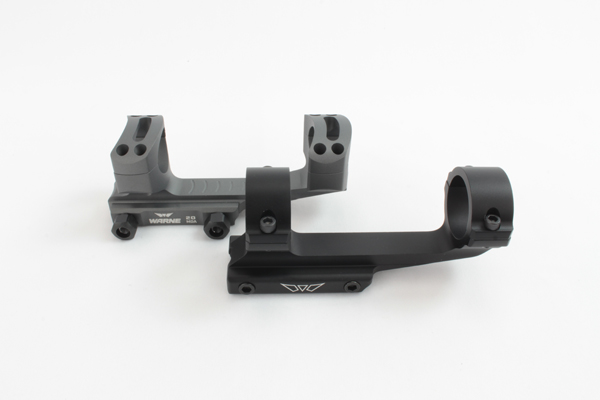 While the lower-cost MSR mounts are Warne's biggest news, the Vapor line also brings Warne's signature vertical scope rings to that new demographic of shooters. Vertical rings carry the advantage of an unobstructed view of the windage and/or parallax knobs and significantly ease the leveling process during installation. Aluminum construction and a simple two-screw design are mainly responsible for the price reduction. Also aiding the price point is the elimination of the steel insert by instead making the cross screw serve double duty. We have tested these on a lightweight Savage 110 chambered in .30-06 Springfield and they seem to be doing just fine. The lightweight rings also made the gun a touch easier to balance offhand and with the inherent light use of a seasonal hunting rifle, I don't see any reason to change them back to their more costly counterpart. 
Warne set out to build an affordable mounting solution from the turrets down to the receiver. This company has gone out of their way to make sure that every shooter can mount a scope to their rifle without having to resort to inferior equipment and blow the hunt of a lifetime, or even just have to cut their range time short due to a very easily avoided failure. For more information visit Warnescopemounts.com