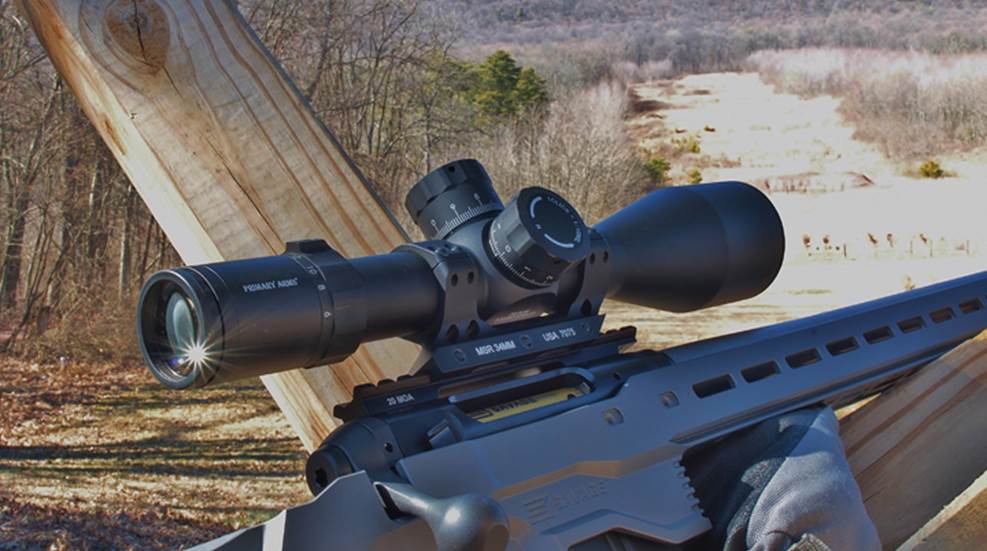 Texas-based Primary Arms is best known for its selection of affordable parts and accessories for popular modern sporting rifles. Along with a plethora of other firearm platforms, somewhere towards the bottom of their extensive product offerings sat their "house brand" scopes. These scopes were known to be pretty decent and did a terrific job of getting folks up and running when budget was a concern. Well, as optic manufacturing processes have improved dramatically in recent years, Primary Arms took advantage of this phenomenon and launched a brand new line named the Platinum Series. As the name implies the Platinum Series of optics incorporates the best modern features of today's optics but in traditional PA style by costing much less than you would expect. We had our first exposure to these Japanese-made optics at the 2020 SHOT show and were impressed enough to request two samples for a hands-on product review. 
The two scopes that we requested were of the PLx5 6-30x power class. Both optics were identical in function except for one important and arguably defining feature, the reticle. On the simplest side of things, I asked for the standard Mil-Dot configuration, as it would give me the best opportunity to critique the glass itself. On the other side of the spectrum, I picked the version with the ACSS Apollo 6.5/ .224V reticle designed for bullet drop compensation (BDC) out to 1,000 yards, more on that later. We set both optics into a one-piece mount. Being that we planned on doing a lot of dialing with the Mil-Dot version we went with an American Defense Manufacturing 20 MOA QD mount to make sure we had enough adjustment to reach out to a grand. For the ACSS scope, we went with a "flat" one-piece Weaver mount, as we weren't planning on dialing at all. Our test rifle was to be a Savage Elite in 6.5 Creedmoor, as it has proven to be sub-MOA accurate with ammunition that it likes. This platform also utilizes a Picatinny rail, making a scope swap at the range relatively effortless.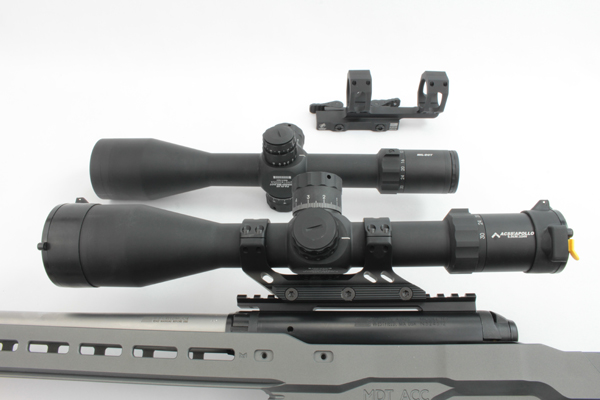 I took a ride to central Pennsylvania to the Mifflin County Sportsman's Association where we have a 1,000+ yard range with berms at every 100-yard increment. Here I placed paper at the 100-yard mark to zero and set steel at 300, 500, 700 and 1,000 yards. We started our evaluation by zeroing the Mil-Dot scope right on for a 100 yard zero. After centering a one-hole, three-shot group I reset the turrets by loosening the hex screws and rotating them back to zero. Now with the ability to keep track of my zero I "ran the hill" and scored first or second round hits on each of the four targets that I had placed. I did this using the dope that I have confirmed with a previously mounted optic (one that cost nearly three times the PA optic). This told me that the clicks were indeed true and consistent. I had no problem dialing up to 1,000 yards and even had plenty of adjustment to spare, largely due to the 20 MOA base, but also the oversized 34mm main tube. The high-end Japanese glass coupled with 30x magnification allowed me to spot my own impacts out to 1,000 whether they were in the dirt or on the steel. The parallax knob was right on the money as well, as opposed to many scopes that use those numbers as a mere estimate.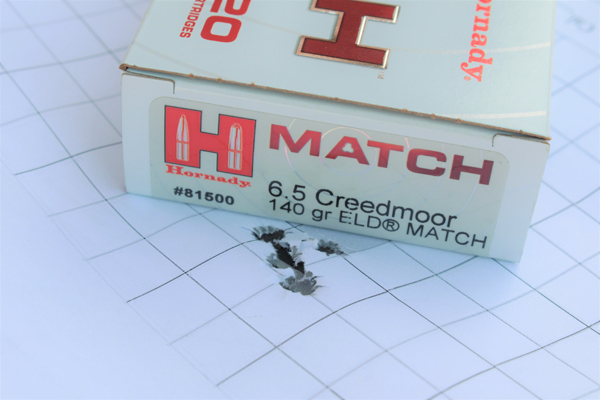 Satisfied with the Mil-Dot version, we swapped it out and put on the ACSS variant. Now, it's no secret I am not a fan of BDC reticles. If you have ever plugged numbers into a ballistic calculator, you are well aware of the factors that will affect an impact's elevation. That being said, how can you boil it all down to some arbitrary hash marks? Well, the optics industry has taken note of this and BDC reticles are getting more and more thought put into them before they go to market. The ASCC Apollo 6.5CR/ .224V reticle is the latest embodiment of that statement and I liked their approach. For starters, they shrunk down the cartridges that it will work with, and that is either 6.5 Creedmoor or .224 Valkyrie. Both these rounds have similar ballistic curves so it just made sense. Second, the scope comes with a selection of charts that takes your cartridge, bullet, velocity, and elevation into account and then gives you a zeroing solution to make sure that the BDC will work properly. The chart included Hornady's 140-grain ELD Match 6.5 Creedmoor round and the 143-grain ELD-X factory load with a velocity spread to also factor in how fast they leave your particular barrel. We started with the Match offering, as results have always been good with that round. The chart told us to zero .5 inch high with this ammunition so we did just that. We didn't bother to reset the turrets because we had holdovers all the way out to 1,000 yards.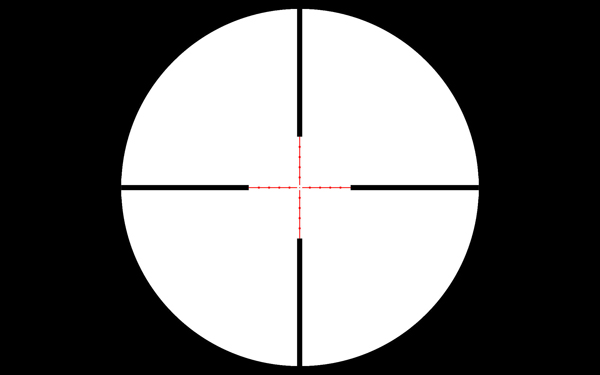 Just like the Mil-Dot version, this was also a first-focal-plane reticle, allowing the BDC to work at any power. With that knowledge I cranked the magnification up and sent a round at the 10-inch gong that sat 300 yards out. It connected nearly dead center. Satisfied, I moved up to our 66-percent Champion IPSC Target at 500 yards and placed two rounds on steel at rapid succession, again using solely the ACSS holdover mark. At 700 yards I engaged a piece of club steel that measured 12x18 inches and again was able to connect with three out of 4 rounds, I blame shooter error on the missed round. The final test was our full-sized Champion IPSC at 1,000 yards. This target measures 18x30 inches tall. We built our 2x4 stand to support it so would stand exactly 5 feet, 10 inches to check out the ranging ladder on the top right quadrant of the reticle. This was created to range targets that are of these specific dimensions and we found that they lined up exactly as they were supposed to. After judging wind (or the absence of it) I held the left edge and landed a round on the bottom portion of the target. A second round was closer to the center, maybe about 5 inches from the bottom edge. My third shot missed, but that was largely wind-related as a decent gust picked up and I chose to ignore it. Again satisfied with my results I worked my way back down the hill and engaged every target again with no more than the reticle and enjoyed hit after hit.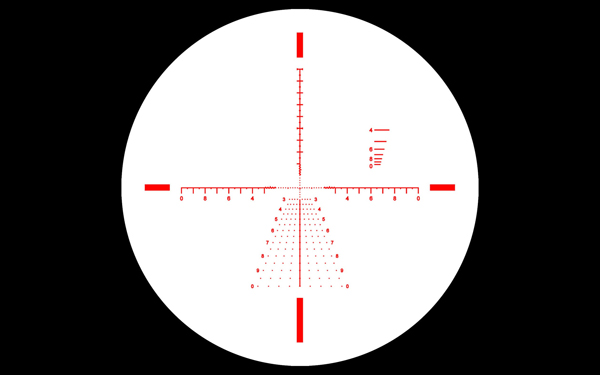 We repeated the same test with the 143-grain ELD-X rounds, but they required a 100-yard zero that was one full inch high. Just like the 140's they matched right up with the BDC holds, however they didn't group as consistently as the match offering, which is to be expected. All in all, I wouldn't hesitate on using them to harvest medium-sized game at extended distances, especially since I confirmed that the BDC does indeed work. I finished my testing by checking each scopes' repeatability. To do so I picked a spot on my old target and fired two shots to start a group, then spun the elevation turret through its entire range ten times followed by the windage turret and fired another two rounds. At the end of it all, I had a four-shot, sub-MOA group. After a cooling period, we put the Mil-Dot version of the scope through the same test and achieved the same results, simply amazing.
Overall I'd say that Primary Arms has a winner here. Delivering a 6-30x optic with clear Japanese glass and precise, consistent internals for $1,500 is certainly a feat, but doing it with a BDC reticle that actually works is just plain incredible. I would love to take the ACSS out on a prairie dog hunt, where the action is so fast dialing isn't always an option. Those that like to do their own math would be very happy with the plain Mil-Dot version for sure, as it has everything you need to figure distance and hold "the old-fashioned way".