If you're reading Shooting Illustrated, you're probably at least a little concerned with security. After all, we review firearms designed for personal protection and provide training tips to help keep you safe. Therefore, you will definitely want to learn more about the Lockdown Puck.
Lockdown is a new subsidiary of American Outdoor Brands, the parent of Crimson Trace, Caldwell, Tipton and a host of other brands in the shooting industry. But, Lockdown is unlike any of the others, as it is wholly a tech company. Its latest product is the Puck, which is a 3.25x3.25x1-inch (length, width, height) device you can place or mount almost anywhere. It can monitor motion (of the device itself), temperature and humidity and send alerts to your phone via a free and secure app.
That description may sound rather bland, but having had a few weeks to test the Puck, I can tell you the product is well worth its $109.99 MSRP. For one, the app is well designed and extremely easy to navigate. It is also secure—accessing the app and therefore the settings of the Puck itself is password protected and you can make it require you to log in every time you open the app (this is the default setting). It, like many other apps, will also allow Touch entry using the fingerprint scanner on your phone if you choose to enable that feature.
The Puck itself is unobtrusive and can be mounted to a door via the included plate and screws, along with the included magnetic sensor to detect when a door has been opened. Not only will the Puck unit issue an audible (and annoying) alarm when the door is opened, it will also alert your phone so you'll be aware of the breach wherever you are at the time. And the door need not be a structural one. The puck can mount to a safe, a humidor—anything that opens—and provide the same level of notification.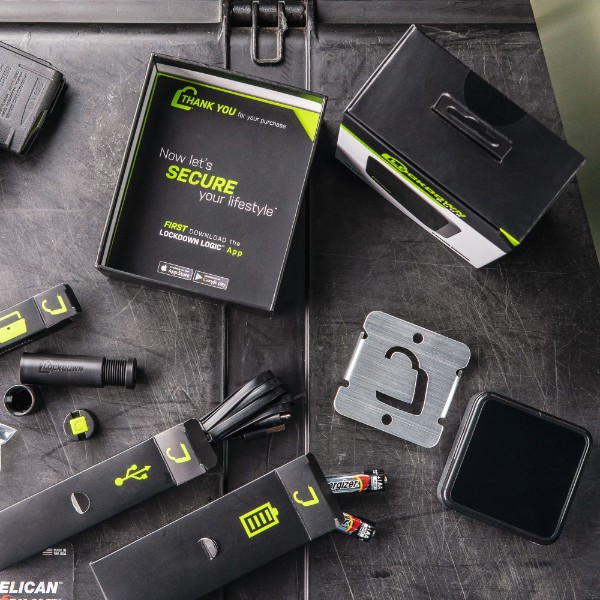 But there are a ton of products that do that. Where the Puck stands out is in its ability to measure motion, temperature and humidity, and to customize the alert settings so you can have as much or as little notification as you choose. For example, I have my Puck in my gun safe, but not mounted on the door. I open and close the safe too often to bother with notifications about the state of the door, and it is, after all, a safe, so I will trust that anyone who doesn't know the combination isn't getting into it without a rather hefty drill and a ton of time to break into the safe.
What I do monitor is motion and humidity. Were the Ocean's 11 crew to really want my rather small and not-all-that-valuable gun collection, they might drive a forklift into my house and lift the safe. Well, I'd be notified if they did, because the motion of the Puck would send an alert to my phone. A more pressing concern is humidity, as I don't want my guns to rust. I've got an anti-humidity rod in there, but you never know. I set the Puck to tell me if the humidity in the safe ever exceeds 50 percent. One day, it briefly did, and I was immediately alerted. This makes the Puck ideal not only for gun safes, but also for humidors or any other storage device or room you keep humidity and/or temperature controlled.
The app will also tell you if the (included) four AA batteries are running low on juice, or if power from the included 9-foot micro-USB cord is lost. All of these parameters can be set to alert your phone, so you know to replace the batteries, reattach the cord, turn on the HVAC system, raise or lower the humidity or check the Wi-Fi signal. And, if you don't want to be bothered with any of the alerts, you can turn each one off separately or all of them entirely. You can also customize the type of alert you receive. Let's say you're less concerned with motion than with humidity. In that case, the motion alert can be set to low sensitivity and to only flash on your phone's home screen, while the humidity alert can be set anywhere from zero to 100 percent and send you a text message whenever the upper or lower limits are breached. You can also add contacts to receive the alerts, so your spouse, roommate or anyone with a phone or email address can also know that it's time to refresh the distilled water in your humidor, for example.
The Puck is packaged in an attractive box with all of the included components in their own, separate containers therein, making the initial setup simple on the physical side. The app guides you through the setup process, making it idiot-proof. Lest you doubt that, I was able to set mine up in about a minute, which is a testament to its idiot-proofiness.
For such a small, seemingly innocuous little square, the Puck is an amazingly versatile security device. I remain wholly impressed by its capabilities, its customizability and its user-friendly interface. If you want to unobtrusively monitor almost anything in your home, the Lockdown Puck might be the perfect product to help with that task.