Now in its ninth year, the Yellow Ribbon Fund (YRF) hosted Party With Our Troops on May 16, 2019, at Tommy Joe's Bar and Grill in Bethesda, MD. The event brings together charitable sponsors, service members and caregivers of both the Yellow Ribbon Fund and Patriot Point—two outstanding organizations that aid wounded service members and their families. The night was lively with music from the Shed Band, appetizers including Maryland's acclaimed crab cakes, hunting and shooting décor to represent part of the activities that Patriot Point—a restorative outdoor recreational retreat for wounded soldiers and their families on Maryland's Eastern Shore—provides to the wounded service members who come there, and also a raffle to include spa packages, tote bags, a Cabela's cooler and also a trip to Patriot Point. All proceeds of the raffle go to support the missions of the YRF and Patriot Point.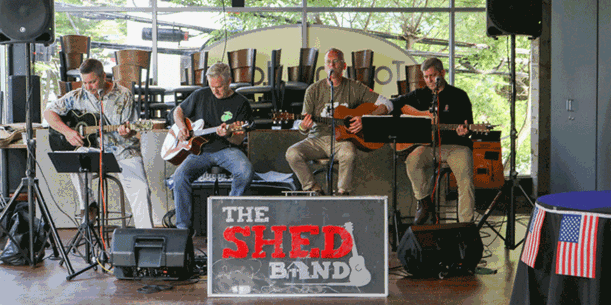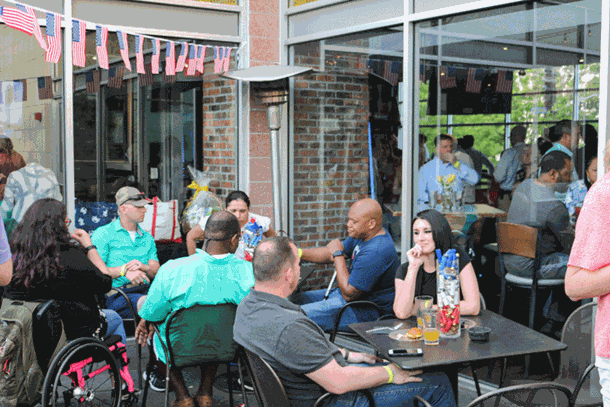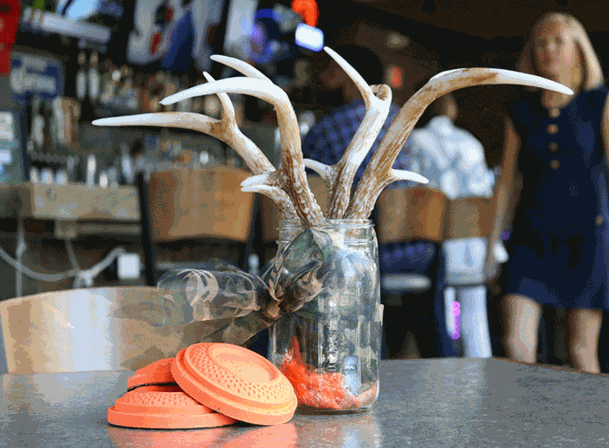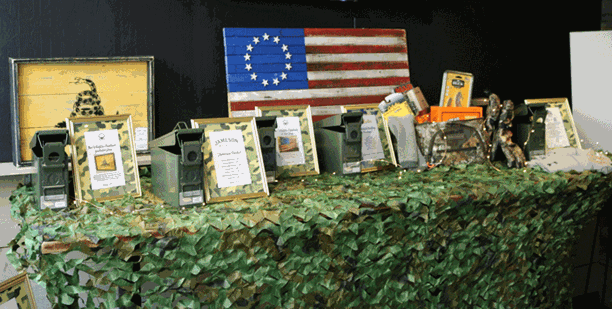 One of the raffle tables.
With a special focus on caring for wounded service members and their families, who take on the role of caregivers and comforters for our nation's heroes, both organizations are dedicated to this mission. With many wounded soldiers needing specialty care at Walter Reed, many of them can't afford to have their loved ones nearby, and that's where the YRF steps in. The organization provides support where it is needed for those that have sacrificed so much for their country.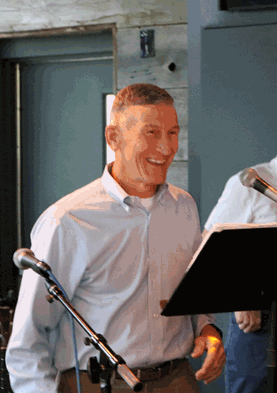 Major General Mike Regner USMC (Ret).
As one might expect, the night was full of moving speeches from wounded soldiers as well as retired service members who are part of the organization. Special guests included Major General Mike Regner USMC (Ret), who has taken care of service members for more than 40 years while serving in the Marine Corps. He's even taken a group of wounded soldiers out to Patriot Point for some much-needed relaxation. Stressing the importance of caring for those wounded warriors who put themselves in harm's way, and not forgetting about their families, he said that, "It is our responsibility to safeguard the actual treasures of security that we all enjoy every day in America." These men and women of the United States Armed Forces are "America's most precious resource. They are the seed corn of the security of our nation. I am honored to be here with great American family members, spouses and the Veterans and the Patriots that give us the opportunity to continue to serve this great nation."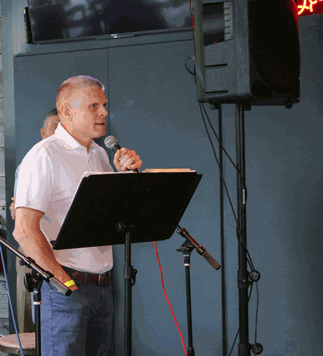 Chairman of the Board of the Yellow Ribbon Fund Bill Scott.
Further thanking those who have served and continue to serve was the Chairman of the Board of the YRF, Bill Scott, U.S. Marine Veteran. He welcomed the honored guests including Associate Justice of the Supreme Court Brett Kavanaugh, who has supported the YRF for years. He also went on to explain the importance of YRF since its inception in 2005. He stated that, "Since 9/11, 53,000 American service members have been wounded in combat. Of those, the most critically injured come to Walter Reed—a world-class medical facility. But there was nothing being done to take care of the families and that became the goal of the YRF. Families should be together during the recovery process." He further went on to mention the relationship between the Yellow Ribbon Fund and Patriot Point saying, "Both organizations share the same common values."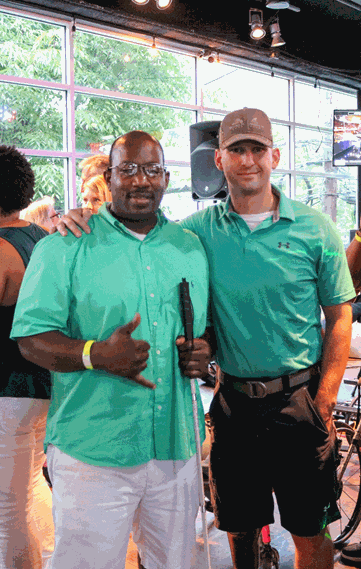 Staff Sergeant Jared Gould (left) and Staff Sergeant James Bolish.
As the night went on, two wounded Armed service members, who have received help from both the YRF and Patriot Point, spoke about their experience with the organizations. Staff Sergeant James Bolish and Staff Sergeant Jared Gould were both critically wounded and had to receive care at Walter Reed. Staff Sergeant Bolish, a right leg amputee, mentioned how the YRF has helped him and his wife since his unfortunate accident and how he's had the opportunity to go out to Patriot Point, saying, "I didn't have to worry about appointments and I didn't have to worry about anything with my right leg. I just went out there and had a good time. "

Staff Sergeant Gould also spoke who was wounded while deployed in Romania. He lost his eyesight as well as other injuries. His wife wanted to be by his side as well as his children and YRF answered his wish. Now, his wife even works for YRF as their Keystone Program manager. Staff Sergeant Gould said, "What the YRF does is God sent and I appreciate it from the bottom of my heart. Support these groups, support groups that hunt like Patriot Point and take a child hunting and take a child fishing." Both of these wounded service members enjoyed their time at Patriot Point, hunting, fishing and just relaxing their stresses away.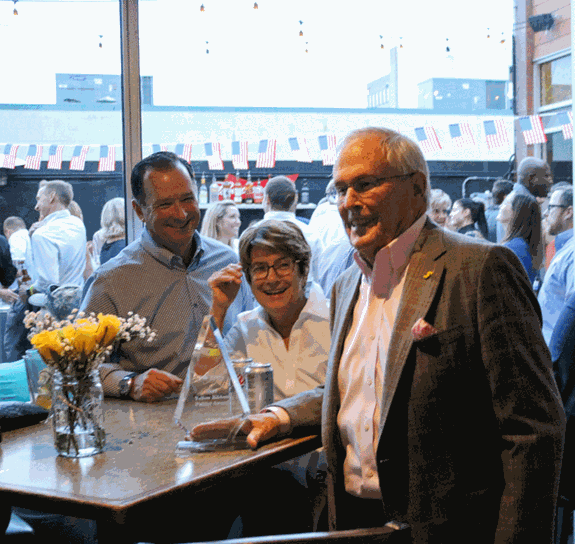 Ed Quinn, recipient of the Patriot Award.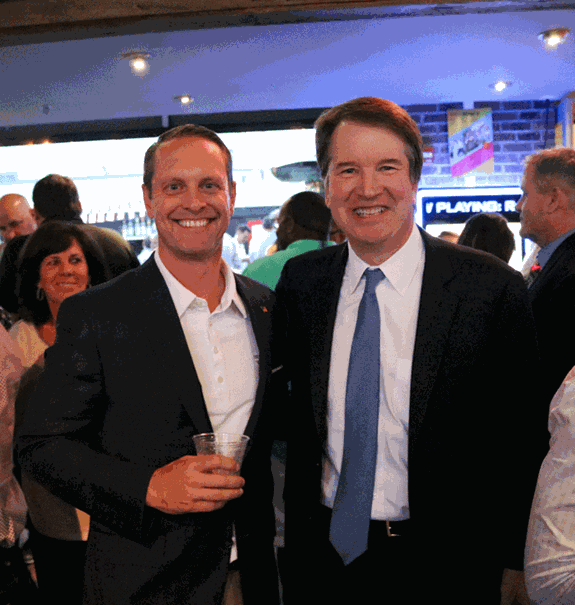 John Mastal (left), Board Member of the YRF, with Associate Justice of the Supreme Court Brett Kavanaugh.
Other attendees included Ed Quinn, one of YRF's founders as well as the Chairman of TW Perry—a sponsor of the YRF—who received the Patriot Award on behalf of TW Perry. Another who was in attendance was Daniel Valaik, MD who was the Chief of Orthopedic Surgery at Walter Reed for six years and cared for numerous wounded soldiers who came through the hospital's doors. John Mastal, Board Member for the YRF, was also in attendance and closed out the speeches saying that the service members who have been severely wounded, "have to come back for maintenance. It is not a one and done." Thus, the generosity of the donors allows the wounded service members to get the treatments they deserve.

NRA Publications was proud to sign on as a Partner Sponsor again for this year's event with NRA Publications Executive Director Doug Hamlin, himself a Marine, knowing it is such a great cause. Thanks to all those who attended, the YRF was able to raise close to $90,000 for those who have sacrificed everything for their country. This tremendous contribution allows wounded veterans to be in the presence of their loved ones during their recovery process. That, in itself, is priceless.   

For further information and to donate, visit yellowribbonfund.org