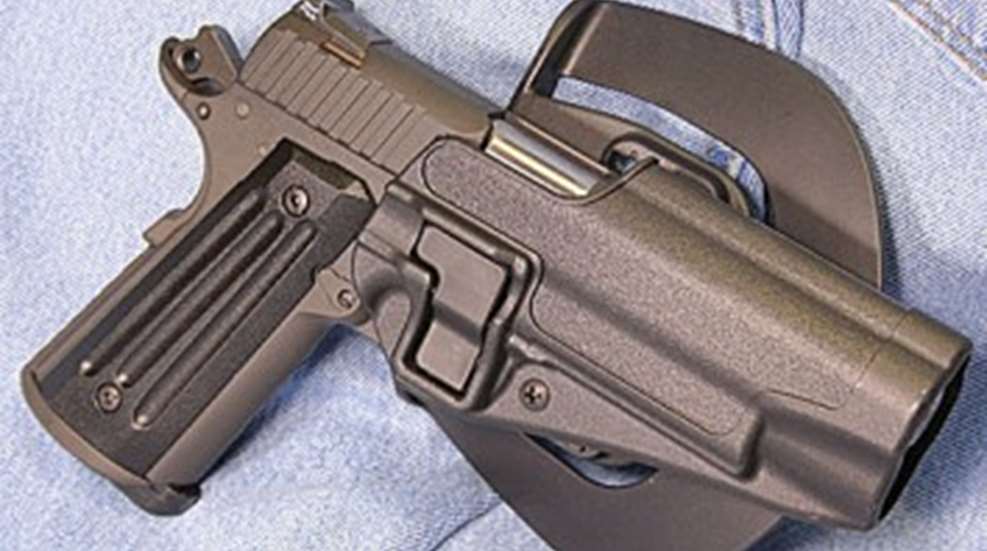 Easy-on, easy-off is the appeal of the paddle holster; a holster you can remove or put on without messing with your belt. This is made possible by the attachment of a paddle or sheet of material to the back of the holster. The paddle is slid down behind the pants, pinching them between the holster and the paddle.
Early paddle holsters had a leather paddle with a rib of sewn leather. This rib helped keep the holster in the pants as the handgun was withdrawn. Most modern paddle holsters rely on Kydex or injection-molded materials for paddle construction, with ridges or hooks to help hold it in place.
Paddle holsters are very comfortable unless you have dun-lop disease. That's where your tummy has done lopped over your belt. Most are also easy to put on. The best are hard to take off. To provide some protection against a bad guy snatching the handgun and holster from your side, a good paddle holster will really grab the pants and belt.
This is also the weakness of the paddle holster. To get the convenience of easy-on/easy-off, you sacrifice the ability to retain the holster during a struggle for your gun. Some early paddle holsters, especially those that fit the handguns tightly, would even come away from the pants when the gun was drawn. The result was a bad guy with a holster and a gun pointing at him. Trust me, this has happened!
Because of its ease of removal, plainclothes police officers and many citizens who carry concealed are fond of the paddle holster. From an officer-survival standpoint, it's a poor choice because it's not really connected to the belt. During an attempted gun grab, holsters can be ripped from paddles and the entire rig can be ripped from pants. Police officers, if they are considering a paddle holster at all, should only use those with hooks that securely grab the bottom edge of the belt. Its not bad advice for armed citizens, either.
Gene DeSantis has been making paddle holsters since 1975. He told me, "I am very concerned with the growing use of paddles for duty applications. I have and will continue to discourage this practice, because a paddle can never be a 100-percent anchor like a belt-mounted model."
On the other hand, paddle holsters can be great recreational holsters. I often use them in competition and during range training sessions—frequently a Blackhawk SERPA, level two retention holster that can be adjusted for cant and used as a belt or paddle holster. It can even be used in conjunction with Blackhawk's Quick-Disconnect system that allows you attach the holster to just about anything. (More to come on this topic around Thanksgiving!)
I think DeSantis summed up the paddle holster well when he told me, "…paddle designs are more convenient, more comfortable and more versatile, but they are meant to be a concealment holster and never to be exposed to an adversary's eyes!"