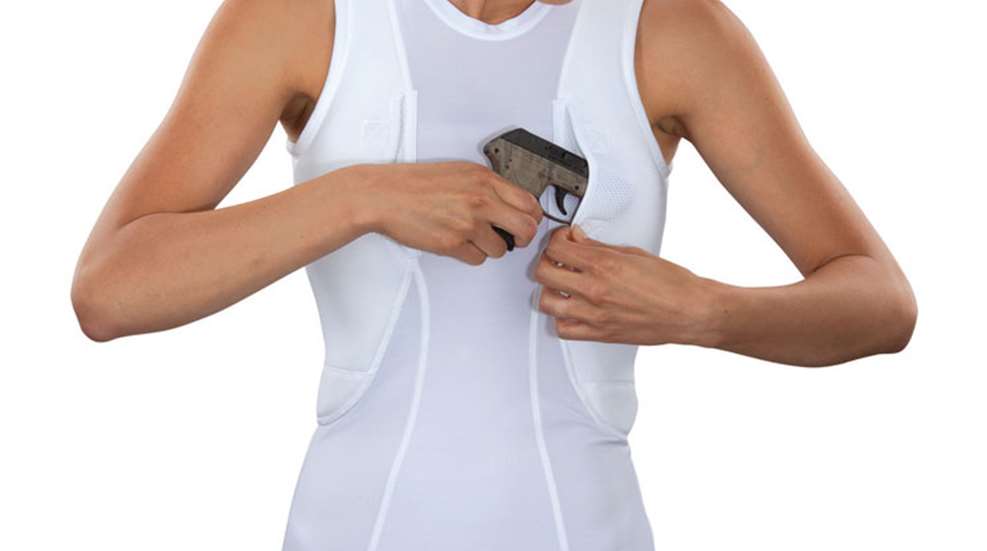 Firearms being the great equalizer they are, it should come as no surprise the fastest growth in concealed-carry permits is among women. There are also a plethora of firearm training courses and programs offered specifically for women to provide a more comfortable and supportive learning environment.
Of course, having a concealed-carry permit isn't going to do anyone much good if you don't actually carry a gun, and the most important factor that separates carrying a gun or leaving it at home is comfort. It is not only important to choose the right gun, but also the right holster. Thankfully, manufacturers are increasingly catering to the needs of women, who are shaped and dress differently than men.
Purse Holsters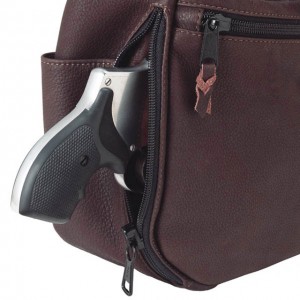 Arguably the most comfortable way for many women to carry a gun is in a purse. This offers great concealment, is not affected as much by clothing choice and can still provide fast access. This is, in fact, how my wife prefers to carry, but it does have some drawbacks. She must remain constantly aware of her purse to maintain fast access as well as to prevent theft or access by unauthorized persons, especially curious children. It will also not do to simply toss a gun in with keys and other items.
Galco offers 10 different models of purse holsters in various styles, colors and sizes. Glove-tanned leather purses in black and brown feature a fairly standard main area with multiple compartments, but the real benefit is a gun can be stored inside a separate, side-loading zippered compartment in an internal holster with a thumb break. When the purse is carried over the shoulder, this places the gun easily within reach for both right- and left-handed draw, and the zipper includes a locking mechanism for added security. Just don't get too comfortable and forget the gun is in the purse if you happen to go into a restricted area like an airport.
Belt Holsters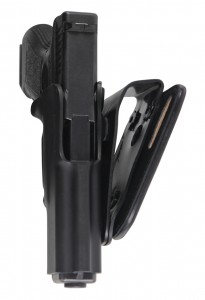 Hip carry for many women can be a challenge, but Safariland and Bianchi both produce a line of holsters comfortably designed for women, who tend to wear the gun higher on their hips. Many of these models are designed to ride close to the body for concealment, but allow the holster to angle outward when drawing. The Model 329 from Safariland is a belt holster featuring a very low cut opening in the front, so the gun can clear the holster without having to raise it too far.
Safariland's Model 6378 ALS Paddle Holster features level 1 retention, with the holster automatically locking the gun in place and releasing it only via a thumb button release, which can be done very quickly with a little practice. Several Bianchi paddle holsters for women also feature a slight offset to increase comfort and are available in standard and retention styles. I personally prefer paddle holsters for their ease of use and the ability to remove or replace them with minimal effort, especially when I have to go someplace like the post office that does not allow legal carry of firearms.
Inside-the-waistband holsters for women will require a full draw, which can be difficult if the gun is riding high on the hip. CrossBreed Holsters, however, are a very popular and comfortable choice, as they feature a thick leather pad between the gun and the body and provide excellent concealment along with a fast draw.
Alternative Carry
Many women may also find other types of carry to be more comfortable and offer additional versatility with various types of clothing. Pocket holsters are a favorite of mine, but they require large front pockets and a somewhat loose fit, both of which are not commonly found in women's fashion. Belly band holsters like the Underwraps from Galco offer great comfort and outstanding concealment. This elastic fabric band is secured with hook-and-loop fasteners and is adjustable. It features leather pockets to hold firearms, extra ammunition and other accessories like a knife, pepper spray or a cell phone, and it is ambidextrous.
Along these same lines, 5.11 Tactical offers a women's holster shirt designed to snuggly fit the entire torso like sports attire. It features two under-the-arm pockets ideal for small- and medium-size handguns. The advantage here is the shirt will not shift position as you move and the weight of the gun is very evenly distributed. An inner Neoprene and terrycloth layer cushions the gun and increases comfort.
Ankle holsters are yet another viable option, especially when wearing long pants with a straight, or preferably flared, leg. They can offer ideal concealment. Galco's Ankle Glove features a wide elastic band with a sheepskin lining for comfort and an optional calf strap for added retention. Not to be outdone, DeSantis Gunhide is now producing the Thigh High Holster, which allows women wearing a skirt or dress to carry a small handgun concealed on the inside of the thigh. Neoprene construction offers comfort, and twin garter straps ensure the gun and holster stay in place.
Comfortable concealed carry for both men and women is vitally important and involves a combination of holster selection and proper attire. It is encouraging to see manufacturers address the specific needs of women in this regard.