Support NRA Shooting Illustrated
DONATE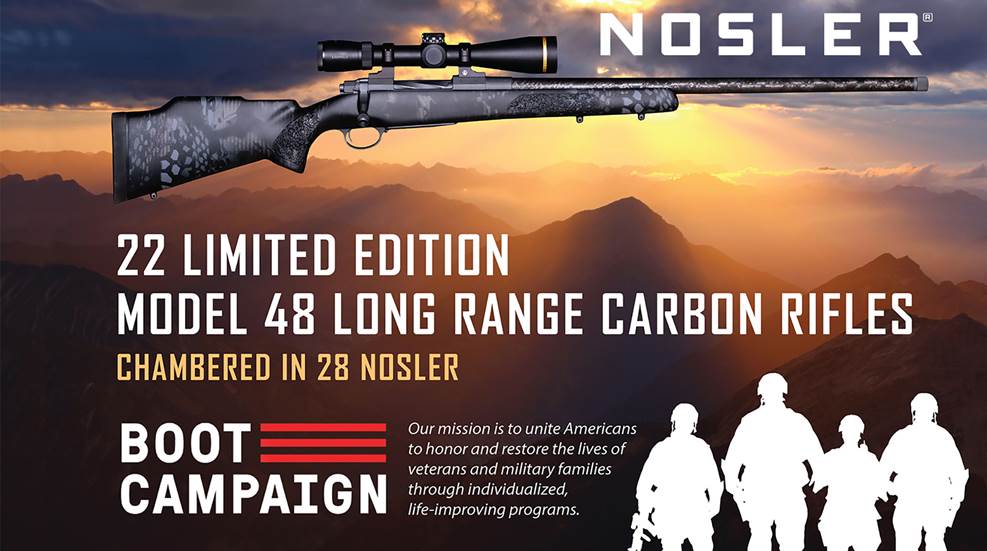 Nosler, Inc. is announcing a new program to raise awareness and support for our nation's veterans and their families. To help further the goals of the Boot Campaign, a non-profit dedicated to helping veterans recover from the effects of their service, Nosler has produced 22 specially serialized Model 48 Long Range Carbon rifles chambered in 28 Nosler, which will directly fund the Boot Campaign.
"Chris Kyle famously said that it is our duty to serve those who serve us. We don't take that lightly and Boot Campaign does a tremendous job in helping the people and their families that have sacrificed the most for our freedoms. For us this project wasn't even an option but an obligation and the only other question we had was what can we do next to help this nation's greatest heroes," said John Nosler, the President of Nosler Inc.

Each of these rifles features a Proof Research barrel and a Timney trigger, with custom Manners Carbon Fiber stocks that have with a special Kryptek Obskura Nox pattern which highlights the carbon fiber construction. Leupold has graciously joined this project and is donating the optics and mounts, which are then mounted and zeroed each VX-5HD 3-15x44 for shots at any range.

The payment of $6,500 for each rifle will be handled directly by Boot Campaign as a charitable donation and then the rifles will be shipped from Nosler to your FFL of choice. Boot Campaign is a 501c3 non-profit that creates individualized programs and customized care to treat the root causes of the invisible wounds of war, such as posttraumatic stress, traumatic brain injury, chronic pain, self-medication and insomnia. The Boot Campaign logo is laser engraved on the bottom metal to further highlight the significance of this project.
To order one of the limited-edition Boot Campaign rifles from Nosler, please visit nosler.com, and for more information on Boot Campaign and their mission, visit bootcampaign.org.