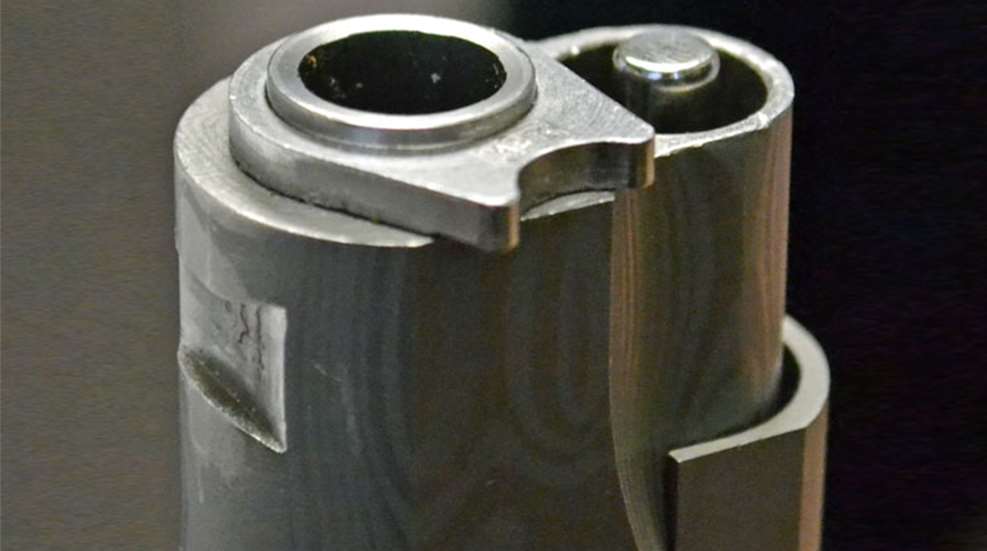 A difference of 0.080 inch to 0.100 inch in the barrel-lug channel of a Government model frame prevents compatibility with Commander-length components.
After placing the barrel in the Caspian slide and locking the bushing in place, I added a Sprinco guide rod, recoil spring and plug atop my Essex frame. The problem came once I added the slide-stop pin and eased the slide forward. Despite the barrel and slide appearing to be totally forward or in "battery," a portion of the guide rod's tip protruded from the slide, which prevented the barrel bushing from turning fully to capture the compressed recoil spring and plug.
Suspecting something was out of spec with the rod, I removed the guide rod and attempted to replace it with another one from one of my Colt Combat Commanders only to make the same startling discovery. Forgoing the guide rod for a traditional recoil-spring guide and plug didn't work either. No matter what I tried, the slide would not go back far enough to lock the slide rearward. Could the recoil spring be too long? Swapping it with one from another one of my carry pistols confirmed I was barking up the wrong tree.
Consulting the troubleshooting section of my Kuhnhausen shop manual, DVDs and other reference materials yielded no clues. So, I got on the phone to consult with my various contacts within the industry—the majority of which shared equally in my frustration but were equally stumped—that is with the exception of Gary Smith of Caspian Arms. He asked me if my Essex frame was for a Government model of a Commander. I replied by telling him I'd had it for so long I couldn't remember, only to add I thought Government models and Commanders utilized the same frame. I was wrong. It turns out when Colt originally produced the Commander back in 1950 it machined the barrel-lug channel approximately 0.080- to 0.100-inch deeper than that of a Government model. While Smith commended me for wanting to utilize my Essex frame, his solution was to switch to a Caspian frame. Since I don't have access to a mill to alter the barrel-lug channel of the Essex frame, I agreed.
The new frame eventually arrived, along with a Foster Industries government-model slide, and suddenly my one-pistol build transformed into a two-pistol build. Suddenly, I found myself  back at square one, without passing "Go" (or collecting $200) which subsequently sent the budget build out the window.