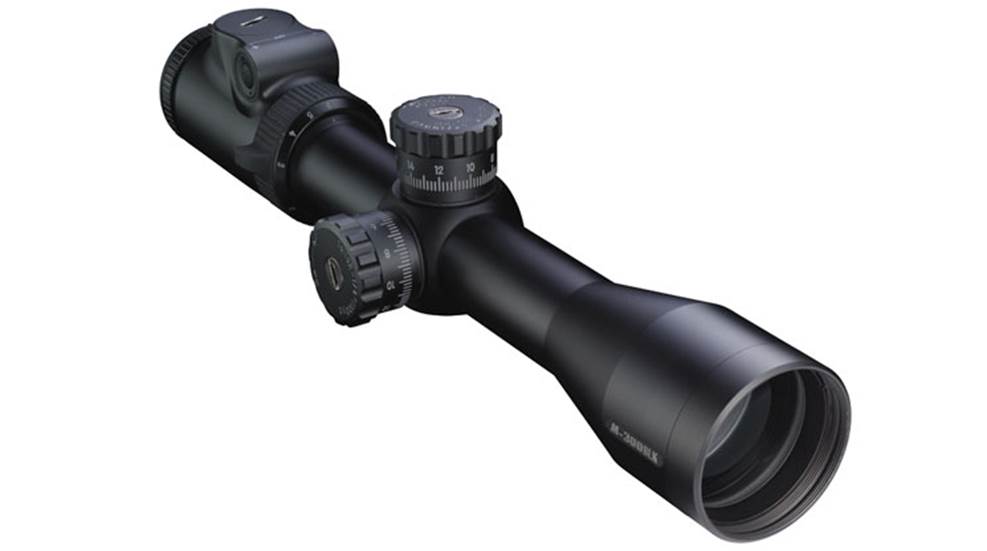 Nikon has developed the all-new M-300 BLK riflescope to maximize the effectiveness of the .300 AAC Blackout cartridge while using both supersonic and subsonic ammunition.  Now, shooters have a 30mm body riflescope that can harness both variations of this up-and-coming cartridge.
The M-300 BLK riflescope comes in 1.5-6x42 magnification with a 30mm main body tube for a wide adjustment range.  It features Nikon's BDC SuperSub reticle that is compatible for use with both supersonic and subsonic ammunition. The BDC SuperSub reticle is calibrated for .300 Blackout supersonic ammunition and offers shooters unique, open circle aiming points out to 600 yards, in 100-yard increments, with additional hash-marks at 50-yard distances.  By using Spot On™ Ballistic Match Technology, shooters can also effectively compensate for bullet drop while using subsonic ammunition.
The M-300 BLK is also available with an illuminated reticle to give shooters an added advantage during low-light situations.  The illuminated reticle can be adjusted to different brightness settings using the push buttons on the eyepiece and has up to 32 different levels of intensity for the orange center dot. When the illumination feature is turned off, the last brightness level is saved.  The illuminated reticle operates on a 3V lithium battery.
Making adjustments in the field is incredibly easy with Nikon's spring-loaded instant zero-reset turrets.  Just sight in at 100 yards, then lift the adjustment knob, rotate to your "zero," and re-engage.  Hand-turn reticle adjustments are made in 1/4-inch (@ 100 yards) click-stop moves that can be felt and heard.
The M-300 BLK is built with Nikon's Fully Multicoated optical system that offers bright, high-resolution viewing, even in low light situations. It is waterproof, fogproof and backed by Nikon's limited lifetime warranty.  The MSRP for the M-300 BLK non-illuminated reticle model is $699.95 and is $899.95 for the illuminated reticle version.
Like all Nikon riflescopes, the M-300 BLK is optimized for use with Spot On Ballistic Match Technology. The Spot On program provides users with exact aiming points on the BDC reticle for any load or ammunition at a specified range.  Spot On is free online at nikonsportoptics.com/spoton but it can also be purchased for mobile devices, including the iPhone, iPad and Android platforms.