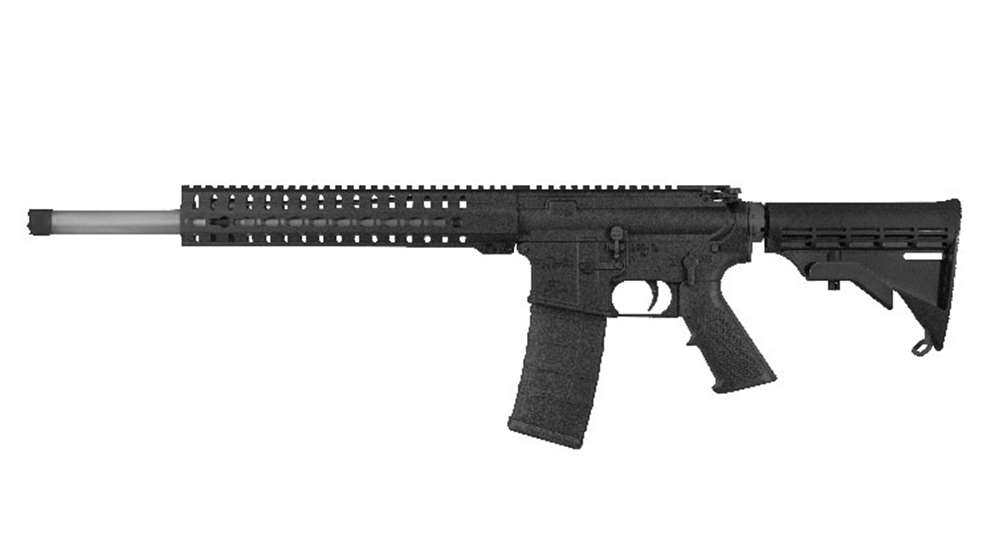 Featuring a heavy taper barrel, CMMG's new Mk4 HT series of rifles are sure to be a favorite among shooters in search of greater consistency. This new offering is available in 5.56 NATO, .300 AAC Blackout and .22 LR.
The primary advantage of the heavy taper barrel is the added material will absorb more heat than its medium taper counterpart. This is especially beneficial when firing several rounds in succession, where the shot groups typically tend to walk as the barrel heats up. A heavy taper barrel takes longer to heat up, thereby ensuring better consistency among groups.
The .22 LR version of the Mk4 HT series comes standard with a nitrided 4140 CrMo steel barrel. The 5.56 NATO and .300 BLK versions come with either a 416 stainless or nitride 4140 CrMo steel barrel.
The CMMG HT series rifles can be optimized to match any of your needs, thanks to an RKM11 KeyMod hand guard with a 1913 Picatinny rail on top. With KeyMod slots at the 3, 6 and 9 o'clock positions, you can put virtually any accessory on this rifle–from riflescopes to red dot sights, to slings, bipods, lasers and tactical flashlights. For accessories that are not yet KeyMod compatible, users can purchase a separate CMMG 5-slot Picatinny adapter rail that can be easily attached to any of the KeyMod slots.
The Mk4 HT series comes equipped with an A2 pistol grip and a mil-spec M4 butt stock. This CMMG comes suppressor-ready and has a castellated thread protector attached to the muzzle to protect the threads from unwanted debris. It utilizes CMMG's single stage mil-spec style trigger with a crisp break thanks to polished surfaces–giving you full confidence every time you squeeze the trigger. CMMG also includes a 30-round Magpul PMag with every 5.56 NATO and .300 BLK rifle.  The .22 LR versions come with a 25-round magazine.
| | | |
| --- | --- | --- |
| PRODUCT | Magazine | MSRP |
| Mk4 HT 5.56mm | 30-rd PMAG | $1,099.95 |
| Mk4 HT 5.56mm SBN | 30-rd PMAG | $1049.95 |
| Mk4 HT .300 BLK | 30-rd PMAG | $1,099.95 |
| Mk4 HT .300 BLk SBN | 30-rd PMAG | $1049.95 |
| Mk4 HT .22LR | 25-rd | $924.95 |

CMMG Mk4 HT Specifications:
Caliber: 5.56 NATO, 300 BLK, 22LR
Barrel: 16.1-inch heavy taper profile, 1:7-inch Twist (1:16-inch 22LR)
Muzzle: Castellated Thread Protector
Hand Guard: CMMG RKM11 KeyMod hand guard
Upper Receiver: Forged 7075-T6 AL M4
Lower Receiver: Forged 7075-T6 AL AR15
Trigger: CMMG single stage mil-spec style trigger
Furniture: A2 Pistol Grip and Mil-Spec M4 Butt Stock
Weight: 7 pounds (unloaded)
Length: 31 inches (stock collapsed)