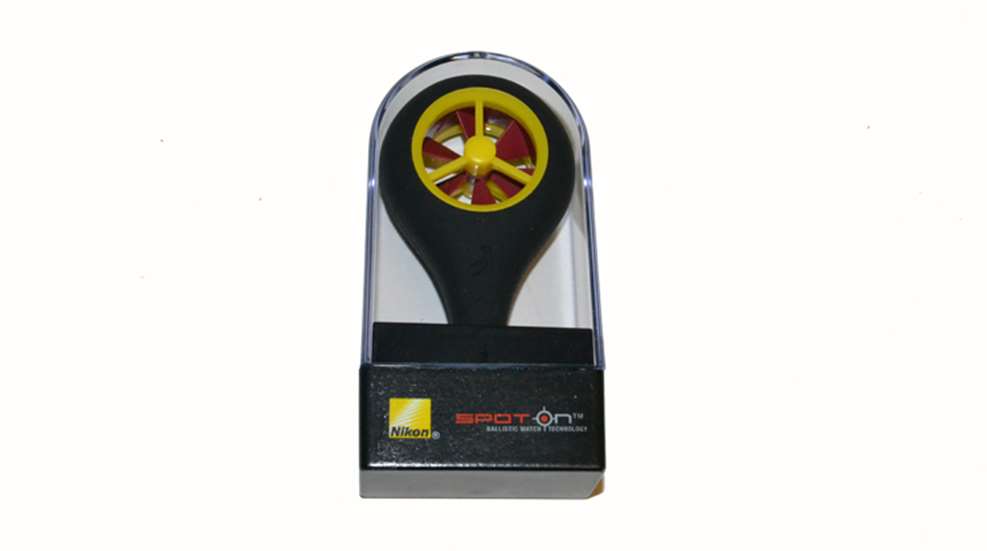 When shooting at longer range, especially with light bullets, the wind is not your friend. You might have the perfect 50- or 100-yard zero on your rifle, but when you start sending that bullet downrange on longer journeys, environmental factors start to play into the equation. Wind is the most obvious factor, although humidity, temperature, elevation and others also contribute.
Accurately measuring wind speed at the rifle is possible using a number of sources. Many applications tap into the nearest weather station for a close approximation of the wind speed and direction, but that only works if you are a) near a weather station, and b) have a signal. 
Nikon has come up with an ingenious solution to the long range environmental question with the Ballistic Windmeter. It's designed to work with Nikon's proprietary SpotOn Ballistic software to add wind speed and direction to the shooting solution, using the specific scope, caliber and bullet information alongside the wind information.
The process is simple. First choose your scope (it's specific to Nikon, obviously), then caliber and bullet type/weight. Next enter your target and zero distances. Click on atmospheric conditions to obtain wind information, then add in altitude, temperature, humidity and barometric pressure (which can be obtained from a nearby weather station). Capture the wind speed, input wind direction relative to your shooting position, and apply. Holdover for elevation and windage will be calculated and displayed for your individual shooting solution.
MSRP: $34.95. Nikon's SpotOn App is a free download available for iPhone, iPad and Android phones.