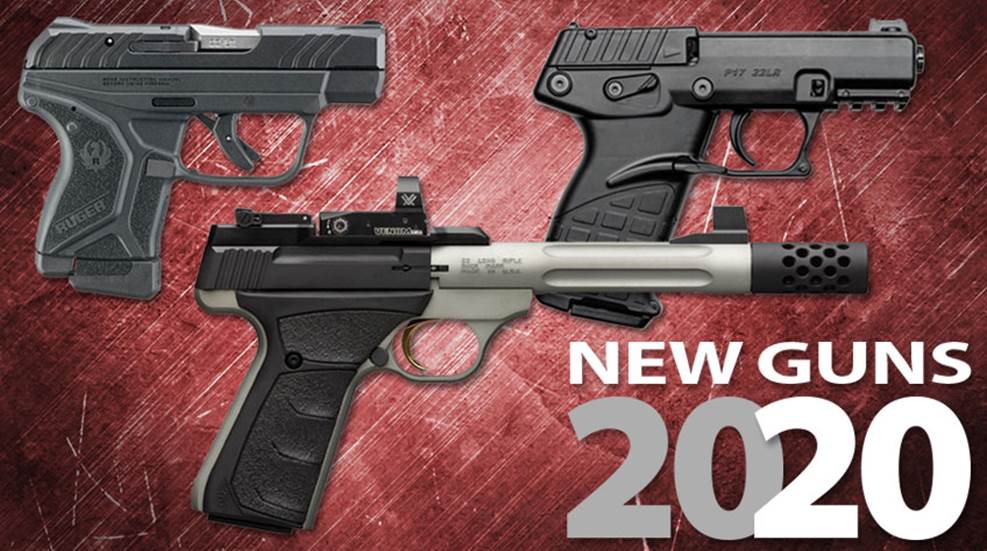 For 2020, one of the trends we noticed was an increase in "trainer" type pistols. These .22 LR pistols are built similar to their centerfire counterparts to offer a similar feel on the range, at a much lower cost. Other manufacturers launched inexpensive .22 LR pistols for plinking, while others brought customized rimfire guns for competition. There were so many guns released in .22 LR and .22 Mag. we opted to make this its own category this year.

Stay tuned for more new handguns, rifles and shotguns released in 2020!
---

Beretta | Bobcat Covert
The venerable Bobcat can now take a suppressor thanks to this new model's threaded barrel. An FDE-Cerakoted model is also available for those looking to make this easy-to-operate pistol even more modern.
▶ Tip-up barrel
▶ Bruniton finish
▶ Walnut grips
▶ Recessed magazine release
Caliber: .22 LR
Magazine Capacity: 7 rounds
Barrel Length: 2.9 inches
Overall Length: 5.42 inches
Weight: 11.8 ounces
MSRP: $549
(301) 283-2191 berettausa.com
---

Browning | Buck Mark Lite Competition Suppressor Ready Red Dot
Ready out of the box for competition or the most fun you can have while plinking, the latest Buck Mark comes with a Vortex Venom MRDS that co-witnesses with the pistol's iron sights.
▶ Removable muzzle brake
▶ Adjustable Pro-Target rear sight
▶ UFX overmolded grips
▶ Gold-plated trigger
Caliber: .22 LR
Magazine Capacity: 10 rounds
Barrel Length: 5.9 inches
Overall Length: 9.5 inches
Weight: 28 ounces
MSRP: $979.99
(800) 333-3288 browning.com
---

Glock | G44

Glock's first foray into the rimfire market is ingeniously sized like the company's most popular centerfire pistol, the 9 mm G19. G19 owners can now purchase the G44 as a low-cost trainer that fits the gear they already own. Newbies who purchase a G44 to learn to shoot can naturally upgrade to the G19 when it's time to move up in power.
▶ Safe Action trigger
▶ Hybrid steel-polymer slide
▶ Front and rear cocking serrations
▶ Interchangeable backstraps
Caliber: .22 LR
Magazine Capacity: 10 rounds
Barrel Length: 4.02 inches
Overall Length: 7.28 inches
Weight: 14.64 ounces
MSRP: $430
(770) 432-1202 us.glock.com
---

Kel-Tec | P17
If you're looking for a generic rimfire pistol to teach new shooters or just for fun, it's hard to think of a better option than Kel-Tec's new P17. It comes well-equipped for less than $200, meaning you simply have no reason for not owning a good .22 LR pistol.
▶ Ships with three magazines
▶ Accessory rail
▶ Fiber-optic front sight
▶ Thumb safety
Caliber: .22 LR
Magazine Capacity: 16 rounds
Barrel Length: 3.8 inches 
Overall Length: 6.7 inches
Weight: 11.2 ounces
MSRP: $199
(321) 631-0068 keltecweapons.com
---

KRISS USA | Vector 22 SDP-SB
The new Vector 22 SDP-SB is a dedicated, semi-automatic, rimfire pistol that incorporates the same aesthetics and ergonomics of the original design. Compact and lightweight, it provides simple manipulation and is easy to transport. 
▶ Ambidextrous safety
▶ SB Tactical SBX-K brace
▶ Low-profile flip sights
▶ Direct-blowback operation
Caliber: .22 LR
Magazine Capacity: 10 rounds
Barrel Length: 6.5 inches
Overall Length: 24.3 inches
Weight: 89.6 ounces
MSRP: $649
(714) 333-1988 kriss-usa.com
---

North American Arms | Ranger II
Featuring a new barrel length for the popular Ranger II, the 4-inch model contains a break-top barrel which ejects the shells as it opens, making it perfect for a quick reload as well as for concealed carry.
▶ XS Tritium night sights
▶ Rosewood grip
▶ Spurred hammer
▶ Break-top barrel
Caliber: .22 Mag.
Cylinder Capacity: 5 rounds 
Barrel Length: 4 inches
Overall Length: 7.5 inches
Weight: 8.1 ounces
MSRP: $594
(801) 374-9990 northamericanarms.com 
---

Ruger | LCP II .22
In 2013, the Ruger LCP took the firearm industry by storm. This year the company strives for another winner by combing the same look and feel of the popular pistol in an affordable training platform, thanks to the new rimfire chambering.   
▶ Manual safety
▶ Textured frame 
▶ Fixed front and rear sights integral to the slide
▶ Front and rear cocking serrations
Caliber: .22 LR
Magazine Capacity: 10 rounds
Barrel Length: 2.75 inches
Overall Length: 5.20 inches
Weight: 11.2 ounces
MSRP: $349
(336) 949-5200 ruger.com
---