by
Shooting Illustrated Staff
posted on January 19, 2023
Support NRA Shooting Illustrated
DONATE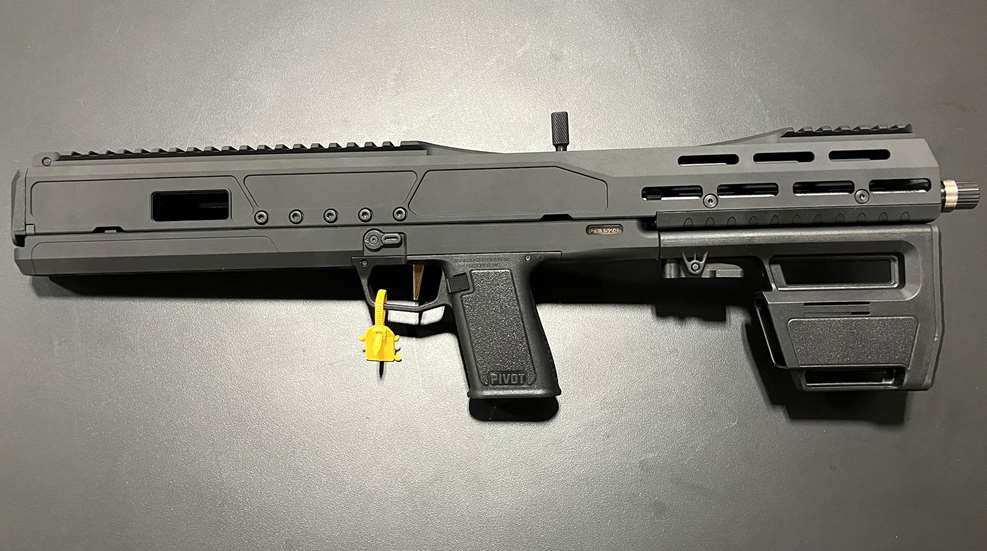 NSSF's SHOT Show brings the many facets of the firearm world together: tactical, hunting, long-range, handguns, protective gear; it's all here on display. Walking around puts miles on your feet and seeing everything is absolute sensory overload. While there's a lot of great items here at the Venetian Expo, here are five things that stood out on Day Two.
Trailblazer A pistol-caliber carbine that measures less than 21 inches long when readied for transport, takes Glock magazines, has a multi-position stock and a threaded barrel? As the expression goes, you had my curiosity, now you have my attention. Trailblazer announced the Pivot, a carbine that, well, pivots—at the press of a button, the upper portion swings 180 degrees, bringing it into battery. Multiple safeties ensure the Pivot cannot be fired in the closed position, and once opened, offers a pistol-caliber carbine unlike any other. MSRP: $1,795.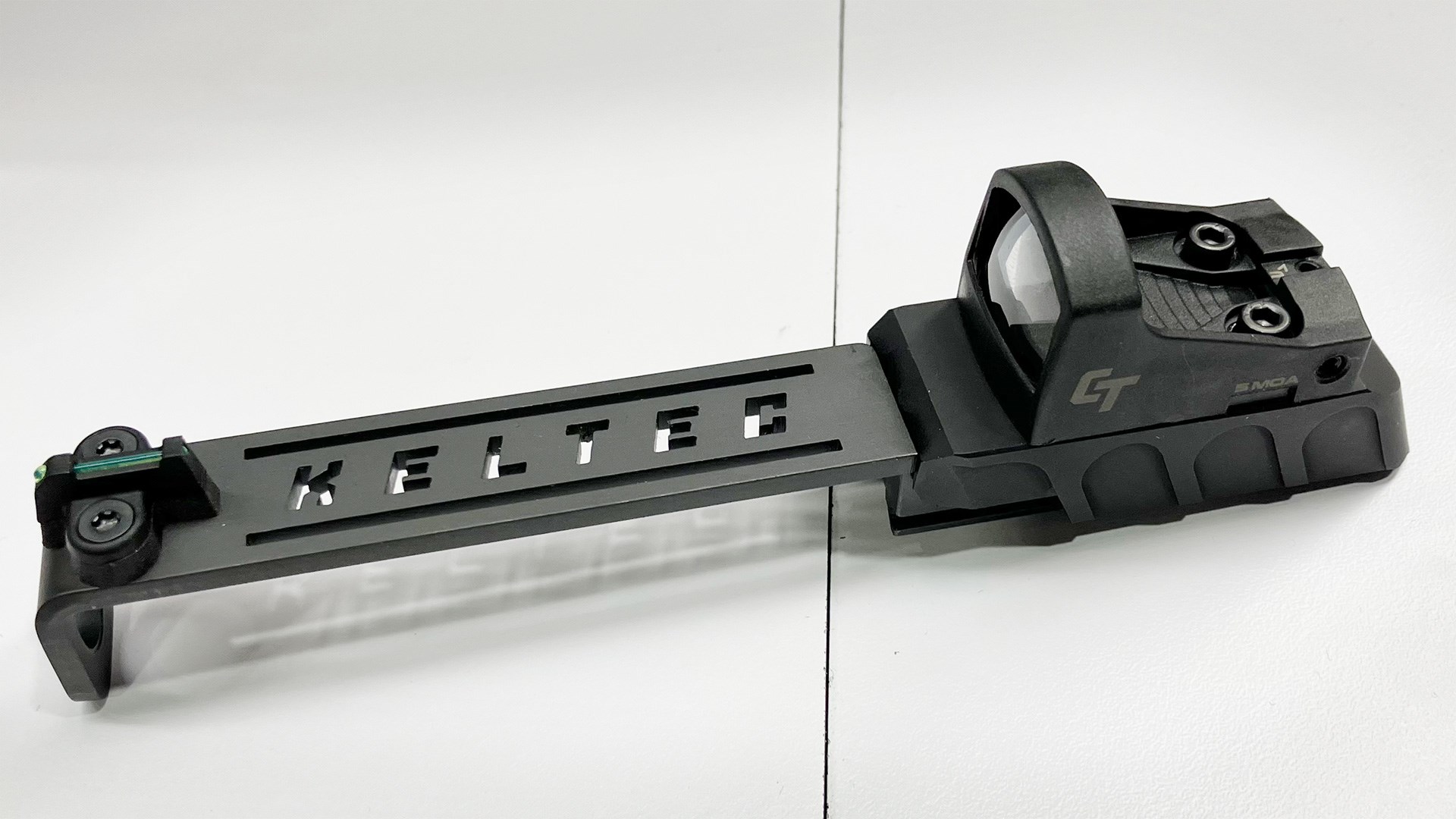 So new it's not even listed on the company's website yet, KelTec has an optics-equipped slide for the P17. Simply field-strip the pistol, remove the existing slide and put the Crimson Trace-equipped slide up top. Whether it's to practice your red-dot presentation with less expensive .22LR, teaching a new shooter the basics or simply having fun plinking, here's an inexpensive way to get a red-dot sight on your rimfire semi-auto. MSRP is expected to be around $200, which admittedly is a dollar more than the P17, but it does include the red-dot sight.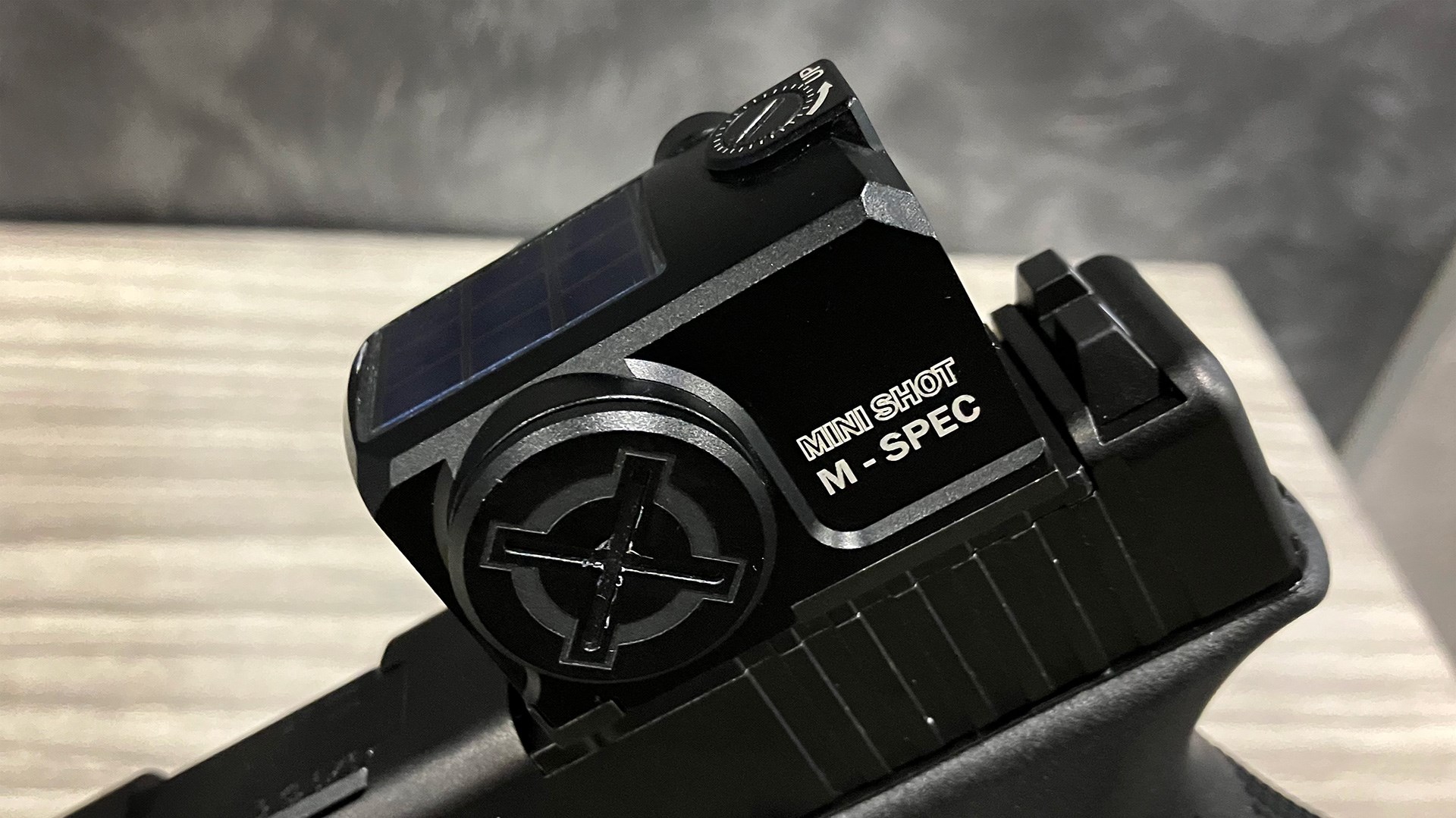 Sightmark Mini Shot M-Spec M2 Solar enclosed emitter red-dot sight. As if offering an enclosed emitter at an eminently reasonable price wasn't enough, Sightmark has crammed this red dot with plenty of excellent technology. Offering solar power, automatic brightness adjustment, meeting IP67 water-resistance ratings and fitting the popular RMR footprint, the Mini Shot M-Spec M2 Solar is a great way to get into the enclosed emitter game. It even comes with both high- and low-profile mounts for shotguns or carbines. MSRP: $299.97.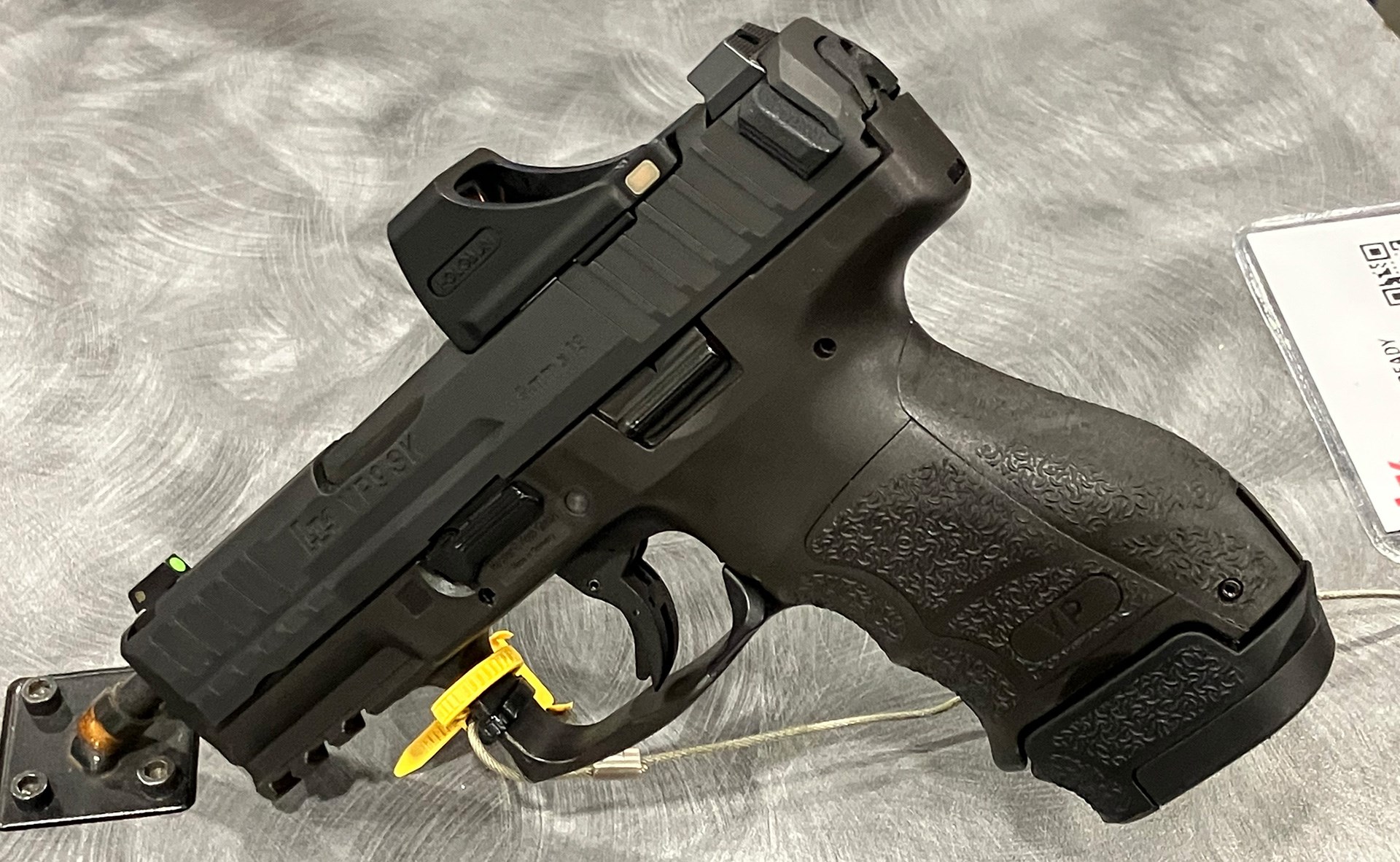 Proving that red dot sights are still incredibly hot (and making a rather incredible three out of five picks!), Heckler & Koch are now offering its VP9SK pistol with a Holosun SCS red-dot sight direct-mounted. Combining the excellent technology of the Holosun dot that sits low in the slide with the Teutonic excellence of the compact VP9SK is a slam-dunk of an idea for the concealed carrier who wants a top-tier pistol equipped with a rugged, well built red-dot sight. MSRP: $1,269.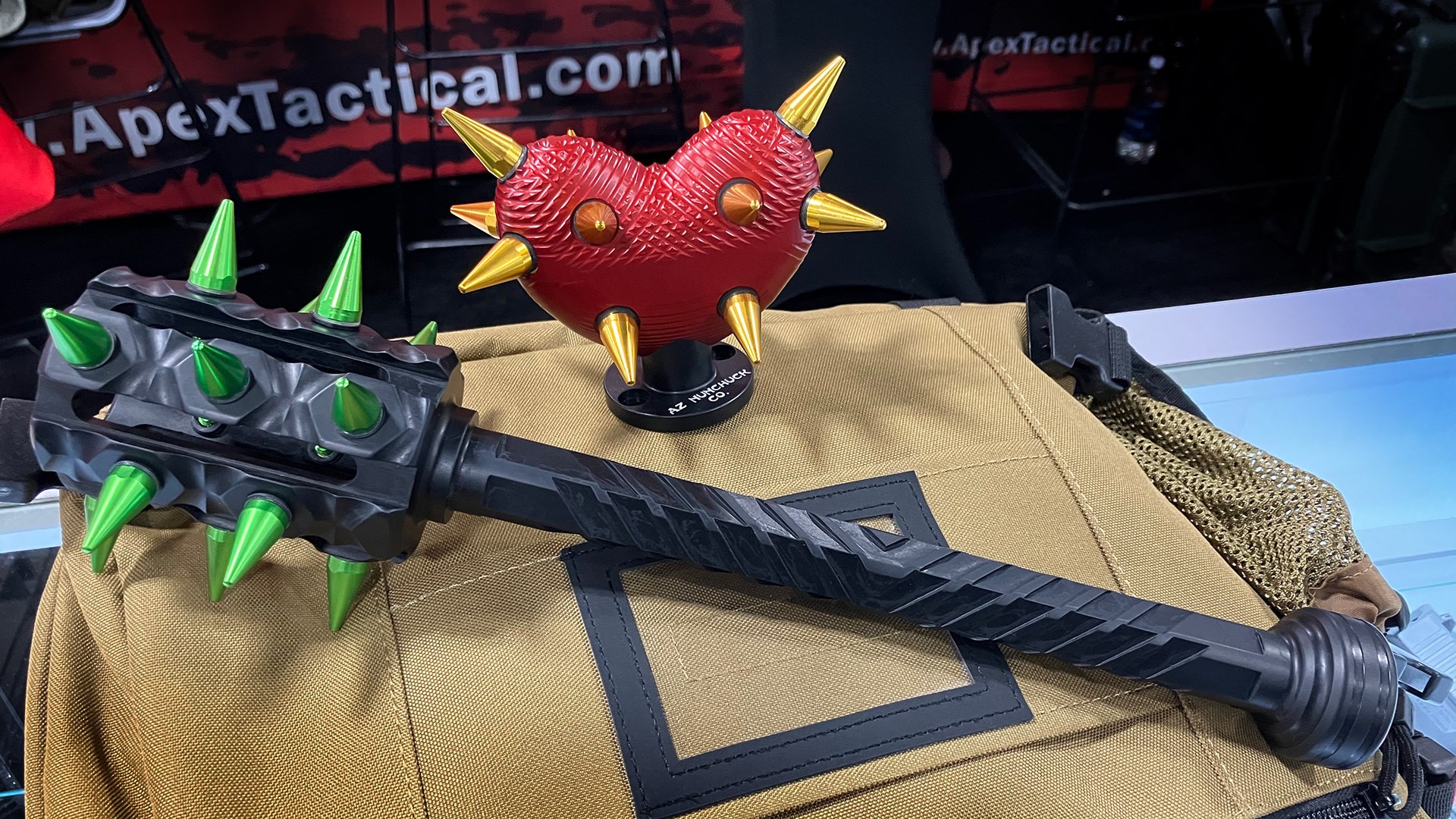 Apex Tactical/AZ Nunchucks AZ Candlestick. Okay, so *technically* this is listed as a candlestick and is therefore not tactical, however we can't help but think of it as the Tactical Morningstar. Spikes are sold separately, and Apex urges you to obey all state and local laws with this "movie prop," but go check out the listing. That alone caught our attention. The AZ Candlestick is, at heart, a conversation piece that is certain to, well, start conversation. Also available is the Queen of Hearts shown as well in its own configuration. MSRP: $150 (Candlestick); $135 (Queen of Hearts). Don't hurt yourself. Seriously.
Again, these are by no means the only cool things we saw at SHOT Show 2023 on Day Two, but are interesting, useful or just plain cool to check out. We'll have more Editor's Picks for Day Three after our time on the floor tomorrow, so check back to see what makes the list then.