Support NRA Shooting Illustrated
DONATE
Shell Shock Technologies LLC., (SST) has announced the launch of their first product—the NAS3 two-piece 9 mm.
"NAS" stands for Nickel Alloy Shell, and is engineered to be 50 percent lighter and two times stronger than brass. The revolutionary cartridge consists of a solid nickel-plated aircraft aluminum head and a proprietary enhanced nickel allow stainless cylinder. The cost of the 9mm ammunition is much less than conventional brass cases, and saving are expected to be even more significant with the release for rifle cases in the near future.
The benefits of utilizing a nickel-plated solid aircraft-grade aluminum base seem to be plentiful. According to SST's testing of the ammunition the nickel-plated base will not abrade, clog, foul, wear-out or damage breach or ejector systems; it will not expand when fired in an unsupported chamber; and a fractionally larger flash hole eliminates back-face pressure which is ideal for environmentally-friendly primers. As for the benefits of the nickel alloy stainless cylinder, it allows for less abrasive functioning than brass because it's self-lubricating and corrosion resistant; it's a lead-free and frangible bullet option; it is stronger and more elastic than brass and it will not chip or crack which makes it a confident choice for +P and +P+ loads.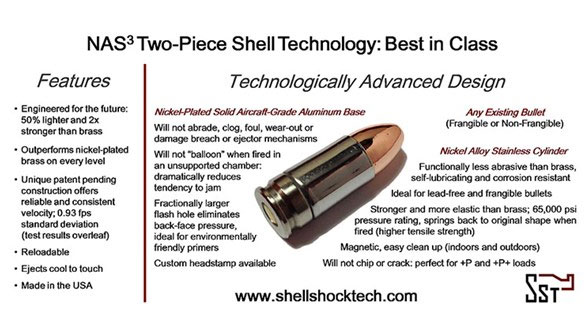 The nickel alloy shell ammunition has a patent pending construction which has given the NAS3 reliable and consistent velocity; 0.93 fps standard deviation. The NAS3 loads have been tested on a variety of machines with success including Camdex, Ammo Load, Alpha/Bitterroot, Hornady, and Dillon Precision.
In addition to being reloadable, cool to touch after ejection and made in the USA, NAS3 cases are priced lower than brass. So if you want like supporting new start-up companies with ingenutity to offer, why not give SST a try? Although currently the NAS3 two-piece is only available in 9 mm, SST will be releasing additional calibers, such as .380 and .45 ACP, before the end of the year.