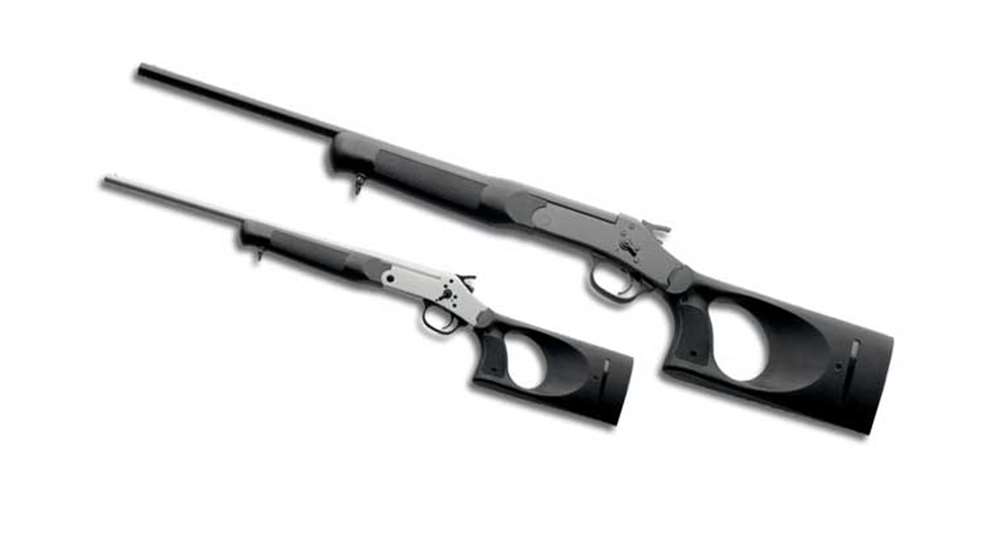 The new Tuffy shotgun from Rossi is an innovative single-shot shotgun which delivers many features at remarkably low price point. Designed as a simple, single-shot, .410-bore, break-open shotgun, The Rossi Tuffy is an ideal platform for first-time shooters and can also be used as a pack gun or even a vehicle gun, provided that it's stored safely and securely.

The Rossi Tuffy has a .410 bore with a 3-inch chamber, and the gun is designed to be comfortable to shoot, thanks to a specially-designed polymer stock set and aggressive texturing. The fore-end is contoured with a slightly angled grip profile which, combined with parallel finger grooves, offers positive hand placement and exceptional muzzle control. The buttstock is uniquely designed with a pistol grip/thumbhole that was developed for comfortable hand placement and optimal trigger reach.

Built into the buttstock is a soft rubber recoil pad and an inset to accommodate a built-in, four-cartridge shell holder that allows you to always have extra shells on-hand for quick reloading. The Tuffy is available in Black, Gray, OD Green, and Tan buttstock and fore-end colors and also has built-in sling swivel studs to allow for easy carry in the field and rapid use whenever it's needed.

The Tuffy also includes a front bead sight for fast target acquisition and features a traditionally operated manual safety. The 18.5-inch barrel and the receiver are constructed of matte black steel for durable performance and a long-lasting finish.

Rossi Tuffy Shotgun Specifications

Caliber: .410 bore, 3-inch chamber
Capacity: single-shot
Finish: matte black
Stock: polymer (Black, Tan, Gray, OD Green)
Firing System: hammer
Action: break-open
Trigger Pull: 3-6 pounds
Safety: manual
Sights: bead front
Barrel/Receiver Material: steel
Overall Length: 30.8 inches
Barrel Length: 18.5 inches
Weight (unloaded): 3.8 pounds
MSRP: $172.00

For more information on Rossi Tuffy shotgun, please visit rossiusa.com.