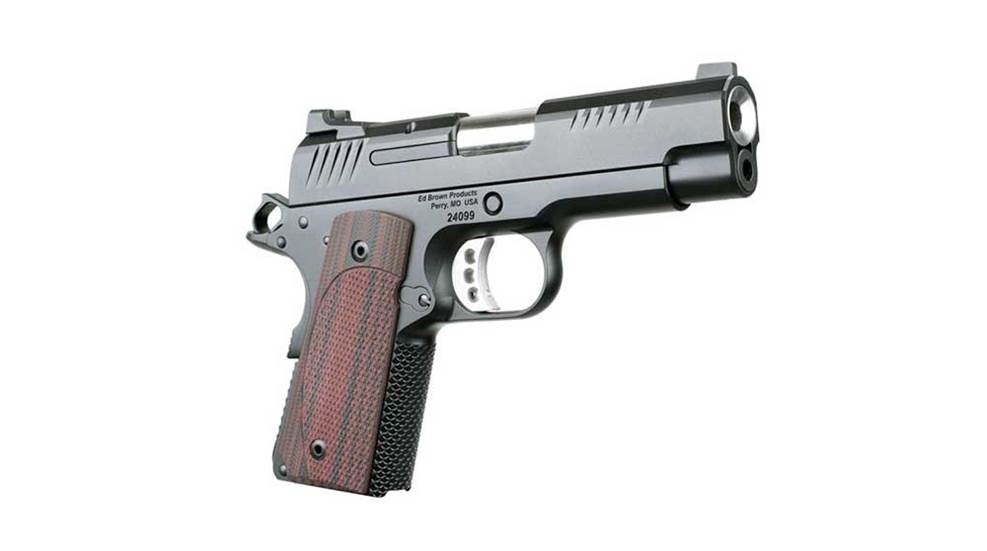 Ed Brown Products has introduced the next model in the Evolution series, the CCO9 Lightweight 9 mm 1911-style pistol. Optimized for the 9 mm caliber, the CCO9-LW is the smallest, thinnest and lightest model offered by Ed Brown. Designed for everyday concealed carry, the CCO9-LW has an 8+1 capacity and weighs approximately 27 ounces, due in part to a lightweight-aluminum, compact, Officer-sized frame, along with a shortened and thinned slide.

The CCO9-LW features a Snakeskin metal treatment on the fronstrap and round-butt mainspring housing that is smooth to you hand on the draw but gives a snug grip under recoil. The CCO9-LW updates the classic 1911 form factor with an external extractor, HD XR front sight, fluted bull barrel and flat wire recoil spring. A recessed slide stop, concealed-carry grip safety and slim grips add the features that make this an excellent choice in a defensive pistol.

Sales and Marketing Director John May said, "When is the last time that a firearms company offered its customers this kind of bang for their buck? Ed Brown will continue to lead the industry by serving our customers and offering the best products at the best value!"

The CCO9-LW is hand-built from fully machined components, loaded with custom features and backed by a lifetime warranty. The EVO series packs all special touches you've come to expect from an Ed Brown pistol, but at a more affordable price point. The EVO series is built in small, custom batches, using the most current advances in machining equipment and techniques, resulting in Ed Brown quality at a more attractive price.

MSRP on the Evolution CCO9-LW starts at $2,299, and more information on this pistol and the rest of the Ed Brown line of custom 1911 handguns, parts and accessories is available at edbrown.com.