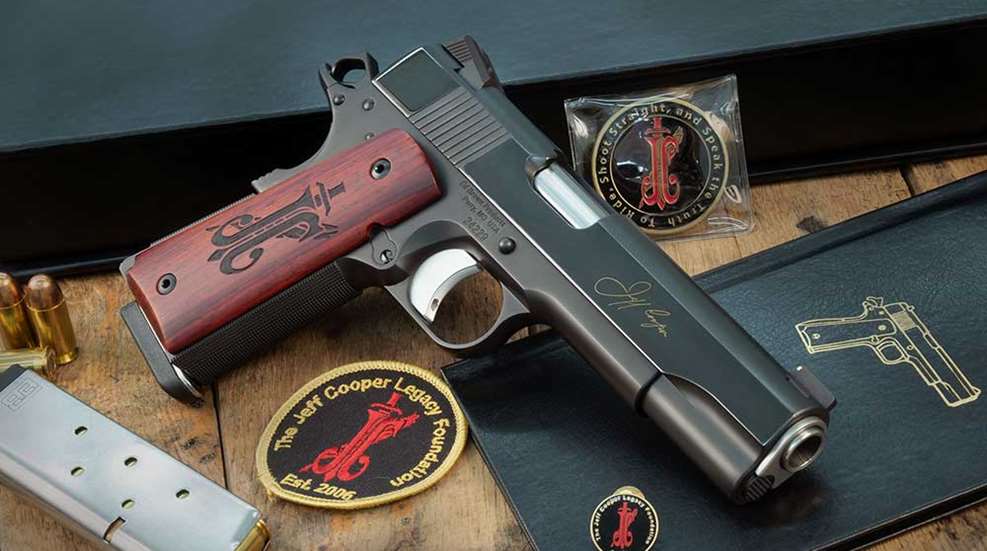 While day one on the exhibit hall floor of the 2019 NRA Annual Meetings & Exhibits showed a multitude of handgun offerings with extended-capacity offerings, polymer-frames and striker-fired ignition systems, there were an equal amount of 1911s to be found, too. The following are five examples of America's original service pistol that have some interesting features to offer: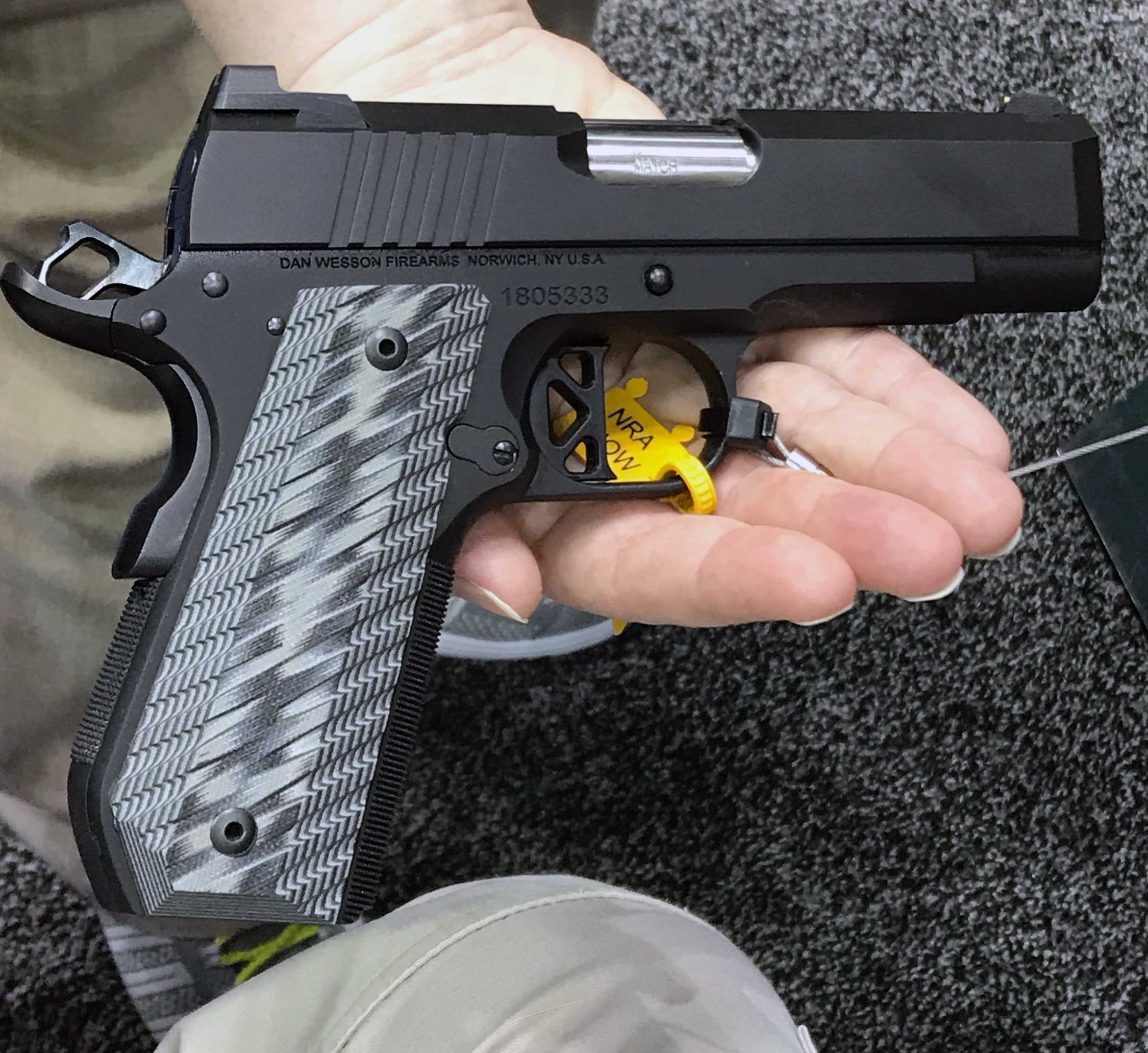 Dan Wesson DW ECP 1911 ($1,600)

The Dan Wesson DW Enhanced Combat Pistol (ECP) brings the heavy-contour, match-grade bull barrel from the company's popular Officer's-Model-size ECO to slightly larger variant that is still easy to conceal. Its 4-inch barrel is flush-cut with an attractive 30-degree crown and housed within a compact slide that boasts a beveled front for easy holstering and a stylish tri-cut top to reduce glare. Cycling the slide is a cinch, thanks to the addition of large rear serrations that provide ample purchase. Above, the rear sight is comprised of the company's new U-shaped notch and paired with a brass-bead front blade. Such a configuration is quick to acquire and extremely intuitive.

Use of forged aluminum frame brings the weight down to a svelte 29 ounces and the addition of a bobtail frame lessens the likelihood of printing while offering a nice aesthetic touch. Myriad of other practical features are found on the ECP including a beavertail grip safety complete with a memory bump to aid in deactivation, a single-sided thumb safety with a narrow paddle profile that still provides ample real estate for a shooter's thumb while shooting without being obtrusive. A skeletonized hammer and trigger that contribute to a crisp, light trigger pull and grip-enhancing elements such as a checkered frontstrap and tapered G10 panels.

Inside, the ECP shares another similarity between it and its smaller brother with regards to its recoil system. As opposed to a typical dual, nested recoil-spring system, the ECP features a flat-wire spring that is rated for an impressive 15,000 rounds.

Amidst all these features, the ECP also offers a degree of versatility by being offered in .45 ACP and 9 mm. While perhaps not a selling feature for the average concealed-carry licensee, for those with disabilities or other ailments such as arthritis that often results in a growing sensitivity to recoil, the additional chambering offers the added benefit of softer-shooting 9 mm and the added peace of mind that comes with having an extra round on tap.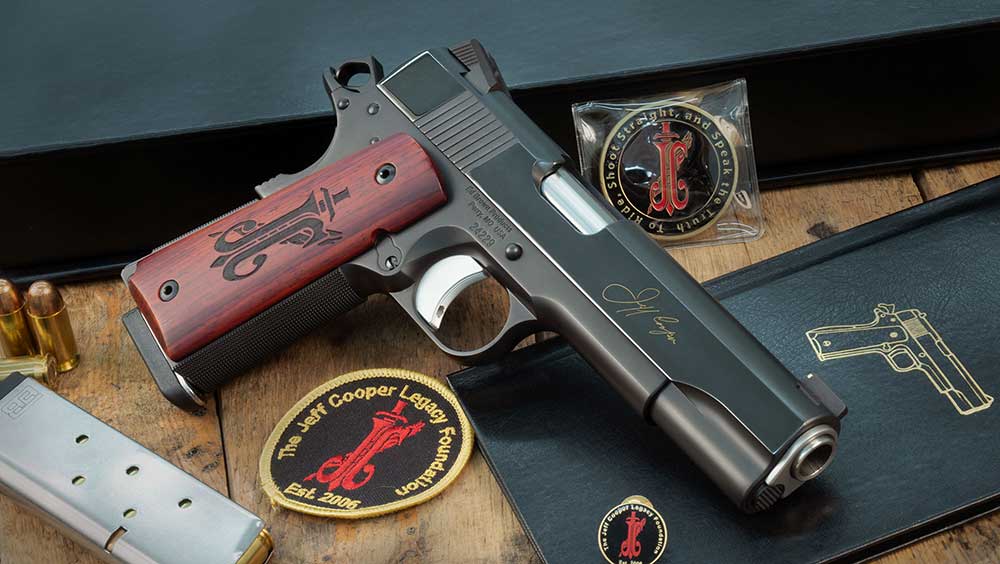 Ed Brown Jeff Cooper Commemorative 1911 ($3,170)

John Browning may have designed the 1911, but Jeff Cooper popularized in among the collective consciousness of firearm industry. In memory of the late outspoken gunwriter and the Father of the Modern Pistol Technique and the founder of the American Pistol Institute, Ed Brown Products introduces the limited-edition Jeff Cooper Commemorative 1911. Officially endorsed by and designed in collaboration with the Cooper family, the pistol replicates that "The Colonel" wanted in a 1911, the final design of which is based on input from Ed Brown gunsmith, the Cooper family as well as the Colonel's closest friends and, of course, his disciples (fans).

According to Ed Brown staff, the goal was not only create a 1911 that was ideally suited for combat shooting and self-defense but one the discerning Colonel would have been proud to carry. A portion of the proceeds will go to the Jeff Cooper Legacy Foundation to aid its efforts in educating the next generation of firearm enthusiasts and shooters.

Available in .45 ACP, the Jeff Cooper Commemorative 1911 is of standard Government-model configuration. Wide serrations adorn the rear of the slide for ease of manipulation. Cooper's signature appears in gold on the left side of the slide, between the ejection port and muzzle, while the letters DVC (an abbreviation for the three Latin words Diligentia, Vis, Celeritas: Accuracy, Force and Speed, the three elements that comprise the Combat Triad) appear in sharp but elegant contrast against a high-polished blued slide and matte-blue frame. Slights are of typical low-profile Novak style, a fixed black rear paired with a front blade that boasts a gold bead, a simple-but-elegant combination that is quick to acquire.

The carbon-steel frame features several popular-yet-practical accessories including an Ed Brown beavertail grip safety with memory groove for ease of deactivation, a skeletonized hammer, a solid trigger and a single-sided thumb safety. A truly fitting addition, the grips, which appear to be a rich rosewood contain Cooper's symbol: the initials JC skewered by a sword.

Available with or without accessorized presentation case, other contents include an Ed Brown letter of authenticity, a spare magazine, and a Jeff Cooper Legacy Foundation challenge coin, patch and lapel pin, to name but a few. A one-of-a-kind pistol for a one-of-a-kind man, the Jeff Cooper Commemorative 1911 is priced at $3,170 for the pistol only or $3,420 for the pistol with the display case.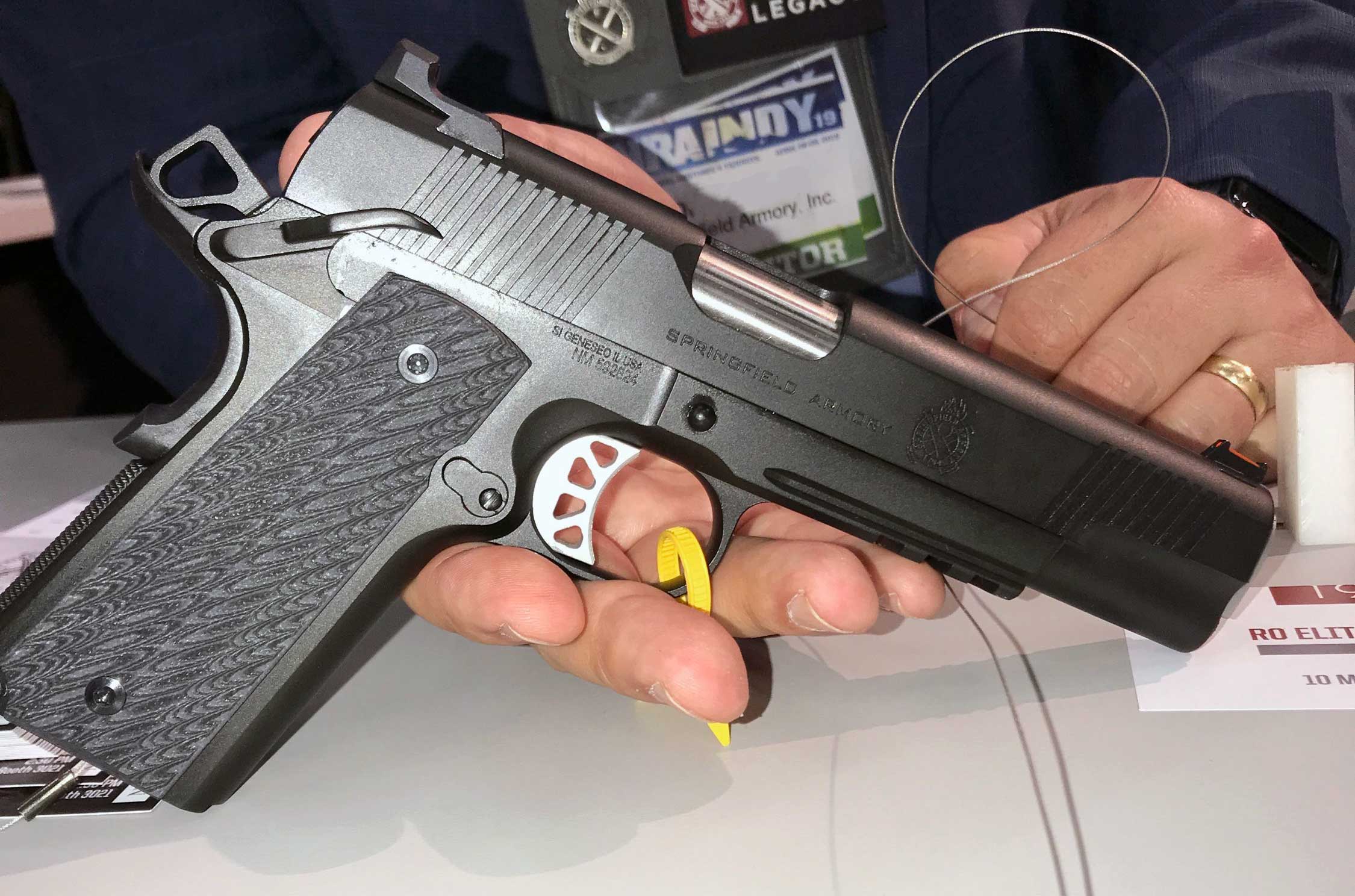 Springfield Armory Range Officer Elite ($1,159)

If you're looking for a multi-purpose pistol, here's one worthy of consideration. Described as a "multi-threat athlete combining trophy-level accuracy with do-it-all versatility" according to the Springfield Armory website, the Springfield Range Officer Elite boasts a match-grade forged-steel slide and frame that are coated in the same Black T finish used on the 1911s it builds for the FBI's regional SWAT and hostage-rescue teams. That matte finish, however, is subtly disrupted by reflective surfaces found on the barrel bushing, barrel hood and trigger.

This is a pistol truly designed for tactical use as evidenced by features such as its ambidextrous thumb safety, match-grade barrel and custom thin-line G-10 grips. Slanted front and rear serrations adorn the slide and foster easy slide racking, and the ejection port has been lowered and scalloped for enhanced reliability. Sights consist of a tactical rack white-dot rear and a fiber-optic front post. The hammer and trigger consist of the popular skeletonized variety.

Versatility is further addressed by way of an integral accessory rail built into its dustcover for hassle-free mounting of dedicated weaponlights and/or laser-aiming devices. Fans of hand-held flashlights need not scoff, however, as the additional mass provided by the accessory rail will aid in countering muzzle flip.

Given this pistol's penchant for precision and adaptability, the Springfield Range Officer Elite would be ideal either holstered on your hip or as a bedside guardian. Best of all, it's available in 9 mm, .45 ACP and 10 mm, another example of how this pistol has something for people's changing needs. Now if Springfield would only offer a version with an adjustable rear night sight to customize the pistol to a shooter's preferred load in low light use.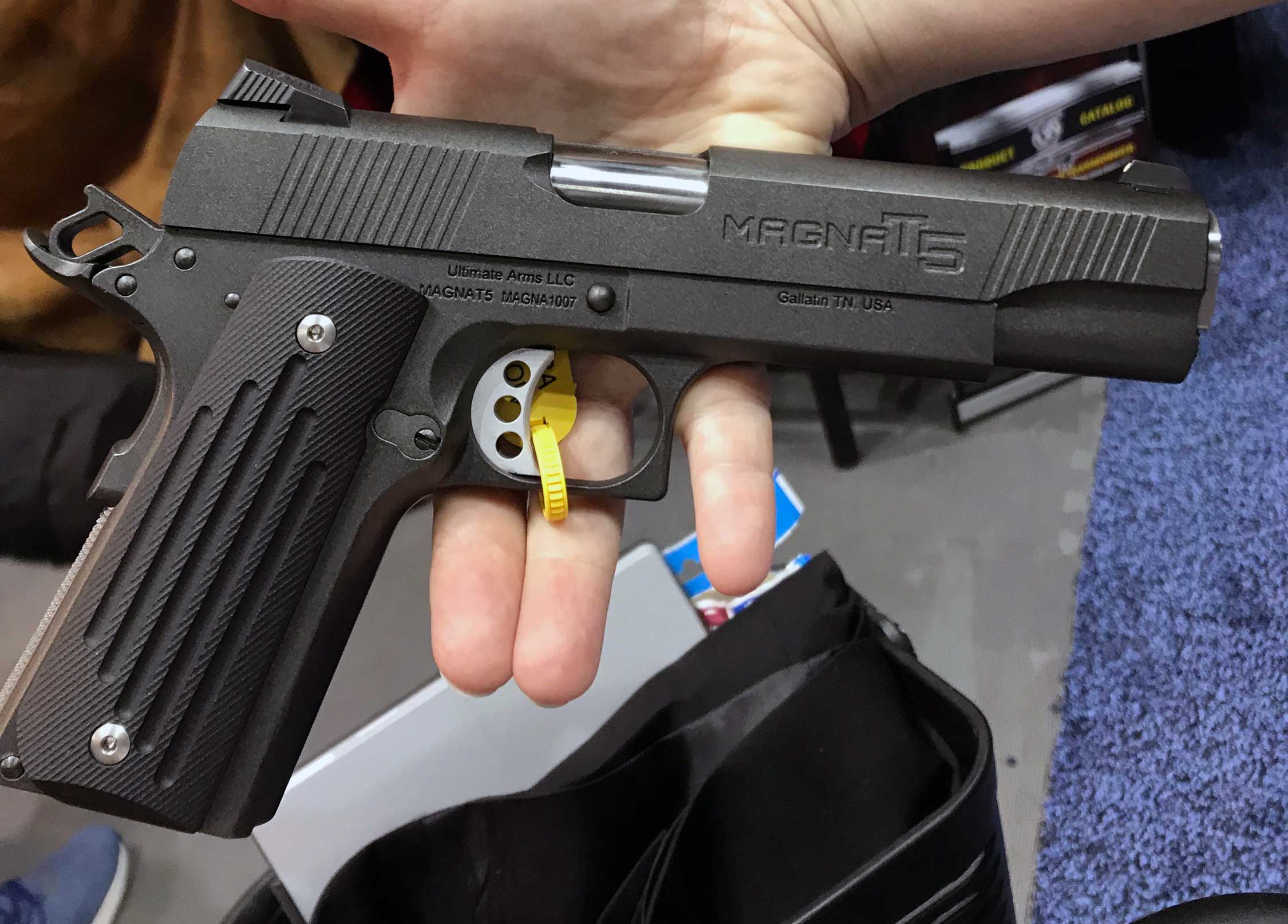 UA Arms Magna T5 1911 (under $2,000)

Think all custom 1911s cost an arm and a leg? Think again. Think the future of handguns center around polymer and steel? The folks at UA Arms know better and are out to prove it to the world. This company, which has been around since the '90s, recently developed a new magnesium alloy ZK60A, a material aged to T5 hardness. The end result is in the Magna T5 a pistol that machined from solid billet, is 35 percent lighter and is more durable than aluminum. Weighing a mere 25 to 28 ounces unloaded, the T5 is available in either Government- or Commander-length models as well as with or without an integral light rail.

Common features include a high-ride beavertail grip safety, front and rear cocking serrations, a skeletonized combat hammer paired with a classic three-hole trigger and Novak front and rear sights on carry-model pistols, while adjustable Bo-Mar-style sights are used on target and tactical models. Both the frame and slide are UA Undercoated and your choice of either diamond checkered rosewood grips or black G-10 grips with a magazine well are added to tactical model pistols. Both the frontstrap and mainspring housing are checkered to 22 lpi for added purchase. A UA Arms match-grade barrel is expertly fitted with a 1:16-inch twist for added precision. Customers also receive a UA Arms monogramed pistol case.

The end result is a custom-made 1911 with all the commonly requested features while weighing less than typical alloys and 35 percent lighter than aluminum. What could this mean for 1911s with made from polymer and conventional aluminum? Time will tell, but one thing is for sure, with an MSRP of under $2,000, the customer's getting a whole lot of gun, chockful of popular feature for a fraction of what comparable high-end cost.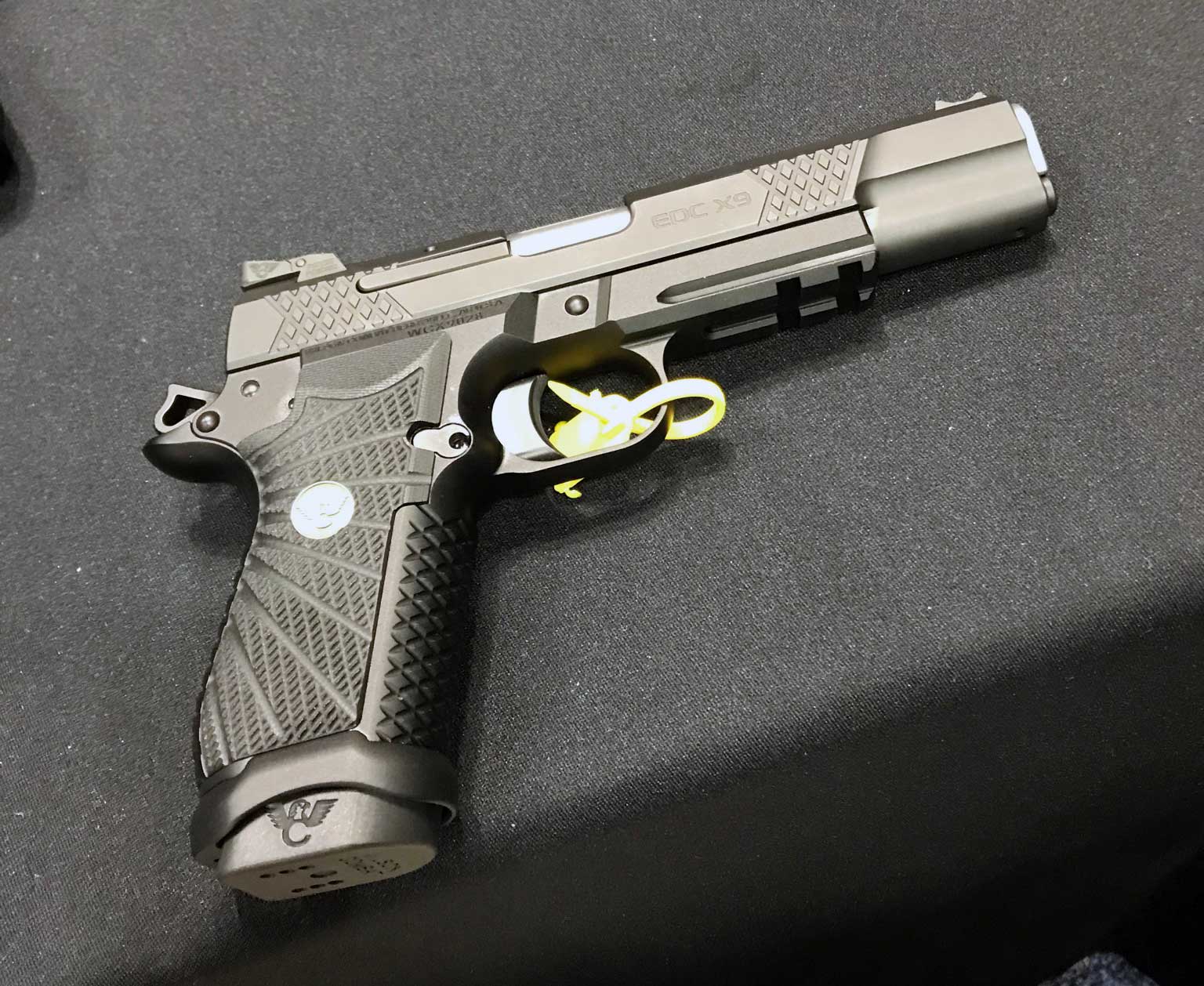 Wilson Combat EDC X9L ($2,995)

Following on the heels of the success of its immensely popular EDC X9 pistol, Wilson Combat listened to the input from its customers who desired a full-size version of the pistol for personal protection and recreational use. The end result is the EDC X9L, a longslide version with a 5-inch standard-contour barrel and bushing for shooters who want the enhanced accuracy that comes with a greater sight radius. Machined from 7075 T6 aluminum, the X-frame offers shooters a grip that is smaller in circumference than a standard 1911—all while being designed to accept 9 mm Mec-Gar magazines with an impressive 15-round capacity.

Interestingly, despite this change in size, the pistol still uses standard 1911 controls such as the slide stop, magazine release and even the thumb safety. A screwless design the X-frame tension from the hammer spring to retain the G-10 sunburst pattern grips in place on the frame. Besides its longer slide and barrel, the latest addition to the EDC line boasts a built-in magazine well at the base of the grip to aid in lightning-fast reloads.

Much like its shorter sibling, the EDC X9L has just as much going for it on the inside as it does the outside with Wilson's Enhanced Reliability System (ERS). Designed specifically for 9 mm pistols, the system features a spring-loaded extractor that successfully improves feeding of all types of 9 mm ammunition. The pistol's match grade barrel has a standard contour and bushing, but that's where the similarities end.

Unlike most 1911 barrels, the EDC X9's sports a single lug for the purpose of reduce the friction caused by cycling and increase slide velocity while improve overall reliability. As a means of further reducing friction, the ERS also removes a portion of the frame rails from around the magazine opening. If you want a truly unique 1911 like no other consider the Wilson Combat EDC X9L.