by
Shooting Illustrated Staff
posted on September 3, 2019
Support NRA Shooting Illustrated
DONATE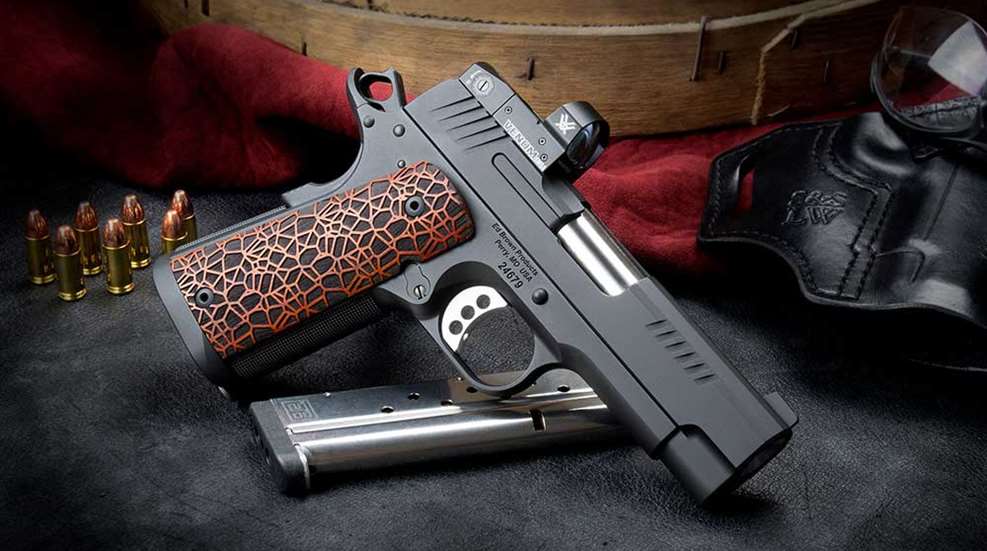 The new EVO Series of 1911 pistols from Ed Brown was intended from its inception to evolve. Built to respond to today's market, where more and more handguns are equipped with electronic sights, the Ed Brown E9-LW retains classic features of the 1911 while fulfilling the need or smaller and lighter pistols. The new E9-LW, chambered in 9 mm, features a lightweight aluminum frame, along with a shortened and thinned 4-inch slide topped with a Vortex Venom red-dot sight, fulfilling both these demands.

Ed Brown Sales and Marketing Director John May said, "As promised, the EVO Series will continue to evolve, showing that we listen to our customers and we do our best to stay on the edge of technology to offer our customers the very best. We are embracing our position of being the leader in our sector and will continue to strive for excellence and improving the Ed Brown experience. If you haven't looked at Ed Brown in a while, it's time to see all the new and exciting things happening here."

The E9-LW is the first model in the EVO Series to come equipped with a red-dot sight. The 6-MOA dot allows for rapid target acquisition, while still providing a precise point of aim. The pistol also has  25 LPI checkering and is fitted with a Chen Gen2 magwell, providing for fast reloads without increasing the height of the frame. Also fitted out with exclusive Labyrinth grips, seven top slide and special front and rear cocking serrations, the E9-LW continues the striking good looks of the rest of the EVO Series.

The fit and finish of this pistol continues the Ed Brown tradition of gunsmithing perfection. The E9-LW is hand-built from fully machined components, just like all Ed Brown 1911s, and is loaded with custom features. The EVO series are built in small, custom, identical batches, using all the latest in machining equipment and techniques to get every last bit of efficiency from the build process, and is backed by a written lifetime warranty.

Prices on the E9-LW start at $2,895, and more information is available at edbrown.com.