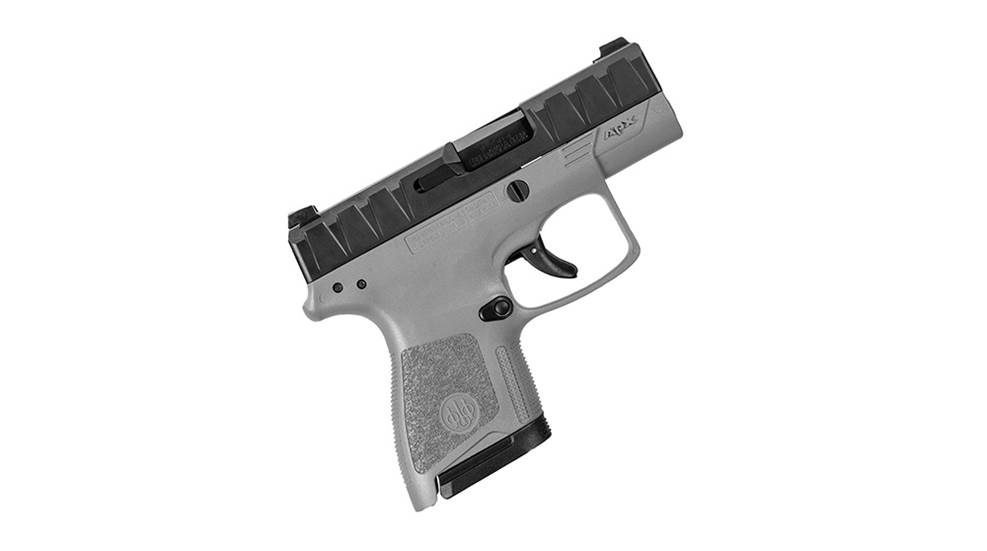 Following up on the launch of the company's earlier APX models, including Compact (
reviewed here
) and Centurion variants launched in mid-2018,
Beretta
aimed to provide a small, easily concealed design that aims directly at the ever-growing concealed-carry market. The new Beretta APX Carry is built with a single-stack, subcompact frame and is chambered for the popular 9mm cartridge.
Unlike the company's earlier double-stack designs, the Beretta APX Carry is built with an entirely new frame design that's purpose-built for ease of concealment and daily carry. Each pistol measures 4.2 inches high, 5.6 inches long and has a grip width of 0.9 inch. Overall weight, unloaded, is 20 ounces, and the APX Carry ships with two magazines: a flush-fit, six-round mag and an extended eight-round mag. Barrel length measures 3.07 inches long.
Fans of the company's original APX platform will immediately recognize some of the signature elements of the lineup, such as the aggressive slide serrations and textured grips. Ergonomics were an important focus point on the design of the single-stack frame, providing an intuitive grip that allows users to aim the gun instinctively. The APX Carry is equipped with a long, double-action trigger pull, and a lowered bore axis combined with a higher firing grip ensures the pistol can be controlled through rapid strings of fire.
One of the highlights of the Beretta APX Carry is the use of a serialized chassis that can be removed from the modular frame. This allows users to select different frame colors or customize their frames without worrying about affecting a serialized component. The sights are also replaceable and can be upgraded with compatible aftermarket options that best fit the user's needs. Four different colors are offered in the Beretta lineup: black, FDE, OD green and wolf gray. The suggested retail price on the Beretta APX Carry is $450.