by
posted on January 3, 2019
Support NRA Shooting Illustrated
DONATE
Mossberg released the MC1SC subcompact 9 mm handgun early in January 2019, its first handgun since the company's four-shot, .22 LR Brownie some 100 years prior. Designed as Mossberg's first entry into the concealed-carry market, the MC1SC is designed to go head-to-head with established brands with a combination of upgraded features and affordable pricing.

During the Mossberg MC1SC's product unveiling to a group of gunwriters and editors at Gunsite Academy, Mossberg's engineers and marketing team explained the rationale behind this seemingly radical departure in the company's product line. Linda Powell, Mossberg's director of media relations, explained, "Based on marketing research, 44 percent of the firearm market is handgun purchases. Considering the significance of the market share, Mossberg began looking at the specific marketing data related to pistols and the features most highly-desired. With that information in hand, we began the development of the MC1SC in hopes of delivering a superb 9 mm concealed-carry handgun to consumers."

In design, the Mossberg MC1SC is fairly traditional. It's a polymer-frame, striker-fired pistol with an integrated blade safety on the trigger. Sights are standard three-white-dot variety, with both front and rear sights in adjustable dovetails. TruGlo night sights are available, and aftermarket options should be readily available.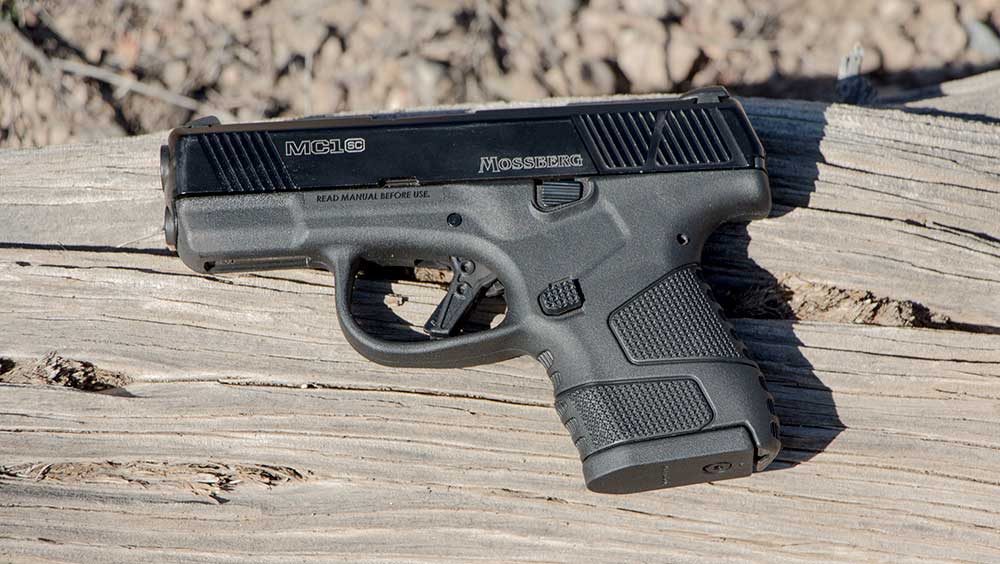 An interesting note is the tool-free takedown design. In contrast to other pistols on the market, the Mossberg MC1 can be taken down for cleaning without any need for pulling the trigger or using special tools. A rear slide plate can be removed, exposing the striker assembly, at which point the MC1 can be taken apart. It's a safety-conscious nod to one of the more common complaints about other systems.

Shootability was obviously a serious consideration in the design of the Mossberg MC1. In addition to a gentle palmswell that anchors the pistol in the hand, the flat-face trigger provides a smooth, clean break that feels lighter than the 6-pound pull weight. Mossberg's propriety grip texturing and a grip angle similar to the 1911 also aid in getting—and keeping—the MC1 on target.

Four models of Mossberg MC1SC are currently available: The standard MC1SC, the MC1SC with a crossbolt safety, an MC1SC with TruGlo night sights and an MC1SC with Viridian laser sighting system. On the crossbolt-safety model, the safety itself is reversible, and on all models the magazine release is also reversible.

Stay tuned to Shooting Illustrated for more information on this new pistol from Mossberg.
Mossberg MC1SC Specifications
Manufacturer: Mossberg; (203) 230-5300, mossberg.com
Action Type: Recoil-operated, semi-automatic
Caliber: 9 mm (+P rated)
Capacity: 6+1 rounds (7+1 rounds available)
Frame: Polymer
Barrel Length: 3.4 inches
Rifling: Six grooves, 1:16-inch RH twist
Sights: Drift-adjustable white dot front and rear
Trigger Pull Weight: 6 pounds
Length: 6.25 inches
Width: 1.03 inches
Height: 4.3 inches
Weight: 19 ounces
Accessories: Two magazines, chamber flag, manual
MSRP: $425