by
Shooting Illustrated Staff
posted on September 20, 2018
Support NRA Shooting Illustrated
DONATE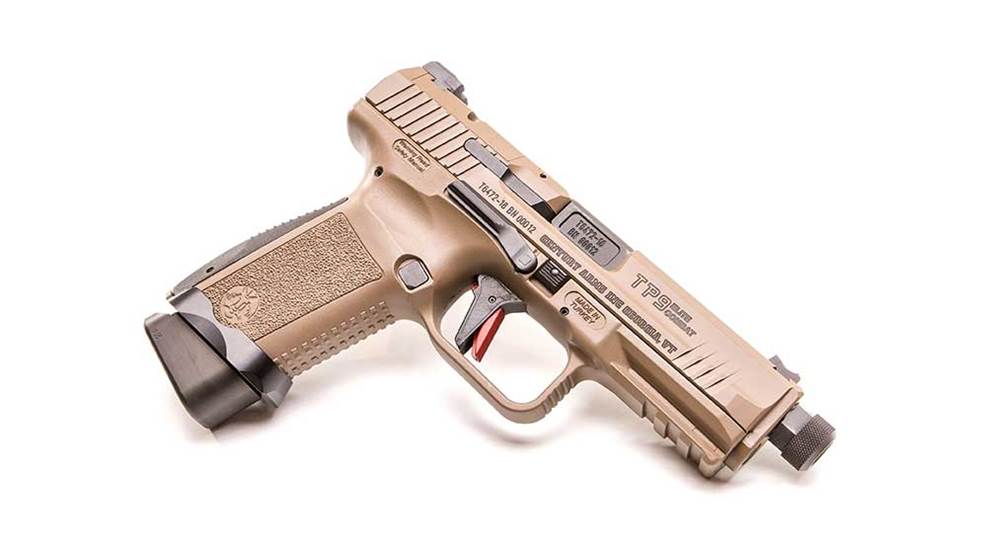 Building on the success of the company's popular Canik TP9SF Elite,
Century Arms
teamed up with
Salient Arms International
to offer an upgraded version of this Turkish import, providing consumers with an enhanced model that includes a host of new features.
"Century and Salient Arms agreed on the TP9SF Elite as the ideal platform for the new Combat model due to its popularity and versatility, with its size being ideal for both concealed carry and full duty applications," said Jason Karvois, director of sales for Century Arms.


According to Jacob Lunde, head of operations at Salient Arms International, the project started just after Canik's first SHOT Show Media Day at the Range, when Salient Arms employees were able to get their hands on the TP9SF Elite.
"Salient Arms International first noticed Canik very early on," Lunde said. "SAI's booth was located not far from Canik during Canik's first SHOT Show Media Day, and we took advantage of the opportunity to shoot the pistol. We were very impressed by how well the pistols performed, and left with a high respect for the product. Even prior to collaborating on the project, we would quickly recommend Canik pistols to anyone look for a great value in a pistol. We were excited to consider a collaboration, and to further enhance the already excellent line-up of Canik pistols."


Together, the two companies worked to provide an enhanced offering. The Century Arms TP9 Elite Combat is equipped with a fluted, nitride-treated barrel guaranteed to provide match-grade performance. The barrel is topped with a 13.5x1 mm threaded muzzle and includes a convex thread protector. The frame and slide are treated with a nitride finish, over which an FDE Cerakote finish is applied. The slide is milled with an optic-ready cut and ships with a number of adapter plates compatible with many of the market's top reflex optics. The gun also ships with a mountable charging handle that aids in racking the slide under pressure.
Other features found on the Century Arms TP9 Elite Combat include fiber-optic sights, an all-aluminum magazine-well funnel that aids in reloading, extended magazine release and a flat-faced aluminum trigger. The gun also features internal parts that are nitride-treated or nickel-coated to withstand the wear resulting from extended use. The pistol ships with magazines equipped with plus-three extensions machined from aluminum, and the package also includes an all-new retention holster.
The suggested retail price on the Century Arms TP9 Elite Combat is $849.99.