With the model designation of "Patrol," it would not be unreasonable to assume Mossberg's new MVP Patrol rifle is intended for use by police officers. It's easy enough to picture a rural sheriff's deputy pulling one from his truck to dispatch a nuisance black bear or maybe take out a barricaded bad guy. Mossberg's intent, however, was for its new "Patrol" rifle to be a general-utility firearm, equally suited to a variety of tasks.
The AR-15 most often represents the go-to rifle of the new millennium, but some shooters prefer a bolt-action rifle to fill this niche or for a more powerful option. Col. Jeff Cooper popularized this notion with his idea of the scout rifle. Traditionally, a scout rifle is thought to be any rifle with a forward-mounted magnified scope, and some consider this long-eye-relief optic inseparable from the scout concept. Cooper, however, thought of the scout rifle as a descriptive term for a general-purpose rifle suited to hunting and defense, boasting enough power to bring down most big game and even two- legged predators.
More specifically, Cooper felt a scout/general-purpose rifle could be defined by the following characteristics: Overall length of less than 1 meter (39 inches), unloaded weight of 3 kilograms (6.6 pounds), ammunition fed from a magazine or stripper clip, an optional optical sight mounted toward the front to allow use of stripper clips, backup iron sights (preferably of the ghost ring style), chambered in .308 Win. and able to achieve 2-MOA or better accuracy at 100 yards. While I think it a bit much to fit a rifle within these exact parameters, for all practical purposes, Mossberg's new 7.62 NATO MVP Patrol meets Cooper's well-known guidelines.
Mossberg catalogs several variations of the MVP Patrol rifle, available in three different chamberings. Some MVP Patrols are built on a compact action sized to work with AR-15 magazines—which was the original MVP configuration—and the compact-action Patrol is available in 5.56 NATO.
The other MVP Patrols are built on a standard-size action—which is a modified Mossberg 4x4 action—compatible with either DPMS AR-10 or M14 magazines. These rifles are chambered for .308 Win./7.62 NATO. Factory options are limited to a non-threaded barrel or threaded barrel with a flash hider, and a package rifle that includes a compact, 3-9x32 mm riflescope. Everything else about these rifles has been engineered, maybe by coincidence, to make the MVP Patrol a working example of the scout rifle Cooper envisioned.
For starters, by using a 16.5-inch barrel, Mossberg kept the overall length of the MVP Patrol at 37.75 inches. The barrel has a heavy contour measuring 1.178 inches just forward of the barrel nut and tapering to .768 inch just behind the 5/8x24 threads at the muzzle. Surprisingly, considering the rifle is suppressor ready, Mossberg chose a 1:10-inch twist rate, which will work fine for all supersonic .308 Win. loads, but is too slow for heavy-bullet, subsonic loads.
The 4x4 action used as a platform for the 7.62 MVP has been modified by adding two rails to the bottom of the bolt head. These rails allow the bolt to push the top cartridge from the magazine. To configure the action and stock to hold a magazine in place, Mossberg created a polymer block that fits between the action and the stock. It's held in place by two robust action screws that pass through steel pillars, which are glass-bedded to the stock. A hefty recoil lug—sandwiched between the barrel nut and the face of the action—fits snugly in a recess in the stock.
The stocks are cataloged as being black synthetic, but Mossberg is currently using wood stocks covered with a black, texturized paint until synthetic-stock supply catches up with demand. The test rifle in 7.62 NATO, as well as all of the MVP Patrol rifles I've handled and fired, was fitted with the painted-wood stock. When they begin to ship with the synthetic stock, weight is expected to be cut by a few ounces, probably dropping to Cooper's ideal of 6.6 pounds. Other than a bulky forearm, I found nothing objectionable with the painted-wood stock. It has a nice texture with coarser pebbled sections along the grip and fore-end. Sling-swivel studs are placed at the standard locations and a moderately soft, 1-inch ventilated pad caps the butt.
MVP Patrols are the only centerfire bolt-action rifles Mossberg offers with open sights, which are manufactured by Williams Gun Sight and both front and rear are held in place with a single screw. The front sight has a red fiber-optic insert and the rear—adjustable for windage and elevation—has a U-notched blade. They were easy to see, and the comb of the stock was designed to allow a good cheek weld when using them. If you insist upon meeting Cooper's exact criteria, replace the rear sight with a ghost-ring aperture, which will likely require a taller front sight.
MVP Patrol rifles also come with a one-piece Picatinny rail atop the action. It is 6 inches long, has 15 slots and will allow for the mounting of either reflex, red-dot or holographic sights. It will also fit just about any traditional riflescope, though depending on the size of the objective bell, the rear sight may need to be removed. With all of these optical options and with the MVP Patrol feeding from a readily available detachable magazine, there's no need for a forward-mounted scout scope, since Cooper's reasoning for such an optic was primarily to allow the use of stripper clips.
Even though the stock only has about a half-inch of drop at the heel, there's at least a full inch of drop at the nose of the comb. You may need to utilize a strap-on cheekpiece if you want an ideal cheek weld with optical sights. The stock is also a bit blocky in the forearm, but will fill your hand unless you have bear paws. Considering the trim nature of the butt section, this choice at the fore-end seems odd. Mossberg could spend about an hour on the fore-end with a wood rasp and my feelings would not be hurt.
The Mossberg MVP Patrol meets six of the seven requirements Cooper considered elemental to a scout rifle. Those same criteria would equally apply to the description of any rifle intended for general-utility service, because it's not so much about the gun's name as its suitability to multiple applications. Establishing if a rifle can meet the final requirement of sub-2-MOA accuracy takes more than a tape measure or conjecture—you have to spend some time on the trigger.
In his book, "The Art of The Rifle," Cooper wrote: "The most important characteristic of any rifle is its trigger action. It is better to have an inaccurate rifle with a good trigger than the other way around." Mossberg uses its Lightning Bolt Action (LBA) trigger on all MVP rifles.
The LBA trigger is fitted with a "passive safety"—a separate lever in the center of the trigger. When you place your finger on the trigger, it contacts the center lever, which must be depressed before the trigger can be pulled. The concept is similar to that pioneered by Glock on its handguns and by Savage with the company's AccuTrigger. It allows for a crisp, consistent and sometimes very light pull weight. The LBA trigger is all of those things, and it's also adjustable. If you remove the barreled action from the stock, you'll find a screw on the front of the trigger housing. Turn it clockwise, and trigger pull weight increases; turn it counterclockwise and pull weight decreases. The adjustment range is between approximately 2 and 7 pounds. According to my Timney trigger gauge, the trigger on the test rifle broke at 1.75 pounds. I left it alone.
For accuracy testing, I mounted a new Redfield 3-9x42 mm TAC MOA Battlezone scope on the one-piece scope rail. I tested three loads, and the overall average for all groups was 1.5 inches—well within Cooper's 2-MOA standard.
Rifles are easy enough to test from the bench, but sometimes it takes time in the field to find out what a rifle is made of. Can it hold up to rough treatment? Can it survive the elements? Can it deliver the precision you need—not from the bench, but from field shooting positions? Since I no longer wear a badge and since my combat boots were worn in what it seems was another life, my "field" is now limited to the range and woods.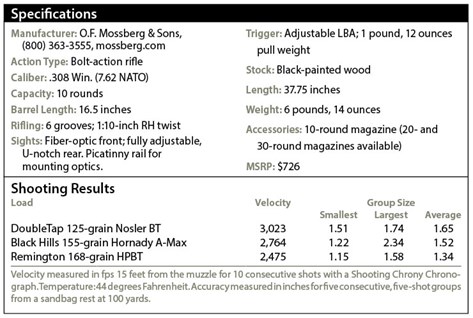 I spent several hours on the range with the MVP Patrol, preparing to carry it to Newfoundland on a moose hunt. Since I had taken a bull moose last year with an MVP Predator, I knew shot distance could be anywhere from a few yards to considerably farther, and possibly in bad light.
There were no failures experienced with the rifle, and it fed from a variety of magazines without a hitch. The bolt was not the smoothest I've cycled, but if you worked it like you're supposed to, it was not a problem and it did seem to smooth with use. My primary complaint was the two-position safety does not lock the bolt handle down when in the "safe" position. The MVP's bolt handle is very easy to lift if already cocked, and this can inadvertently lead to the bolt handle being pushed up—and it often does. If the bolt handle is not pushed down fully, you'll hear a click when you pull the trigger.
After the trip to Newfoundland, I returned moose-less, but with a solid impression of the MVP Patrol—it is a rifle aptly suited to general utility service, surviving the elements with only an occasional wipe with a Ballistol rag. The gun's dimensions and capabilities would be a fine complement to any police patrol car, and it would serve admirably as a "Katrina-Rifle," a rifle you could trust during social disorder of cataclysmic proportions. Furthermore, it would meet the needs of the majority of hunters anywhere on the planet.
Patrol, scout or utility rifle—no matter what you call it, Mossberg's MVP Patrol in 7.62 NATO is a serious rifle designed to deal with serious situations. Hunters, preppers and patriots take note, the utilitarian MVP is American-made, and you'll smile upon picking one up—even wider when you look at the price tag.