Men buy new vehicles and can't wait to add accessories to them. They're the same way with guns; guys love add-ons. There's nothing wrong with that, but sometimes our accessory lust outweighs our mechanical prowess. This results in an unscheduled visit to a mechanic or a gunsmith. With the Mossberg ATI Scorpion, that should not be a problem.
Texas Ranger Capt. William Jessie McDonald was thought to have inspired the saying, "One riot, one ranger." With this new shotgun, Mossberg might be inspiring a new slogan, "One riot, one shotgun," because its new ATI (Advanced Technology International) Scorpion Model 500 is a well-accessorized pump shotgun, configured for fighting, right out of the box. All you need to do is load it full of 12-gauge fight-stopping fodder and start shooting. 
Mossberg starts with its basic and proven Model 500 shotgun and installs an 18.5-inch cylinder-bore barrel. On top of the barrel, the company attaches an ATI heat shield, with two, 2.75-inch sections of Picatinny rail; one mounted on each side, between the barrel and the magazine tube, about 1.5 inches back from the muzzle. The magazine tube holds five, 3-inch magnum or six, 2¾-inch shells. (The shotgun is shipped with a capacity-limiting plug installed. It is easily removed.) 
Mossberg also attaches a machined, anodized aluminum, ATI Halo Side Saddle to the 500's receiver. This unit allows for the attachment of up to nine ATI shell holders. (Six left and three right.) The Side Saddle is also drilled and tapped for a top Picatinny rail and one is included. The rail is grooved along its centerline and this groove serves as the rear sight, which partners with a winged-post front sight attached to the end of the heat shield.  
Rounding it all out is ATI's polymer Akita fore-end and the company's Scorpion TacLite pistol grip stock. The shotgun's 2.25-inch diameter fore-end is designed to provide a hand-filling grip and the Scorpion stock offers 3.3 inches of length-of-pull adjustment. It locks in place at six different positions and has an adjustable comb, too. Though not quick to adjust, the comb can be positioned to allow for the proper interface between the eye and optical or open sights. 


The ergonomic stock helps soften the heavy recoil of full-power 3-inch magnum loads. And, 2¾-inch buckshot and slugs were reasonably comfortable to pound downrange, if those loads and the word comfortable can rationally occupy the same sentence. The configuration of the buttstock and the fore-end, in conjunction with the gun's heft, made follow-up shots fast. At 8.4 pounds unloaded, this is not a light shotgun.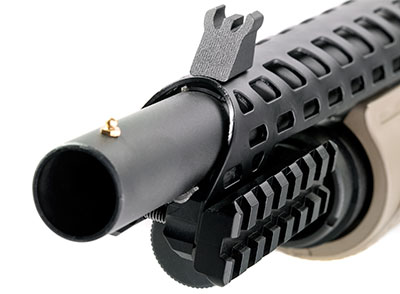 Probably the most noticed comfort feature was the padding on the rear of the pistol grip. This cushiony pad was easy on the web of the shooting hand and without question enhanced the feel and security of the grip. The downside—and this applies to any Mossberg 500 with a pistol grip—is that the top of the receiver, tang-mounted safety is hard to reach. Unless you have gorilla paws, you'll have to relinquish your grip to place the gun on safe or fire. Otherwise, there's little to dislike, though it should be mentioned there's no forward sling-swivel attachment. However, various aftermarket gadgets can be had for a few bucks and they'll fit either forward rail to permit sling attachment at that point. Between the stock and receiver there's a single-point sling attachment and the buttstock is configured to accept a push-button-type sling swivel, too.  
At 20 yards Federal Personal Defense nine-pellet, 00-buck load patterned at an astoundingly small average of 5 inches. Slugs fired off-hand grouped into neat 4-inch clusters at 35 yards. At that distance, a single pattern produced by five rounds of 00 buck and five rounds of rifled slugs could be covered with your hand! That's worth bragging about, and so is the fact the factory sights were dead-on target. Misses at reasonable shotgun-fighting distances will
be your fault.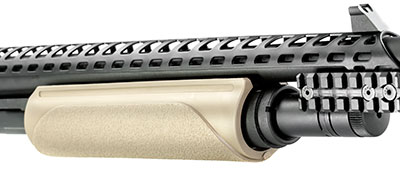 What Mossberg is offering is a well-appointed defensive shotgun, with a suggested retail of only $588. That means street prices will be about $500. Considering it comes with more than $200 worth of ATI accessories—accessories you don't have to attach while sitting at the kitchen table spouting profanities—Mossberg's ATI Scorpion is a real deal. Of course, if you just cannot resist the urge, the two Picatinny rails are there to assist with that inner need to
add something. 
If you're interested in the ATI Scorpion, tell your dealer that it's an exclusive, only available through TALO Distributors.