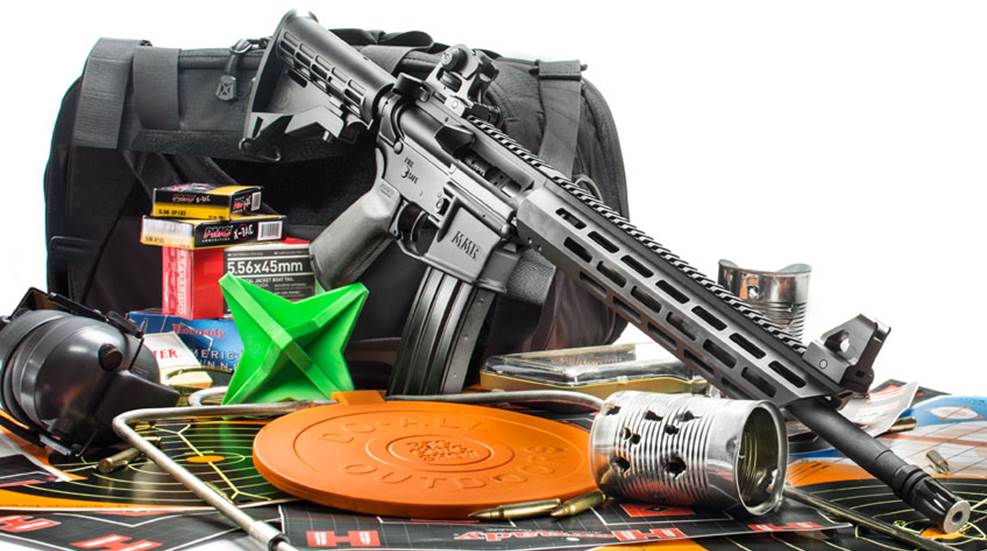 Famed firearm manufacturer O.F. Mossberg and Sons, jumped into the AR-15 market in 2011 when it introduced the MMR—the Mossberg Modern Rifle—in the MMR Tactical and the MMR Hunter platforms, both chambered in 5.56 NATO.
I had a chance to run several hundred rounds through both models shortly after they debuted at a shooting event and varmint hunt co-sponsored by Mossberg. Certainly, they were functional ARs that got the job done. Dozens of dead squirrels attested to the accuracy of these rifles, given that the small varmints were about the size of furry corn dogs and I was able to drop them at distances in excess of 250 yards. 


My big concern about the MMR Tactical was its cheese-grater quad handguard, burdensome bulk and sharp edges, which stopped just short of cutting my hands. Both variants also sported a gritty Mil-Spec trigger.
For 2016, Mossberg has essentially re-launched the MMR line, upgrading and changing many of the original features and modernizing this already modern sporting rifle.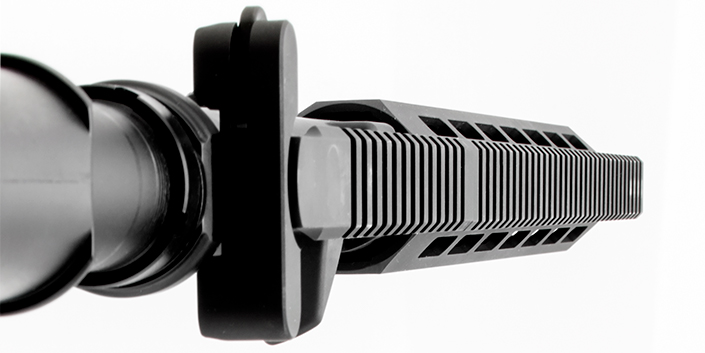 "In looking at AR market demands and responding to our customers' feedback, we felt that the line needed an upgrade," said Linda Powell, Mossberg's media manager.  "Both the MMR Hunter and MMR Tactical have been discontinued for 2016 and our plan is to re-enter the AR market with a series of ARs to include a 3-gun option, a modernized hunting version, and the first offering in this new series, the MMR Carbine—a true multi-purpose platform."
I recently received a production model MMR Carbine for testing. Like its predecessors, it's a functional rifle and it's accurate. It's also a slimmed-down version of the original, fits well in the hand and on the shoulder and looks much more refined than its cheese-grater cousin.
The improved aesthetics and ergonomics are due in large part to the addition of a Mossberg-designed, 13-inch handguard that incorporates Magpul's versatile M-LOK system. Mossberg also tapped Magpul for an MOE+ pistol grip and a MOE polymer trigger guard. The MMR Carbine is built with a 1:8 twist rate for stabilization with a wider range of bullet weights. (The original MMRs had a 1:9 twist rate.)
On the downside, the MMR Carbine still has a Mil-Spec trigger most shooters will want to replace. Of course, this AR isn't alone in that predicament. Few ARs in the sub-$1,000 price range have triggers many would rate as "smooth" or "crisp." Lastly, the MMR Carbine has no forward assist. Whether or not that's a concern is up to the individual shooter's preferences, but for this shooter the preference is definitely to have one.


Initially, I gave the MMR Carbine a thorough cleaning. Then, I removed the rail-mounted open sights. Nothing against the sights; they looked good. But an optic is a better way to judge a rifle's accuracy than open sights, certainly for me. So I mounted a Swarovski Z6i 1-6x24 mm scope on the MMR, using a LaRue Tactical SPR-E quick-detach scope mount. 
At the range the next day, I ran approximately 100 rounds of varying manufacture through the MMR, just to get a feel for the rifle and to begin the zeroing process. First impressions were the rifle handled well and the M-LOK handguard stayed cool even with high-volume, high rate-of-fire shooting.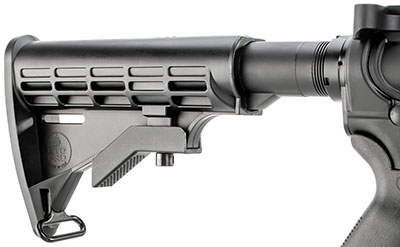 The MMR's six-position, adjustable buttstock snapped in and out cleanly, and the Magpul MOE+ grip is nicely tactile. I also ran my hand under cold water and then took hold of the grip just to see how the MOE+ grip worked wet—great, was the answer. There was no slippage between wet hand and wet grip. The oversize Magpul MOE polymer trigger guard has ample room for a gloved trigger finger.
A week later, I returned to the range to complete my testing, the MMR having been cleaned and lubricated. Before switching to different ammunition, I also cleaned the bore and lubed the bolt-carrier group, and made sure the rifle had a 10-minute cool-down period.
I kept the Swarovski Z6i in place. For a rest, I used the Champion Premium Shooting Rest with a padded front rest and a padded pocket for the buttstock. I like this rest for ARs as it is made specifically to fit rifles with longer, higher-capacity magazines. Speaking of magazines, I used the Mossberg metal 30-round magazine that came with the rifle for all my shooting, loading it with five to 10 rounds, to 15 rounds at a time.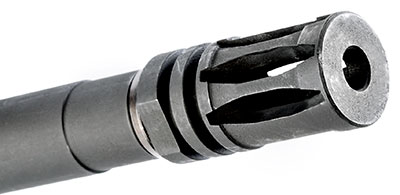 First, I made sure the rifle was hitting a 2-inch bullseye at 50 yards, which took five shots, then moved to the 100 yard targets I had set up. These, by the way, were Birchwood Casey Shoot-N-C Targets 12-inch Sight-In targets with five diamond-shaped bullseyes.
Now, I tend to shoot fast when testing ARs, even on benches. Of course, I take time to breathe between shots, realign my sight picture, and practice good trigger fundamentals. But a major reason to have a semi-auto like an AR is the ability to put a good number of rounds downrange in a short space of time. I don't think waiting 30 seconds between shots is a true test of how an AR will be used for self-defense, in the field or for competition. 
My absolute best group of the day was a 1.26-inch group I shot with a 55-grain round made by Dynamic Research Technologies, the worst a 2.29-incher with the Hornady Superformance. The best average was with Federal Fusion MSR ammunition, which clocked in at 1.55 inches for five, five-shot groups, followed by the DRT at 1.62 inches and Hornady Superformance at 1.71 inches.
Of note, I had multiple hits on the .5-inch diamond-shaped centers of the Shoot-N-C Targets with each brand of ammunition. But groups definitely expanded as shots were fired and the barrel heated up. With all three brands of ammunition, my initial two shots were within a half-inch of each other;  the next two shots spread out another inch or so; the last shot could be right at shot number four or it could push out a bit further, too, up to a half-inch more.


The MMR Carbine is compact and sturdy—as an AR should be—weighing in at just 6.75 pounds, unloaded, with the upper and lower receivers manufactured from 7075 T6 aluminum. All metal surfaces are protected by a black phosphate/anodized metal finish for enhanced durability. The carbon-steel barrel is freefloated and button-rifled. The rifle comes with removable rail-mounted, adjustable target sights. The front sight is adjustable for elevation, the rear sight for windage and elevation. A flattop, full-length Picatinny rail provides for customization.
The MMR Carbine cycled every round without a problem, in the neighborhood of 250 rounds by the time I was done with my evaluation. I made sure to collect and examine as much of the brass as I could find. There were no dents or other incidental damage to the body and neck of the used brass I gathered. Case rims were clean, too, with no scratches or gouges to suggest an extractor working overtime.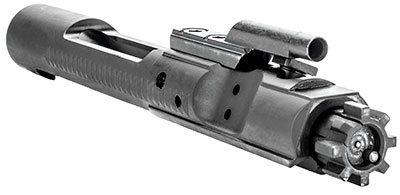 The bolt catch engaged the bolt easily, and held it in place firmly, though it took pretty good pressure to release it. The spring on the magazine release was taut but not too much so, and the magazine dropped right out with minimal pressure on the release button. The safety selector moved stiffly between stations, but began to smooth out with use.
What did not smooth out with use was the Mil-Spec, single-stage trigger on the MMR Carbine. It's far from a great trigger and, to be fair, the MMR is not alone in this situation. Most production ARs costing less than $1,000 come with triggers that range from gritty and somewhat difficult to use to damned hard grinders that compromise accuracy. The trigger on the MMR is not the worst I have ever used. It is, however, uncomfortably close to the more questionable end of the above-referenced scale.
I found the trigger on the MMR Carbine actually gritty enough that it was possible to approximate a two-stage trigger. I could pull the trigger back through the initial rough spots and slack, stop and hold it in place, and then give the trigger the needed harder squeeze to break through the final wall. In fact, this "two-stage" approach gave me better accuracy than using the trigger single stage and the associated extra effort and movement it required.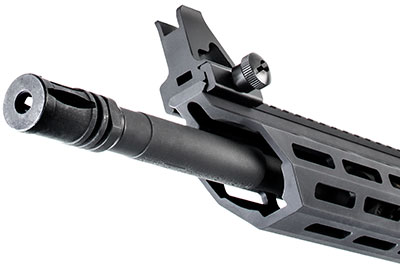 For close-in fast shots and shots where you have a good deal of time, the MMR's trigger won't be a problem. But, I suspect one reason my groups weren't smaller was partially due to the trigger and the hard "wall" I had to squeeze through right before it releases the sear.  Many shooters, no doubt, will replace the original trigger with a better aftermarket model.
Tactically speaking, I wonder if the 1:8 rifling twist that is standard on the MMR Carbine is sufficient. A Hornady Superformance round firing a 75-grain bullet produced the largest groups of all the three loads I used. Part of the reason, I assume, has to do with the larger, longer bullet, which really calls for a 1:7 twist—at least according to the many ballistic experts I have talked to over the years.
For shooting paper targets and various moving targets (in competitive shooting situations or not), the 1:8 twist in the MMR Carbine will do the job. But if your preference runs to heavier bullets, at distance, the MMR is likely not the best choice.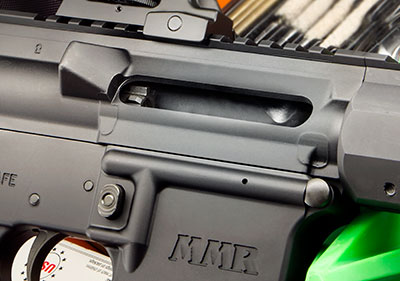 The MMR Carbine does not have a forward assist. A lot of newer ARs are also foregoing the assist. Marketing and engineering people at several AR manufacturers have told me their customers don't rate the forward assist as needed. And, of course, not incorporating one makes the rifle itself less expensive to produce.
I can't argue with the cost saving aspect of not having a forward assist. But not needed? 
It is true that during my time with the MMR Carbine, I didn't have a single extraction problem. I also did not short-stroke a round, and the frequent cleanings meant the MMR never got gunked-up enough that the bolt might hang up inside the receiver. 
But, all of these things, of course, can and do happen in real world shooting situations with AR's, which is why the forward assist was added to the AR platform. It's also why I prefer an AR to have a forward assist.
For an everyday AR that can handle home-defense duties, range and field use, the MMR Carbine is a solid choice. No, it's not a top-of-the-line, custom rifle.  But it also doesn't come with a custom rifle price tag, and the investment in an aftermarket trigger will, I believe, give you a sub-MOA rifle that will withstand years of shooting and many rough days of use. 
More MMR models will be introduced over the next couple years. Mossberg's Powell also noted that the MMR series will include other caliber options than the 5.56 NATO/.223 Rem. chambering. The 7.62 NATO/.308 Win., no doubt, will be among those options. But, it will be interesting to see if Mossberg gets a little more creative and offers future MMRs in other chamberings and in various furniture and accessory configurations.