In my home state of Ohio, there was a time when shotguns were a multi-purpose hunting and personal defense tool. We hunted deer, turkey, waterfowl and upland game with our shotgun (oftentimes a single shotgun with multiple interchangeable barrels), and they were the firearm of choice for home defense. Shotguns were the most popular long gun for local law enforcement agencies, and trap, skeet and sporting clay shooting competitions drew huge crowds.
Things have changed since then, but shotguns remain a popular and versatile choice for many hunters and shooters. For those who feel that a scattergun is simply the best option for personal protection, Mossberg's Maverick 88 remains a popular choice, and with good reason—this reliable and affordable pump-action 12-gauge offers plenty of stopping power when you need it most.
The Maverick 88 is a no-frills cousin of Mossberg's legendary Model 500 pump-action shotgun, and although the two guns are aesthetically and mechanically similar, they are not identical guns. Both the Maverick 88 and Mossberg 500 come with sturdy dual extractors and twin action bars, anti-jam shell elevators, positive steel-to-steel lockup for added durability. The Maverick 88, however, features a crossbolt safety in front of the trigger guard instead of the tang-mounted safety found on the Model 500. The Maverick 88 is assembled in Mossberg's Eagle Pass, TX, facility.
There are a variety of Maverick 88 models including six Security models, five of which feature fixed buttstocks. There's a folding stock model with an ATI Shotforce top-folding synthetic stock. Fixed stock models are available with either an 18.5-inch barrel and a 5-round capacity or 20-inch barrels with 7-round capacity with either black or FDE synthetic stocks and forearms.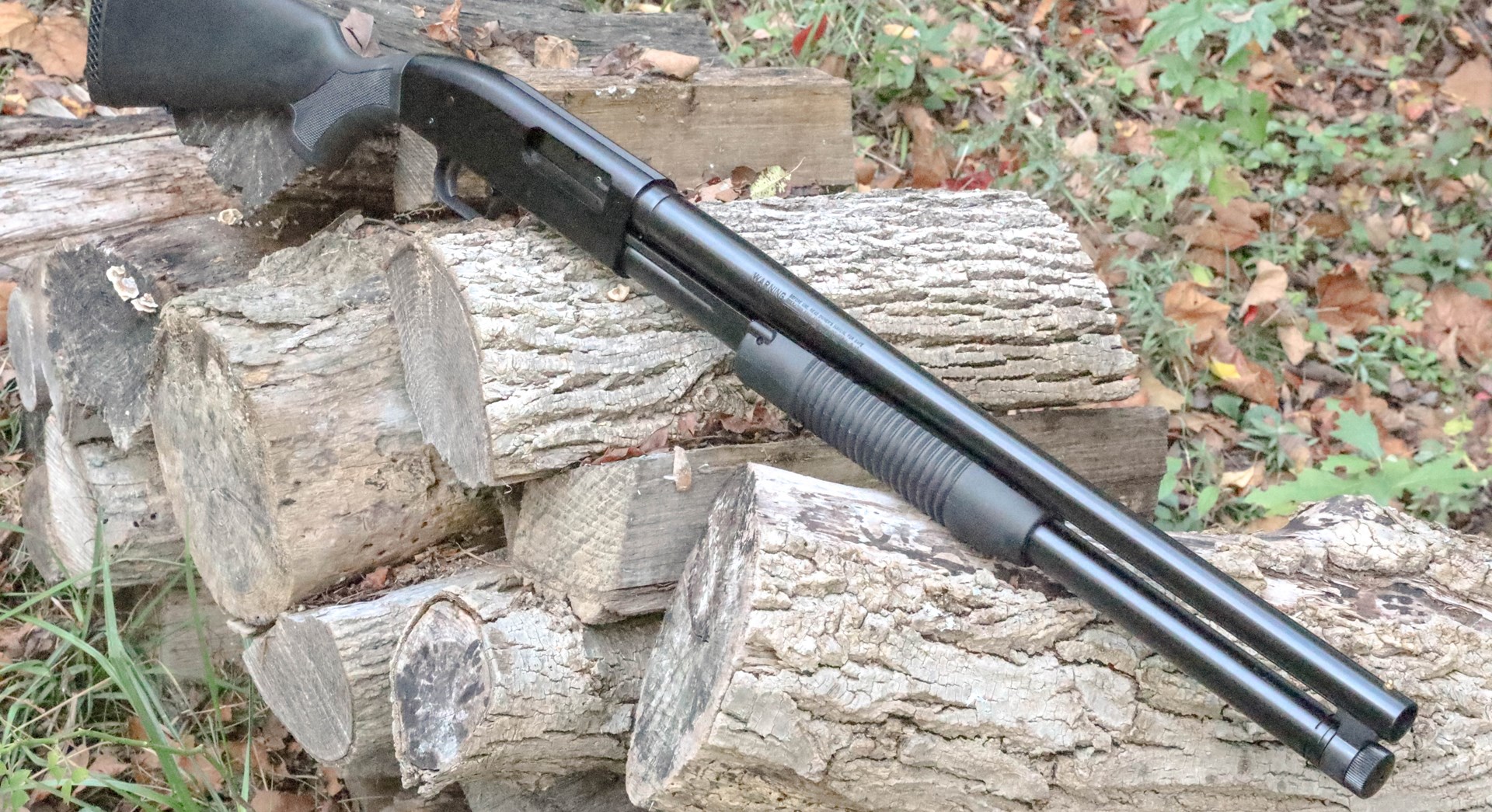 Regardless of which Maverick 88 you select you'll have a reliable pump-action self defense shotgun. Mossberg's 500 action has been rigorously tested and continues to be a favorite choice of LE agencies who rely on scatterguns, and most of the Mossberg's reliability-enhancing features carry over to the Maverick 88. The dual extractor system that both guns share is important for maximum reliability: shotguns have very small rims, and a single extractor can slip off or break. Having two extractors virtually eliminates the problem.
Besides the extractors, the most common mechanical issues I've encountered with pump shotguns involve the elevator. The Maverick 88's anti-jam elevator rides under the bolt and remains out of the way when you're loading shells into the magazine tube. When the bolt is retracted the elevator, which consists of two metal arms and a sturdy, slightly rounded face, drops down as the next shell drops free from the magazine. The system has proven completely reliable for me and I appreciate not having the elevator in the way when I'm loading shells, especially if I'm doing so in a hurry. The slide release is located just behind and to the left of the trigger guard where it can be easily accessed.
The Maverick 88's forearm is pinned to the action bars. The 88's forearm isn't interchangeable with Model 500 forearms, but the barrels can be swapped depending upon gauge and capacity. Since Mossberg's Model 500 is so popular there are a seemingly endless array of barrel configurations for the Maverick 88 which means your self-defense shotgun can serve as an upland or waterfowl shotgun, a deer gun, and a clay target crusher. That's the type of versatility that made pump guns popular for generations, and considering the Maverick 88's low price of ownership you can almost certainly own one gun with multiple barrels for less than you'd spend on many pump guns with a single barrel. Both Mossberg 500 and Maverick 88 barrels use a captured screw that secures to the front of the magazine tube. Many Mossberg barrels come with sling studs, but Maverick barrels do not.    
The Maverick 88 comes with a basic blued finish. Bluing may seem archaic in the age of nitride and ceramic surface treatments, but when a gun is properly cared for bluing works just fine (and has for over a century). The synthetic stock and forearm on the test gun were plan black, but they will hold up well to the elements. The test gun came with a fixed cylinder choke which is suitable for shooting slugs and buckshot.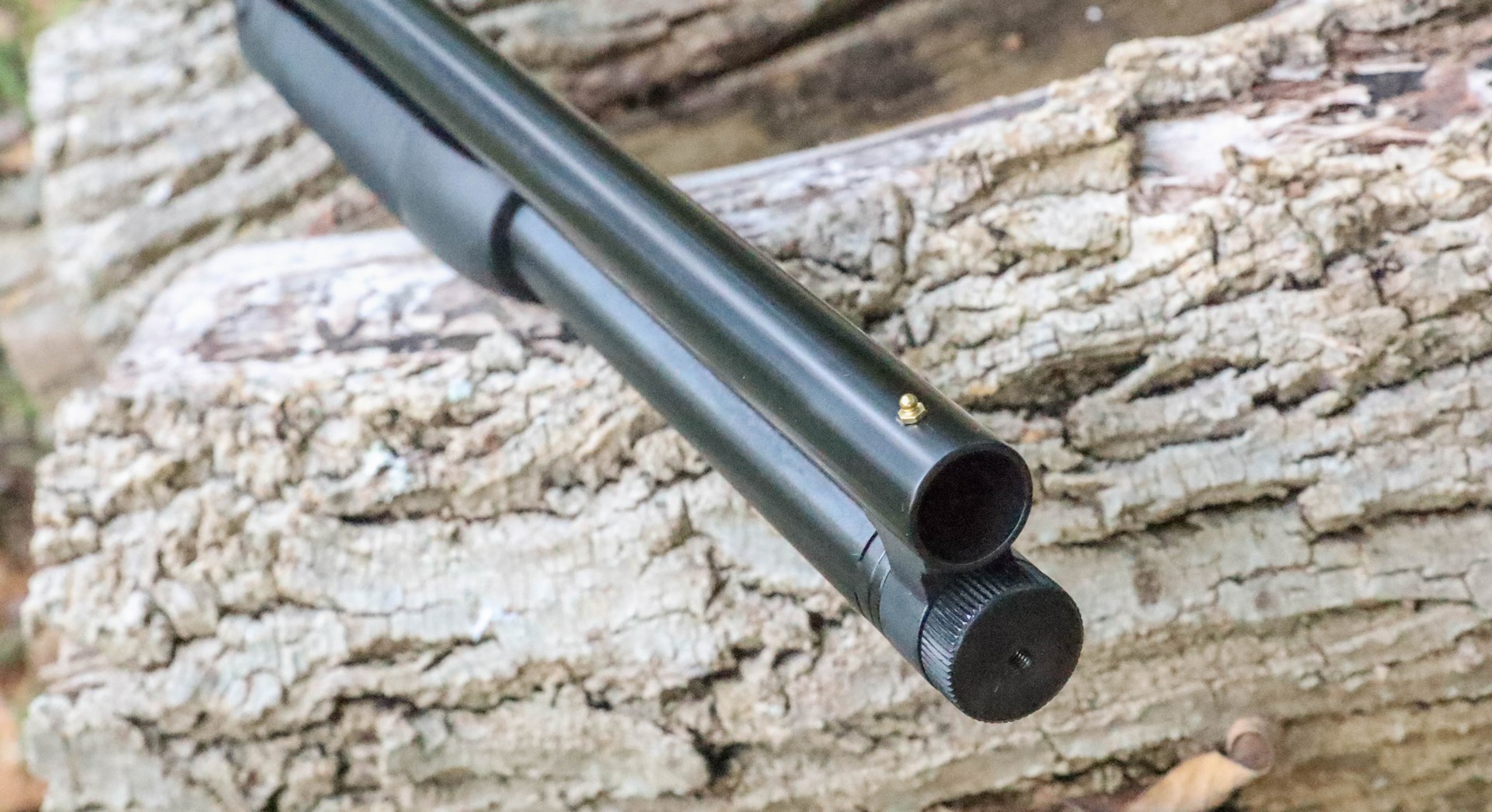 Though it's listed at 6.5 pounds the test gun with its 22-inch barrel weighed in right around six pounds. With eight rounds of defensive ammunition the weight rises almost an additional pound, which isn't so bad when you're firing magnum 12 gauge loads quickly. The receiver isn't drilled and tapped for optics, but it is flattened and serrated. There's a single brass bead front sight.
So, what's the price? MSRP for the Maverick is $245, which is considerably lower than Winchester's SXP Defender ($360) and Stoeger's P3000 Freedom Series Defensive Pump ($339). It's quite ikely to find a Maverick 88 Security on stores shelves for around $200, which makes this shotgun perhaps the best option in affordable self-defense firearms.
At the Range
The Maverick 88 is easy to load and operate. I like the Mossberg's tang safety, but with a bit of practice operating the crossbolt safety on the Maverick becomes intuitive. The brass bead front sight offers a fast and simple reference for aiming, and the gun cycles quite smoothly. There were no issues with feeding, extraction, and ejection. Length of pull is 14 1/2 inches and small-statured shooters will likely find the stock a bit long. The trigger breaks at seven pounds and there's a bit of creep, but you won't notice it under most circumstances.
The Maverick 88 packs a punch with magnum loads, so if you're looking for a light-recoiling gun this isn't the home defense tool you need. However, with light 12 gauge loads recoil is noticeably less, mild enough for most shooters with some firearms experience to manage. The Maverick 88 was designed to deliver shots at relatively close range with slugs and buckshot loads, but I did break some hand-thrown clays in the backyard and the gun performed surprisingly well. You likely won't see any at the Grand American, but if you're in the mood to crush a few clays in the backyard then this gun will do it—and you won't have to reload as often.
Of course, this gun isn't designed for breaking clays. It's engineered to be an effective home defense weapon, and in that regard it shines. It lacks the fancy finishes and features like screw-in chokes you'll find on some competing guns, but at a price under $250 I simply don't think you can beat the value the Maverick offers. Is it the best value in defensive firearms? Quite possibly.   
Mossberg Maverick 88 Security
Action: Pump-action
Gauge: 12
Capacity: 5 to 7 (tested)
Weight: 6 pounds
Overall Length: 41 inches
Sights: Bead front
Stock: Black Synethtic (tested), ATI folding
Trigger Pull: 7 pounds
Finish: Blued
MSRP: $245