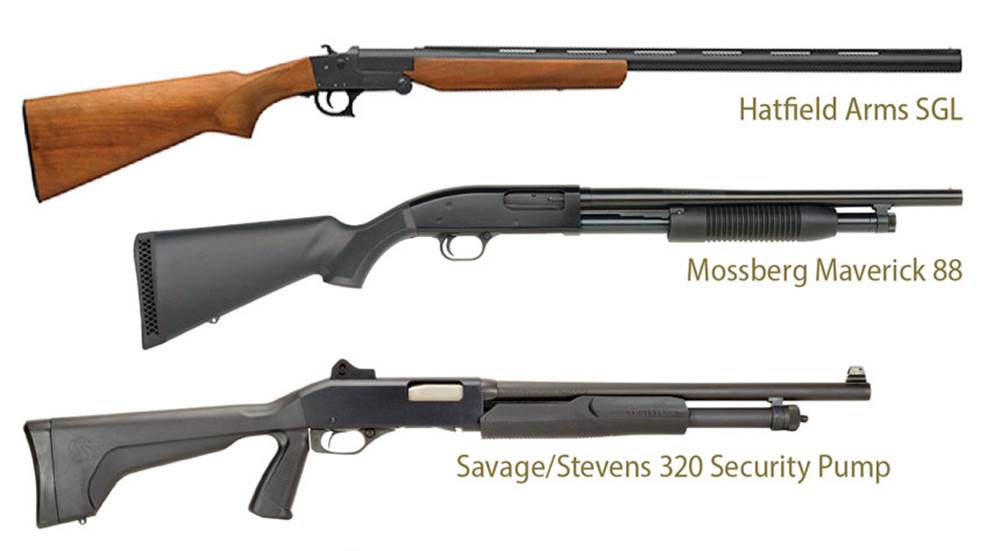 Right now, the latest smartphone will cost you $1,000. Truck prices have gone up every year since Mr. Ford invented them, I think. Heck, even a top-end bow (without arrows) can cost $1,500, whereas 5 years ago one was $999. Yet, some guns—namely shotguns—keep getting less expensive. Here's a roundup of a few notable home-defense shotguns for those who don't wish to part with a lot of jingle.


Hatfield Arms SGL 12 gauge
The Hatfield SGL is a break-open, single-shot hammer gun in 12 or 20 gauge that's about as Spartan as guns come. You can buy it at Walmart for about $99. Its hinge pin and a recess in its fore-end are built to allow it to be broken open to about 330 degrees, so it can fold up much more compactly than other break-opens like H&R's or Stevens' single-shots.

Its 28-inch barrel is not ideal for home defense, but you can have a competent gunsmith trim nearly a foot off of that so it will fold over nicely for storing in a backpack and still not require NFA paperwork. Its downside? It has no buttpad nor sling studs, but you can add those cheap and easy. And while its trigger is heavier than a lake-record bass—about 15 pounds—what can you expect for a shotgun that goes bang, prints its pattern where you point it and costs less than a Benjamin? 


Mossberg Maverick 88
If you're looking for a pump-action shotgun, this is one of the least-expensive, yet most effective guns on this list. The Maverick line differs from Mossberg's regular models in that parts are made in Mexico, but the shotgun is assembled in the USA. The Maverick line is reliable, yet it costs a couple hundred less than Mossberg's name-brand stuff because it is a bare-bones model.

If I wanted a dedicated home-defense shotgun for less than $300, it would be the Maverick 88 Security due to the extended-magazine tube that holds 8 rounds—yet this gun only costs $250. It's styled after the classic Mossberg 500 with its deeply ribbed fore-end. The safety, however, is on the trigger guard rather than the tang.  


Savage/Stevens 320 Security Pump
The excellent 320 Security pump has an 18.5-inch barrel, a rotary-bolt head, dual-action bars, a no-nonsense bead sight and a Benelli M4-like stock that is full-size so you actually use it, but also has a legit pistol grip for added control. It also has a sling stud recessed on its side so the gun can be slung flat against the chest or back. Its tube holds five rounds for a total capacity of six rounds, and it loads easily. Best of all, it's as reliable as taxes. All in all, if you want to defend your castle, but only have about $209 to spend, the 320 Security pump is right up there on the list of the world's best values.


Black Aces Tactical Pro Series S Max
Black Aces Tactical is the company that first introduced the shotgun that led to the Mossberg Shockwave craze. It continues to innovate, but with a new focus on inexpensive tactical shotguns. The company's S Max is a gas-action, semi-automatic that has everything a home defender needs including 6+1 capacity, a full-length/full-contour stock, 18.5-inch barrel, sling studs, a no-nonsense bead sight and a nickel-plated bolt for smoothness.

At just 6.4 pounds and 39 inches overall, it's perfect for the home. Although I haven't fired this gun, Black Aces is a small company from Florida that takes great pride in its stuff. Of all the semi-autos on the list, this is likely the best for the money. And if you prefer a lever-action shotgun, the company has one of those available, too, also for $399.


Hatsan Escort SDX12
This Turkish-made, AR-style shotgun offers the advantages of a detachable 5-round magazine, M16-style top carry handle, fully adjustable buttstock and more rails than a skateboard park. The SDX's strength is that its controls and feel are similar to AR-style carbines, so even non-shotgun folks can run it without much difficulty. However, they'll find that it handles like a rifle with its A2-style peep sight and straight-line feel.

While I haven't spent much time with this particular shotgun, some similarly styled offerings have had reliability problems. But, if you break it in properly, use shells with more power than the lightest target loads and keep it clean, you should have few problems. Most remarkably, it costs less than $500 on store shelves (when there are firearms on store shelves, that is). 


TriStar KRX Tactical
The KRX is an AR-15-style look-alike that, like the SDX12 and others, shines for folks who desire a shotgun but are more proficient with a modern-sporting rifle. That's because loading and shooting the KRX is just like an MSR. Despite what plenty of online reviewers say, the KRX does have significant recoil, thanks predominantly to its lively 6.8-pound weight, straight-line buttstock and cheekpiece that's harder than a steel bleacher seat after 10 innings.

I'll just say you'll know you're shooting something, especially with heavy slug and buckshot loads. Reliability is like most gas-action, box-magazine-fed guns, which is to say that it's not stellar, thanks to a shotshell's inherent square design that doesn't really like to feed from a box magazine. Still, for around $500 if you search enough online, it's quite a cool shotgun.
Note: Real-world prices are listed, and in normal times consumers can expect to actually purchase these shotguns at or near those prices. In current market conditions, however, demand for firearms is outpacing manufacturing capacity, resulting in supply shortages. Therefore, you might find actual prices much higher than what's listed—if you can find the guns at all.