Even though your loved ones are priceless, and you would do whatever it took to protect them, thankfully you don't have to invest thousands of dollars to keep everyone safe when things go bump in the night. If you prefer a shotgun for personal defense but don't have a huge budget to work with (or would prefer to invest more money in quality ammunition and training), there are options that won't break the bank but will still keep the homestead well-protected. Rather than checking out the "used and abused" rack at the local gun shop, ask about these affordable new options.



Mossberg Maverick 88 – Security
Known for their reliable shotguns, Mossberg's Maverick 88 Security 12 gauge pump action features a 5+1 capacity with a 3-inch chamber, an 18.5-inch blued-finish barrel, cylinder bore choke, overall length of 39 inches, and an empty weight of only 6.25 pounds, making it easy to carry and operate around the house or outside. Longer barrel and load tubes are available for additional cost. MSRP starts at $245.



Savage Arms/Stevens 320 Security Bead Sight
Offering low cost and reliability, the Savage Arms/Stevens 320 Security 12-gauge starts with an 18.5-inch carbon steel barrel sitting over a 5+1 capacity bottom-loading tube and a 13.75-inch length of pull, and weighs in empty at just over six pounds. The entire shotgun is black, including the receiver and comfortable synthetic stock. Like the entire 320 line, the Security Bead Sight includes a proven rotary bolt and dual slide-bars. MSRP starts at $246.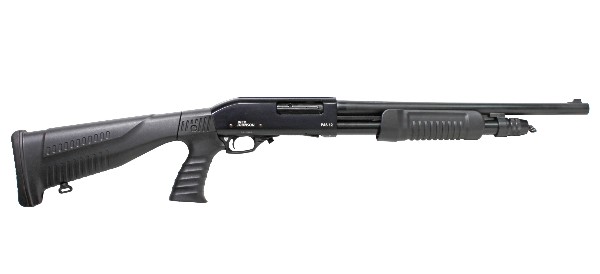 Iver Johnson PAS12 Pump
From Turkish manufacturer Armed Gun, but sold in the US by Iver Johnson, comes one of the coolest looking shotguns in this price range. The 12-gauge starts with an 18.5-inch barrel over a 14.5-inch length-of-pull and bottom loading tube with 4+1 capacity and overall weight of six pounds. But here's where it gets fun. The two-piece synthetic stock separates with the touch of a button, leaving the pistol grip and the butt end of the now smaller stock. MSRP starts at $277 but can be found in store for less, and a version without the two-piece stock sells for $257.



Stoeger P3000 Pump
Although this model comes in longer barrel options, the Stoeger P3000 Pump 18.5-inch barrel version is perfect for home defense. Available with a standard synthetic stock or a pistol grip for a slight up charge, the P3000 has a 4+1 capacity in the bottom-loading tube fed into the chamber but a 14.125-inch length-of-pull pump action. If you're not a fan of the standard black finish, you can pick up to five other finishes at no additional charge. MSRP starts at $289, but we found it at retail for $249.



H&R Pardner Pump Shotgun
Harrington & Richardson (H&R)'s 4+1 capacity 12 gauge is available in a variety of barrel lengths, up to 28 inches, so it can be used for home defense or picking fowl from the air. The defense version features an 18.5-inch barrel over a 14.25-inch length-of-pull pump action in a full black finish with synthetic stock and blued steel. At an empty weight of 7.5 pounds, it is a bit heavier than others in the same class, but it's certainly not unwieldy. MSRP starts at a very budget conscious $179.99.