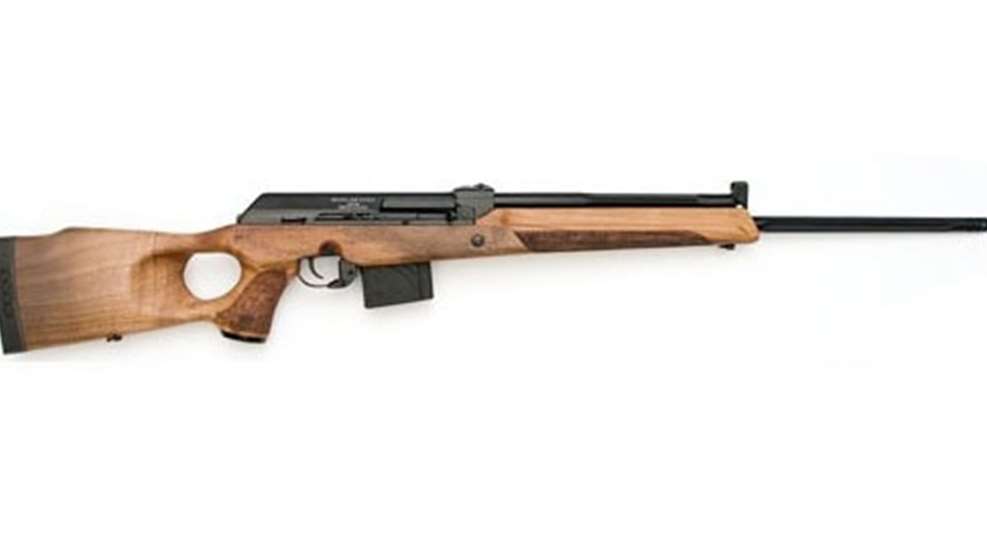 Most people are familiar with the AK-47 pattern rifle. Even those outside of the gun culture have seen AKs either in the news from abroad or in popular culture (the Libyans in "Back to the Future" to name but one example). Far fewer are familiar with the light machine gun Kalashnikov, the RPK, and fewer still are familiar with the "sporting rifle" built on that frame, the VEPR. A couple of decades ago, BATFE determined that, in order to be imported into the United States, a foreign semi-automatic rifle that accepts detachable magazines needs to have a "sporting purpose," and the VEPR, being a hunting variant of the RPK, passed the government test.
The VEPR (Russian for "wild boar") is available in .223 Rem., 7.62x39 mm, 5.45x39 mm and .308 Win., and features a stronger receiver than standard AK-47 variant rifles. The guns have hammer-forged barrels, upgraded walnut furniture and adjustable sights, as well as side-mounted rail-attachment points. Early VEPRs were imported with either 20- or 23-inch barrels, while current models have 16.5- and 27.5-inch barrel lengths available as well. VEPRs are generally considered to be the highest quality rifle based on the Kalashnikov design, and having owned and shot a number of AK-based rifles, that assessment is accurate.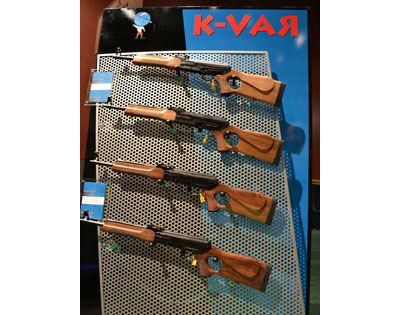 I acquired my VEPR six years ago, when it was one of the first models brought into the country as a "sporting" rifle—hence the thumbhole stock familiar to anyone that knows PSLs, Dragunovs or MAK-90s. One of the downsides to having a unique arm like the VEPR is that finding parts can be challenging. Now, though, with companies like K-VAR importing these rifles again, parts are easier (and cheaper) to come by, so it sees more rotation in the shooting lineup.
Shooting the VEPR has some pluses and some minuses. The good is the heft of the gun, combined with a generous rubber recoil pad, tames the .308 Win. recoil quite well and makes shooting it—even from a prone position—less punishing. It came with a genuine Russian POSP 4X scope, which was exchanged for this review for a Leupold 4-12x40 mm Mark AR scope. For long-range shooting, the clearer picture and superior optics of the Leupold worked much better than the former Soviet optic. This particular VEPR has a 23-inch barrel, and came with a single five-round magazine, although 10-round magazines are now available (and at a price that doesn't necessitate the selling of corneas).
After a few rounds to sight in the new scope, the VEPR settled in nicely. Accuracy was about what I expected for an AK-47-based firearm—certainly not terrible, but not Camp Perry worthy, either (though the last two, four-shot strings were produced groups inside of 2 MOA; not bad for off-the-shelf ammunition and a duffer behind the trigger). Shooting prone with the rifle on a Harris bipod, the recoil was quite manageable, while shooting offhand, though taxing with a rifle coming in at close to 10 pounds, was also not unpleasant. A sling, which I forgot to bring, would have been of immeasurable help.
With the price of even bulk .308 Win. being what it is, I decided against trying to light the handguard on fire. Besides, the walnut is rather striking and it would be a shame to singe it, but beware: the barrel does get hot after repeated strings.
While the AK-47 platform may not be the most accurate option available, it is known and renowned for robustness. The VEPR performed as expected. Five different brands of ammunition with different bullet weights and powders were handled with equal aplomb. From high-end, 175-grain target ammunition, to 147-grain, steel-cased bulk surplus, the VEPR loaded, fired and ejected everything fed into it. Neither accuracy nor reliability suffered from repeated range trips without detailed cleaning—it's a Kalashnikov.
The VEPR was designed as a hunting rifle, and with .308 Win. power and decent accuracy, it's well-suited for most game in North America. From the bench, it's accurate and easy to shoot. It is a very reliable gun that will work in any temperature a hunter is likely to endure, and its 100-yard accuracy is definitely within minute of deer, or wild boar. The VEPR is an unusual choice for a semi-automatic .308 Win., but it is likely to keep working for the foreseeable future no matter what you do with—or to—it.
Manufacturer: Vyatskie Polyany Machine-Building Plant (MOLOT)Action Type: Gas-operated, rotating bolt semi-automaticCaliber: .308 Win.Capacity: 5 or 10 roundsReceiver: black oxide finishBarrel: 23 inches; hammer-forged, chrome-lined boreRifling: 1:12.6-inchStock: Walnut thumbholeSights: Adjustable rear, drift-adjustable frontLength: 43.5 inchesWeight: 8 pounds, 6 ouncesMSRP: $1,029