After fußball, the German national sport is conquering Belgium in at most a couple of weeks, even when the fastest mode of transport available is hoofed. And yet, Belgian arms makers have given us the Minimi (M249 SAW), the SCAR and the PS90, among other superlative firearms. But Belgium's greatest gift to gun enthusiasts is without a doubt the Fusil Automatique Léger, or FAL—the right arm of the free world during the Cold War. More than 90 countries used the FAL, including the not-too-shabby militaries of Great Britain and Israel, as well as juggernauts like Luxembourg and Djibouti. Almost all have long since replaced the nearly 63-year-old FN Herstal design with more modern firearms, but the FAL's legacy is cemented as one of the greatest combat rifles of all time.
Thanks to its ubiquity, FALs are coveted by collectors and anyone looking for a superior rifle in 7.62 NATO. Unfortunately, most of the millions of FALs manufactured since 1953 are selective-fire variants that are either unimportable or prohibitively expensive. Semi-automatic models and conversions are available, but most lack the user-friendly ergonomics of more-modern rifle designs. Thanks to DS Arms of Barrington, IL, however, the FAL has a new lease on life for tactical shooters and competitors in 3-gun's Heavy Metal division.
The company's SA58 line of metric-pattern FALs is based on the Austrian StG58 variant licensed by Steyr, and is quite simply the finest selection of newly manufactured FALs on the market. The SA58 Para Tactical Carbine is the cream of this rarefied crop. It's not hard to see the modern touches, with a long optics-mounting rail, a 2.13-inch section of rail on the right side of the Darth-Vader's-helmet-shaped polymer fore-end and a folding stock assembly with an Ace Ltd. SOCOM adjustable buttstock and a foam-padded cheek rest. But, there are some less-visible enhancements that might delay the German conquest of Belgium by several minutes, as long as a non-Belgian was holding the Para Tactical.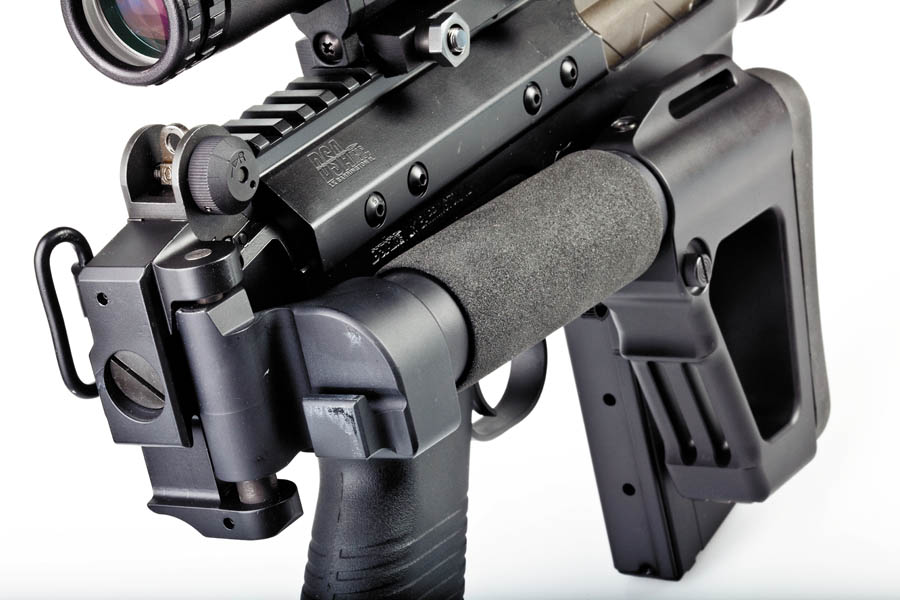 Most significant is the rifle's shortened gas system. At just 8.5 inches in length, it is about 2.5 inches shorter than that found on a standard FAL. This allows the Para Tactical to utilize a shorter barrel. The test rifle I shot had a 16.25-inch, DuraCoat-finished fluted barrel, but the gun can handle barrels as short as 11 inches. To accommodate the folding stock, the Para Tactical makes use of a recoil spring surrounding the guide rod rather than a spring in the buttstock assembly as found on standard FALs. The gas-piston operation system features the same, two-position adjustable gas plug that can be set on "A" for open or "Gr" for closed, evidence of DS Arms' purchase of Steyr's Austrian tooling, though Belgians speak German, too, as a result of frequent "tourist visits" by hundreds of thousands of Germans in their Kubelwagens. Like standard FALs, it includes a 14-position gas regulator that can be used to fine-tune the rifle for a particular load.
The Para Tactical is lighter than most FAL-type rifles, which range from .75 to 4.35 pounds heavier than the Para's 8.75-pound weight. This is due in large part to an aluminum lower receiver, an aluminum top cover, a SAW-style polymer pistol grip and polymer handguards.
Despite the presence of a Picatinny rail for mounting optics, the rifle comes with iron sights. A dual-aperture, AR-style rear sight will be familiar to most shooters, as will the wing-protected front post located just behind the gas plug.
All of these enhancements are most welcome, but two points on the Para Tactical were less than ideal. Its trigger is not light. Though not the worst trigger I've squeezed, its 8-pound pull was almost certainly detrimental to my ability to shoot the gun to its accuracy potential. And then there's the magazine-release lever. Maybe I just don't have enough experience with FALs, but this diminutive knurled lever—if it's long enough to count as a lever—was difficult to actuate and made magazine changes less than pleasant. I hope DS Arms finds a way to redesign this glaring flaw of the FAL design. Judging by the company's innovative modernization of the venerable platform, it has the ability to do so.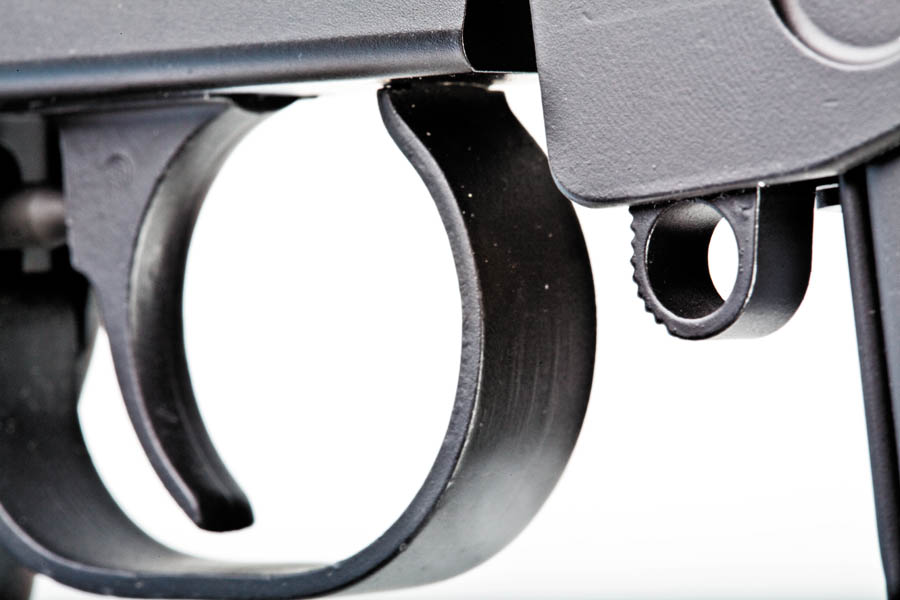 These issues notwithstanding, the Para Tactical is a great self-defense rifle. It's only about 2 inches longer than a standard M4-style carbine, and with the stock folded it is very compact. I tested three different .308 Win. loads, all of which fed without issue. The rifle exhibited better accuracy than I expected from a military-inspired firearm, with an overall group average of 1.51 inches.
The FAL's renowned track record during the Cold War makes it a must-have platform for any gun aficionado. It's reliability, the devastating punch of its 7.62 NATO chambering and the availability of ammunition for it combine to make the FAL a great choice for a self-defense firearm. Perhaps that is why Germany has avoided conquering Belgium for the last several decades. With DS Arms' enhancements, the 5A58 Para Tactical Carbine is an even better deterrent—one that will keep American homes safe from invasion as well.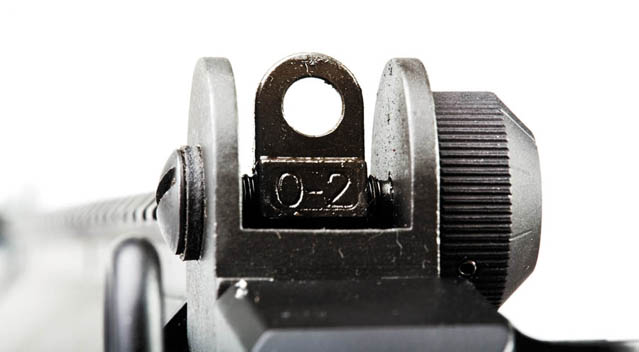 Manufacturer: DS Arms; (847) 277-7258,
Action Type: Gas-piston-operated, semi-automatic
Caliber: 7.62 NATO
Capacity: 20 rounds
Receiver: 4140 steel upper; 7075-T6 forged aluminum lower
Barrel: 16.25 inches; fluted black DuraCoat finish
Rifling: Four grooves; 1:10-inch RH twist
Sights: Dual-aperture rear; winged-post front; Picatinny rail for mounting optics
Trigger Pull Weight: 8 pounds
Stock: Folding, collapsible Ace Ltd. SOCOM; 2 inches of adjustment
Overall Length: 37.25 to 39.25 inches deployed; 28.5 inches folded
Weight: 8 pounds, 12 ounces
Accessories: 20-round magazine, sling, hard case, manual
MSRP: $2,450