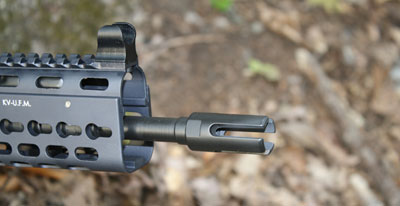 There are a fair number of manufacturers who focus their energies on making the highest-quality custom guns available. Many work on 1911s and ARs, but among the few that specialize in the AK platform, Marc Krebs from Krebs Custom of Wauconda, IL, stands out.
Krebs is always experimenting and looking for ways to improve the AK platform, and his latest rifle, the KV-13, exemplifies what he has achieved. He normally works with Saigas, but this time he selected another Russian AK-pattern rifle, the VEPR, made by the Molot (Vyatskie Polyany Machine Building Plant) factory.
VEPR AKs are rock-solid, semi-automatic, rotary-bolt, long-stroke gas-piston-operated rifles complete with a hammer-forged, chrome-lined barrel chambered in the traditional 7.62x39 mm. What sets them apart is the primary firearm made by Molot during the Cold War was the RPK squad automatic weapon, and the VEPR is essentially the civilian-legal version of the RPK. This light machine gun is essentially a beefed-up AK with a club-foot stock, a longer or drum magazine, and a longer barrel with a bipod.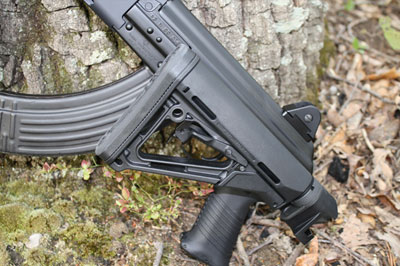 Notably, the VEPR uses a standard stamped receiver strengthened for heavy use—it is 50-percent thicker on either side. It also uses a heavy-duty front trunnuion, which is where the barrel connects to the receiver and where the bolt locks. This makes the receiver much stronger, with less flex when fired. The rear of the receiver has an angled cut that requires the use of an adapter to install different stocks.
Krebs first cuts the barrel down to 14 inches and then adds a permanently attached muzzle brake to bring the barrel length to 16 inches. The four-prong brake is made by Krebs and effectively reduces muzzle flash. The gas block is the modern type with a 90-degree angle, but it is hard to see because of the custom KeyMod handguard Krebs adds to the rifle.
This handguard provides 9.5 inches of Picatinny rail on top, between the front sight and the dust cover. The sides and bottom of the aluminum unit feature the KeyMod system, co-developed by Noveske and Vltor, which allows the user to more easily install rails or accessories anywhere along the handguard. It also runs 12 inches from the front of the receiver to almost the muzzle brake, which allows for a hands-forward grip while doing an excellent job of dissipating barrel heat.
As for the action, Krebs takes this already reliable system and improves it by smoothing and dehorning the edges. The trigger is tuned, and it is much crisper and more comfortable than any standard AK trigger I have ever tried. Krebs also adds his own outstanding safety selector that can operate as a bolt catch/release using just the trigger finger, thanks to an extension. (This safety selector is also an easy upgrade to almost any AK.)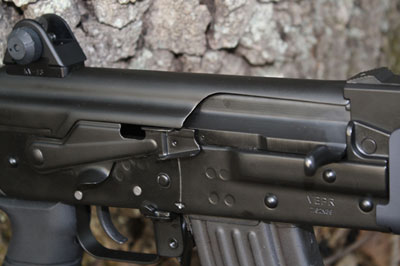 Sights on the KV-13 are also outstanding. Instead of the usual short-radius, post-and-notch sights found on most AKs, Krebs installs AR-style peep sights with a 19-inch sight radius. The rear sight is adjustable for windage, and the front sight is adjustable for elevation. The left side of the receiver has the standard AK optics rail for installing a scope.
The TAPCO SAW Style Pistol Grip is large, but comfortable, and features significant interior storage space. Mated to an ACE folding stock adapter, the mil-spec AR buffer tube will accept any compatible, collapsible AR stock. The rifle I tested has a six-position Magpul CTR stock. Folding the stock is fairly easy and makes this a super-compact long gun for transport or storage. Best of all, it can be fired with the stock folded.
The KV-13 will accept standard AK magazines, and one steel mag was included, though I found the fit to be a bit tight. Fit and finish are outstanding; KrebsKote solvent-proof finish replaces the standard Russian bluing.
On the range, the KV-13 was very handy and well balanced. Empty cases ejected brusquely and tended to land about 20 feet away and slightly forward. There were no failures of any sort, which isn't surprising given the reputation of both the AK and Krebs.
For accuracy testing, I used a forward-mounted Zeiss Z-Point red-dot sight. This small 1X sight mounted low enough to allow me to co-witness it with the iron sights. The intensity of the illuminated reticle self-adjusts for brightness depending on the amount of ambient light, which is handy when going past shadows or from inside to outside of an enclosure. Though the 3.5-MOA dot in the Z-Point may give up precision at longer ranges, it was adequate for my testing at 100 yards.
Accuracy was combat-acceptable, with groups ranging between 3 and 5 MOA. No one ever claimed the AK was a target rifle, but it is most certainly reliable and tough. Krebs can build AKs to suit the individual customer's tastes, and options abound.
Specifications:
Manufacturer: Krebs Custom; (847) 487-7776, krebscustom.com
Action Type: Gas-piston-operated, semi-automatic
Caliber: 7.62x39 mm
Capacity: 30 rounds
Barrel Length: 16 inches (with permanently attached muzzle brake)
Finish: KrebsCote
Sights: AR-style peep
Stock: Folding; Magpul CTR
Length: 26 inches (folded); 33.75 inches (collapsed); 37.75 inches (extended)
Weight: 8.5 pounds
MSRP: $1,850
Shooting Results:
| | | |
| --- | --- | --- |
| Load | Velocity | Average Group Size |
|   |   |   |
| Hornady 123-grain SST | 2,116 | 4.43 |
| Remington 125 grain PSP | 2,074 | 5.10 |
| Winchester 123-grain FMJ | 2,149 | 3.63 |

Velocity measured in fps 15 feet from the muzzle for 10 consecutive shots with a Competition Electronics ProChrono chronograph. Accuracy measured in inches for three consecutive, five-shot groups at 100 yards.