by
Shooting Illustrated Staff
posted on October 17, 2012
Support NRA Shooting Illustrated
DONATE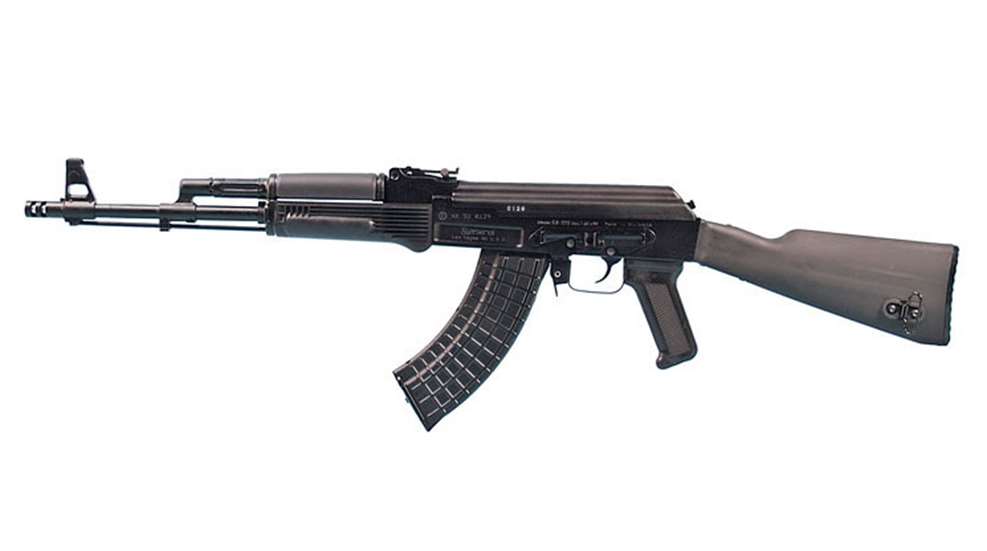 Arsenal, Inc., the premier American importer and manufacturer of Kalashnikov-pattern rifles, is proud to offer to American shooters the Bulgarian-made SLR-101S. This 7.62x39 mm rifle combines authentic, high-quality features rarely seen in the American market. From its intermediate-length trapdoor buttstock to its removable four-port muzzle brake, every component of the SLR-101S is engineered to provide decades of dependable and accurate service. The SLR-101S rifle is bound to become a sought-after shooter and collectible firearm.
Arsenal's Exclusive Milled And Forged Receiver:
Each SLR-101S receiver is milled from a hot-die hammer forged receiver blank by the Arsenal Co. of Bulgaria. Other milled-receiver AKs are machined from bar stock, but Arsenal's hot-die hammer forging produces stronger and finer-grained steel. Internal voids and cooling deformations are eliminated by the 5-ton hammer forging process.
Each forged receiver blank requires over 5.5 hours of milling before assembly. This forging and milling process is complex and time-intensive, but Arsenal's meticulous attention to detail delivers a receiver of unequalled strength, precision and durability.
SLR-101S Features:
100 percent new-production parts and components.
Bulgarian hot-die hammer forged receiver, bolt, bolt carrier and double-hook trigger.
Cold hammer-forged 16.3-inch barrel from Arsenal's Bulgarian factory, built on Steyr manufacturing technology.
Hard-chrome plated bore and chamber.
Removable 4-port muzzle brake with 14x1 mm left-hand threads.
AK scope rail.
Intermediate length US-made 10-inch trapdoor buttstock. (Total length of pull 13.4 inches.)
922(r) compliant with US or imported magazines.
Substantially extended service life over other types of assemblies.
Specifications::
Caliber: 7.62x39 mm
Weight: 8 pounds
Barrel: 16.3 inches chrome-lined, 4-groove rifling, 1:9.45-inch twist
Overall Length: 36.5 inches
Magazine Capacity: 10 rounds (included); accepts all mil-spec magazines
MSRP: $1,019