by
posted on June 26, 2019
Support NRA Shooting Illustrated
DONATE
After close to a decade of importing and exporting military weapons for U.S. and allied forces, Global Ordnance decided to turn its attention to the commercial market with the introduction and takeover of several well-established international brands. Interested in getting our hands on some of this gear, we attended the 2019 Big 3 East Media Day where we first met John Dilley, director of Commercial Operations.

"Global Ordnance has expanded into the commercial market to bring the consumer the same quality and reliable products that we have been providing to the military, defense and law enforcement industry for years through our overseas and U.S. manufacturers and supply chain," Dilley said.

As we wrapped up a full day of shooting, we decided to have some products shipped home to get a closer look and put in some testing on a controlled range. Here's a synapsis of what we wound up with and how it fared in our brief evaluation.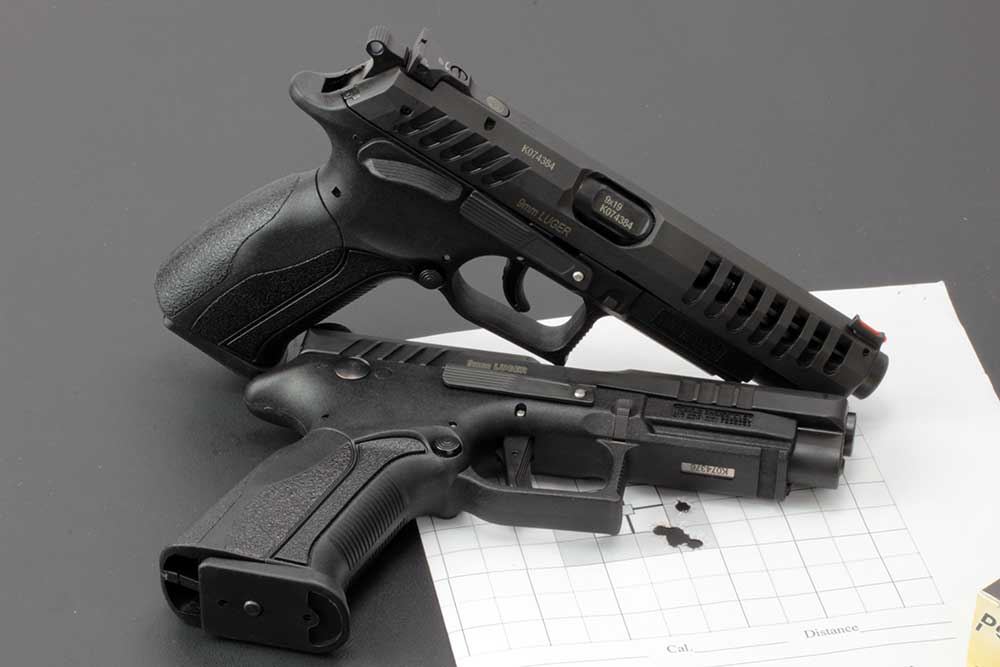 Grand Power

Probably the most-recognizable brand in the Global Ordnance line up goes to this Slovakian firearms manufacturer, famous for its rotating-barrel handguns. We received a Q100 and an Excalibur and ran them both for speed and accuracy. Both pistols were chambered in 9 mm, which made them naturally tame to shoot, but the rotating bolt on both firearms made them feel like shooting a .22 LR. Follow-up shots were blazing-fast, as there was little to no recovery from recoil. The Q100 and The Excalibur both delivered astonishing accuracy, with 15-yard groups hovering around an inch, with the best group of the day measuring just .75-inch when using PolyFrang ammunition. The hammer-fired Excalibur is a double-action/single-action design and also sports a manual safety. The Q100 is essentially a striker-fired version of the Excalibur, featuring a more-streamlined safety that is more suitable for carry. The Grand Power line of pistols includes many more designs and calibers to include .380 ACP and even .22 LR. The company is also importing the pistol-caliber Stribog platform shown at the top.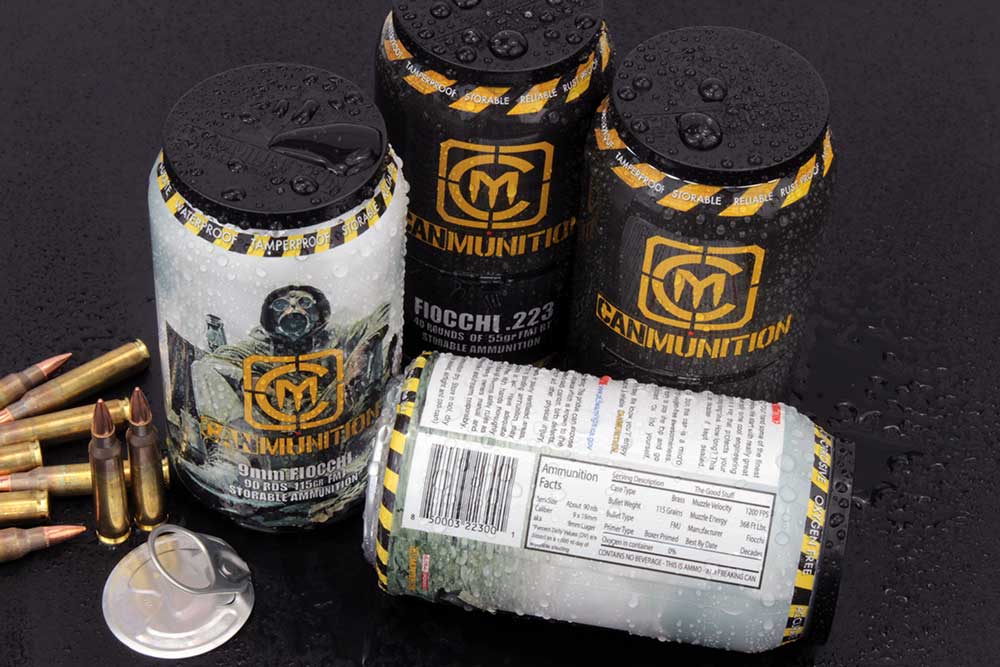 CanMunition

While the Grand Power pistols have been around for a while, the next product we spent some time with was completely new. It centers on the idea and need to keep ammunition safe from the elements, particularly for extreme-long-term storage. CanMunition brings that idea home in a fun, little package. Using a beverage can, Global Ordnance has jammed them full of Fiocchi 9 mm or 5.56 NATO ammo. Nitrogen is pumped into the can to remove all oxygen, and then the can is vacuum-sealed. The cans are opened with a traditional pop-top and include a plastic cover to snap on in the event you didn't finish all of your rounds in one range visit. We tested two cans by leaving them out in the elements for a week which included two rainstorms and punishing direct sunlight. On range day, we test-fired both cans and achieved 100-percent ignition. Neither can had a broken seal as indicated by the pssssst of cracking open a can of freedom. Accuracy was on par with any other FMJ ammo from Fiocchi that we fired and did just fine for everyday target use.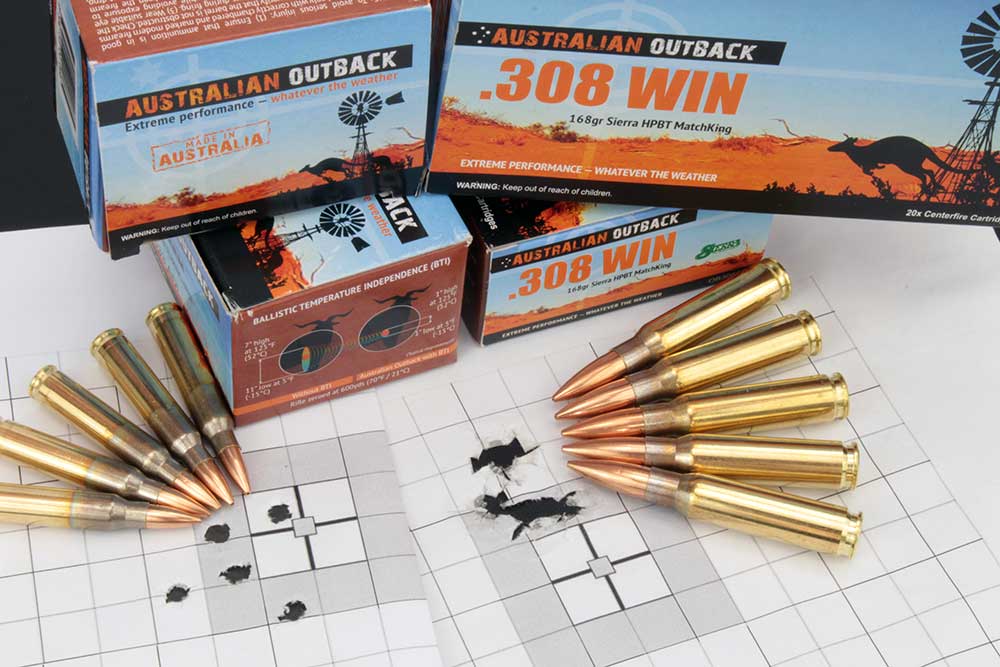 Australian Outback Ammunition

Factory ammunition is known to change its point of impact depending on the weather. While man has no control over the bullet once it leaves the barrel, we can control what happens to it during ignition. Using temperature-stable powder, Australian Outback ammunition has very little change in point of impact from cold weather to warm weather. This advantage used to be reserved to the handloader, but now it is available for those that do not have the time to put in on a press. The folks Down Under also use bullets from famous manufacturers such as Sierra and Hornady to drive home that handloaded accuracy out of factory ammo. We obtained a sample of the company's 168-grain Sierra MatchKing .308 Win. and its 69-grain Sierra MatchKing .223 Rem. Both rounds gave us minute-of-angle accuracy in every one of our five 5-shot 100 yard groups, but for our final and tightest group was shot with the .308 Win. across a 30-degree temperature range. To achieve this, we fired the first two rounds at 7 a.m. with an ambient temperature of around 55 degrees and then fired the last three rounds of the group at 3 p.m. with an ambient temperature of 85 degrees. Point of impact did not shift and our group was still sub minute-of-angle.

While this list of products is not comprehensive, it really highlights the keen eyes of the team at Global Ordnance and the company's hand in specialized firearms and ammunition you won't see many other places. While Global Ordnance's current offerings are flying off the shelf faster than they can import them, I only look towards the future to see what they will be bringing in next. For more information and a complete list of what the company imports for soldier and civilian alike, visit global-ordnance.com.