by
Shooting Illustrated Staff
posted on November 19, 2017
Support NRA Shooting Illustrated
DONATE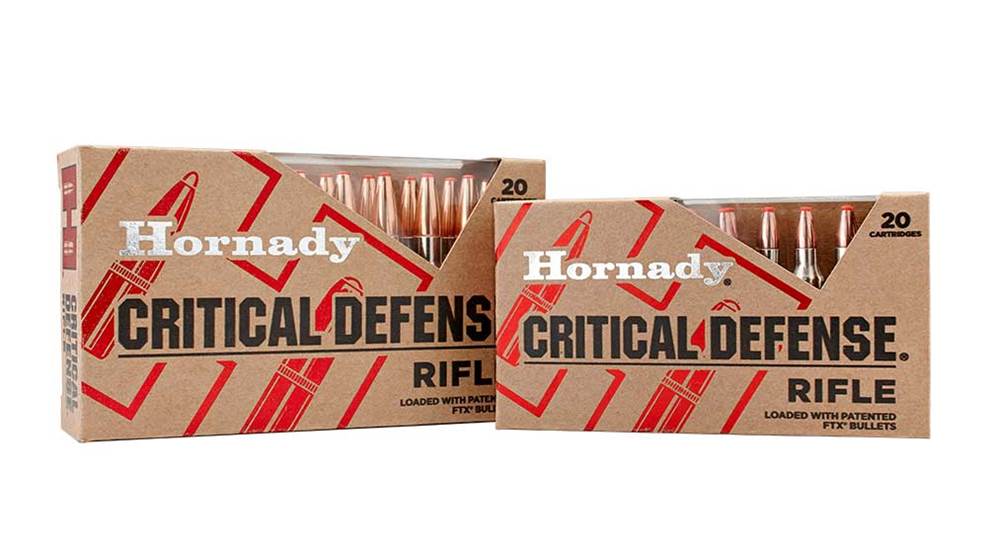 Hornady
expanded its line of Critical Defense ammunition late in 2017, bringing new offerings in rifle calibers to the personal-defense oriented product lineup. The new ammunition options include chamberings in both .223 Rem. and .308 Win.
"Critical Defense is for personal protection," Hornady Vice President Jason Hornady said. "It's a natural progression for us to add Critical Defense Rifle to the Critical Defense line of ammunition."
The new rifle-caliber ammunition options in the Critical Defense line include two options in .223 Rem., one loaded with a 55-grain bullet and the other loaded with a 73-grain bullet. The final addition in .308 Win. provides users with a 155-grain bullet.
Each rifle round is loaded with the company's patented FTX bullet design, which incorporates a unique Flex Tip that is designed to ensure that the bullets expand quickly and reliably, even after passing through thick clothing and other barriers encountered in a home-defense scenario.
"These new bullets are designed for close quarters," Hornady said. "They're going to expand violently so you don't have to worry about overpenetration into other rooms. It does everything that we wanted to have happen in the regular Critical Defense line, but now we're giving it to you in a rifle."
Hornady Critical Defense Rifle ammunition is also loaded in bright, polished, nickel-plated cases. The use of nickel-plated cases provides a number of benefits in a home-defense setup. First, the slick casing ensures that rifle function is unimpeded by the ammo itself, thanks to the added lubricity offered by the nickel plating. Second, the bright nickel can be seen easily, even in low-light situations, making it simple to check if a rifle is loaded before counting on it for personal defense.
In addition to the FTX bullet and the nickel-plated case, Hornady also formulated a special propellant designed to reduce muzzle flash and recoil, ensuring that those who use their rifles for home defense aren't handicapped through the bright flash of excess propellant being burned outside of the barrel or from excess recoil pulling them off target and preventing them from taking fast follow-up shots.
"Making the decision to protect yourself or those that you love with a firearm is a big choice," Hornady Ballistics Engineer Jayden Quinlan said. "We wanted to make sure that we offered ammunition with terminal performance characteristics that would meet the requirements of those types of situations."