by
Shooting Illustrated Staff
posted on October 4, 2011
Support NRA Shooting Illustrated
DONATE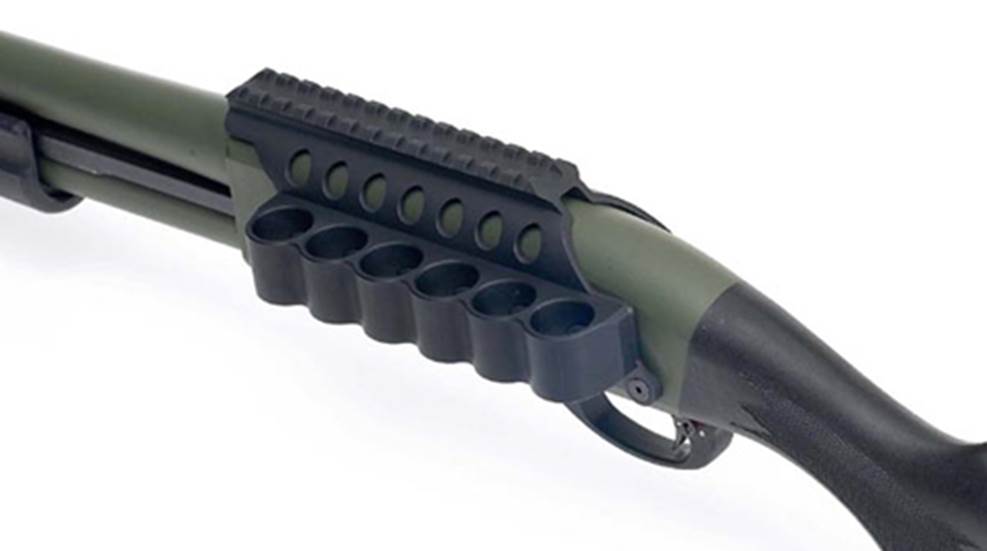 Mesa Tactical's aluminum SureShell shotshell carriers are an industry standard and the preferred choice of most federal, state, and municipal law enforcement agencies due to their hard anodized aircraft aluminum construction and fail-safe shell retention system.
Mesa Tactical has been supplying shell carriers for the Mossberg 500 platform since November 2005, but this current announcement highlights the availability of integrated shell carriers and optics rail assemblies. Similar products have been available for the Benelli M2, Benelli M4 and Remington 870 platforms for years, but this is the first time integrated shell carriers and rails have been offered for the Mossberg shotguns.
"These shell carrier and rail combinations have been wildly successful since we introduced them for the Benellis in 2006 and the Remingtons the following year," said Mitch Barrie, President of Mesa Tactical, "we are pleased and excited to finally start offering them for the popular Mossberg pump shotguns."
SureShell shell carrier and rail assemblies for the Mossberg pump shotguns feature four-, six- or eight-shell shotshell yokes fitted to a bracket incorporating a MIL-STD 1913 (NATO STANAG 2324) Picatinny optics rail. The rail bracket is secured to the shotgun receiver using the optics rail mounting holes already drilled and tapped into the Mossberg receiver at the factory. With most part numbers, the optics rail stretches most of the length of the shotgun receiver, or about 4½ inches, allowing the mounting of a red dot scope or other target acquisition aid.
Full length rails
In addition to the standard 4½ inch rails, Mesa Tactical is also offering four-, six- and eight-shell carriers in a full length (20 inch) configuration. Twenty inch rails allow the use of back up iron sights (BUIS) in addition to optics. The full length rails are supported at the front by Mesa Tactical's new Magon™ magazine clamps. A unique feature of the full length rail and Magon clamp system is the ability to completely field strip the weapon, including removal of the barrel and bolt carrier, without tools, leaving the rail and clamp intact.
A full length rail is also available with no shell carrier.
Prices and availability
The SureShell carriers with rails are available today in all capacities and in both 4½ inch and 20 inch rails. The Magon clamps for support of the front of the 20 inch rails include either a ventral Picatinny rail or a QD sling swivel stud.