AR-15s with pistol braces have become immensely popular in recent years, thanks to the compact package offered by these designs. There are all kinds of brace types, from blades to loops to all manner of other styles, but what most of them have in common is that they attach to the fixed buffer tube at the back of an AR receiver and, as such, are fixed in place. This means that, while you may enjoy the benefits of a short barrel on your AR-15, your pistol is still going to have a longer overall length because of the long buffer tube at the rear end of your gun.

This is where the Maxim Defense CQB Pistol PDW Brace for the AR-15 comes in. The PDW brace uses a proprietary buffer tube that accepts either its own proprietary buffer. springs or the JP Rifles Silent Capture Spring (more on that later). The PDW Brace weigh is built features two quick-detach mounts (one on either side) and collapses down from 9.24 inches fully extended to just 5.375 inches when fully closed. The PDW Brace also has two notches and an easily accessible locking tab, allowing it to be opened and used at two positions in between open and fully collapsed.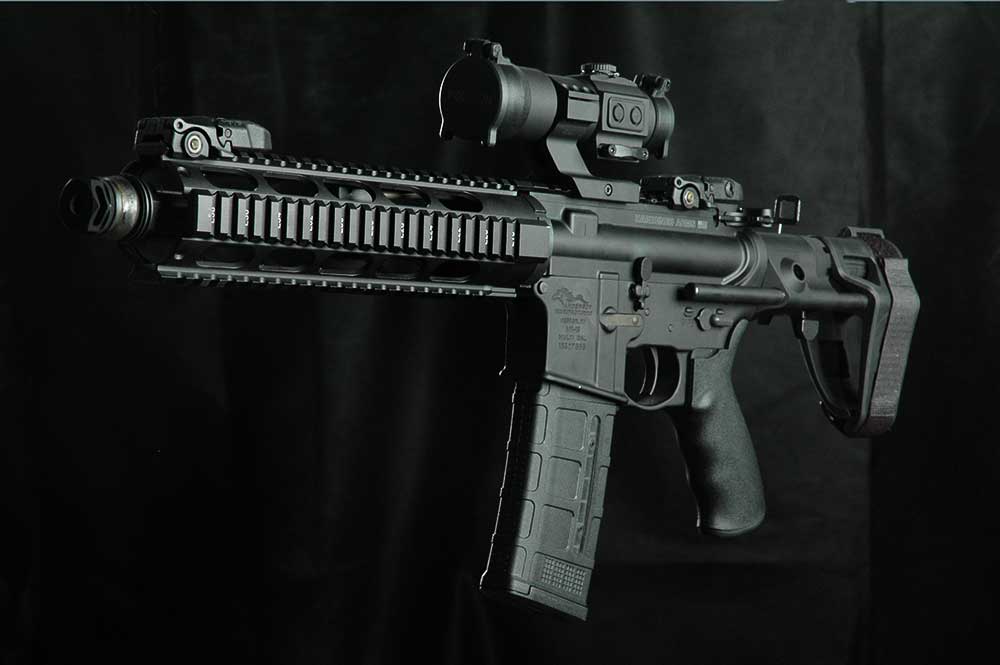 I chose to install the PDW brace on my .300 BLK AR pistol using the JP Rifles Silent Capture return spring. Installing the PDW Brace is very easy, even for someone with questionable mechanical skills (like myself). Just remove the existing buffer spring assembly, loosen the castle nut on the buffer tube (taking care to keep track of the safety detent spring and the buffer detent spring), and remove your existing buffer tube assembly from your lower. Thread on the included buffer tube and brace, then slide your selected buffer spring assembly, and you're ready to go. Installation was so easy, it took me 15 minutes to install, literally on my kitchen table, with nothing more than an AR-15 armorer's wrench.

The JP Silent Capture buffer spring is an optional extra for the Maxim CQB Pistol Brace, and its names gives you a clear idea of what it does and how it performs. The Silent Capture spring is a self-contained unit that doesn't require a retaining pin to hold it in place: The spring and buffer are an integral unit, and it performs just like a normal buffer spring does, just without the "sproing!" of the spring expanding and contracting right next to your head as you fire your AR-15. I honestly never realized how annoying that sound is until I put some rounds downrange with the Silent Capture spring installed in my gun, and now I'm considering adding one to all my AR-15s.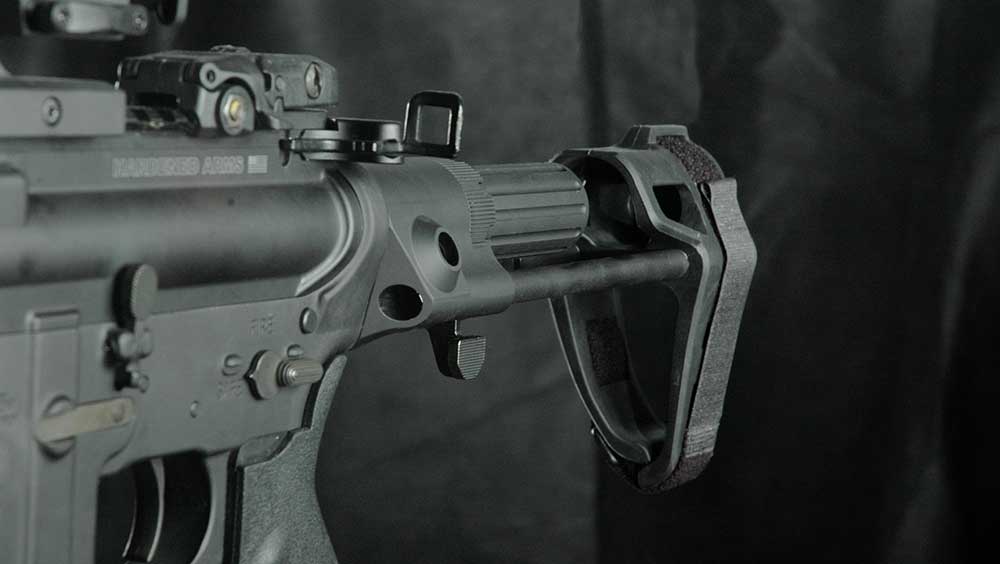 On the range, I experienced no hiccups whatsoever with the combination of Maxim Brace and JP spring in my pistol. I shot 120 test rounds with that setup on my .300 BLK pistol, a mixture of 120-grain SIG Sauer solid-copper ammunition along with 125-grain, 150-grain and 220-grain ammo, and everything worked as it should. The brace dramatically shortened the overall length of my pistol, making it easier to carry around and allowing it to be concealed in some places where you wouldn't expect an AR pistol to fit. I found it easy to extend and deploy the brace using the quick-release lever on the bottom of the brace with either my left or right hand, which is a nice feature for left-handed shooter such as me. Speaking of quick release, there are two QD sling mounts on this brace, one on either sling, making it easy to attach most slings to your AR-15 when using this brace.

If you're looking for an adjustable length brace for your AR pistol, you can't go wrong with the one-two punch of a Maxim Defense CQB Pistol PDW Brace and the JP Rifles Silent Capture Spring. The MSRP for both pieces starts at $470, and what they add to your AR pistol is worth every penny.