by
Shooting Illustrated Staff
posted on October 7, 2014
Support NRA Shooting Illustrated
DONATE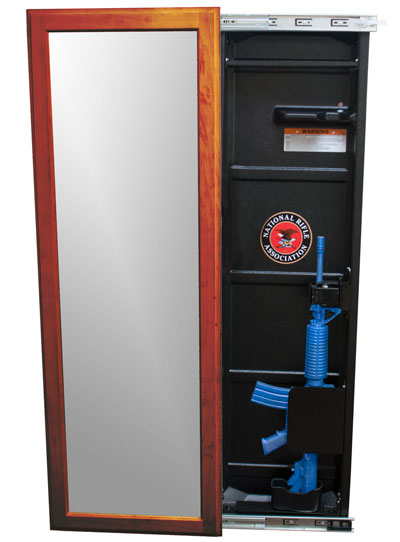 When it comes to your firearm: Lock it up, don't leave it out!  NRA Jotto Gear believes this mantra should extend to all gun owners, and for every budget.  To help gun owners keep their firearms accessible but safe and as part of the "Own it? Respect it.  Secure it." initiative created by the National Shooting Sports Foundation, the company is now adding a new Manual Locking NRA Home Defense Cabinet to its line, which carries a lower price tag than previous models.  Because firearm responsibility is just as important as our right to bear it.
The new Manual Locking NRA Home Defense Cabinet is constructed of the same materials and top of the line technology as the original cabinet but without the biometric unit, which has a proprietary live fingerprint detector.  Instead the unit opens via a key locking system.  The inconspicuous cabinet sits recessed in your wall and after installed, appears as a simple wood-framed mirror, flush with the wall.  The unit comes with an unfinished or stained maple wood frame to help users match any home décor.  Unobtrusive and unnoticeable to the naked eye, the mirror is ideal for the bedroom, hallway or for other areas of the home that may have regular visitors or children passing through.
Access your firearm from the cabinet quickly but securely with a simple two-step process. Start by using the quick release latch hidden just behind the wood frame.  Once this is done, slide the mirrored panel to the side to access the manual locking system which utilizes a traditional key lock entry system.
The patent-pending Manual Locking NRA Home Defense Cabinet is available in two models.  The single firearm unit is designed for an AR/AK style firearm or shotgun with an MSRP of $395.  The dual firearm unit includes added space to accommodate an AR/AK style firearm or shotgun and a handgun and has an MSRP of $549.  Both units are available in a medium or unfinished maple wood frame and measure 60 inches by 20 inches.  They also include a utility shelf for a flashlight, utility knife or other items.
NRA Jotto Gear offers officially NRA licensed products designed to intelligently store and keep your firearms and other gear accessible. In addition to the NRA Manual Locking Home Defense Cabinet, products include the NRA Home Defense Cabinet featuring a biometric locking system, NRA Handgun Holster and the NRA Cargo Slide for pickup trucks.  All products are constructed of the finest materials and technologies available and are manufactured at the highest standards in order to deliver superior products worthy of the Jotto Gear and NRA names. NRA Jotto Gear is an affiliate brand of Jotto Desk, offering computer mounts and docking & mounting stations for mobile professionals as well as being the only Total Solutions Provider for the Public Safety market.