Training with blueguns and other replica pistols can cause bad habits. So Laser Ammo and Smart Firearms Training Devices (SFTD) came together to offer shooters a professional level of training that encourages preparedness and safety.
To combat the bad, and often times dangerous, habits that can come with pistol replica training, the new Advanced Professional Level Laser Training Pistol features an accidental-discharge sensor. An audible alarm will sound when the shooter places his or her finger in the trigger guard before he or she is ready to shoot. This lets handlers get better control over their trigger finger.
"This pistol is ideal for anyone who wants to protect themselves from negligent discharges in the future – and it's a method trusted by over 90 major law-enforcement departments," said Chen Shoshani, Laser Ammo VP of business development and sales. "With the Red or IR innovative optic laser from Laser-Ammo, now civilians can experience the same versatile, effective skill-building tool. When you add our new electronic targets or Smokeless Range® simulator, there's no better tool when it comes to interactive training. Laser Ammo is introducing this tool to meet the needs of shooters of all skill levels who want to practice in a variety of scenarios, from home defense and tactical shooting to steel-plate, and professional competition training," Shoshani said.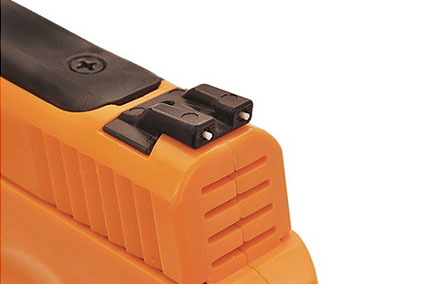 The Advanced Professional Level Laser Training Pistol features a buzzer, night-sight for night drills, magazine changes and compatibility with visible red and IR lasers. While the laser communicates with the gun in a patent-pending way, users have the ability to choose pulse length depending on his or her needs.
MSRP $260 to $395, dependent upon model.