by
Shooting Illustrated Staff
posted on January 12, 2014
Support NRA Shooting Illustrated
DONATE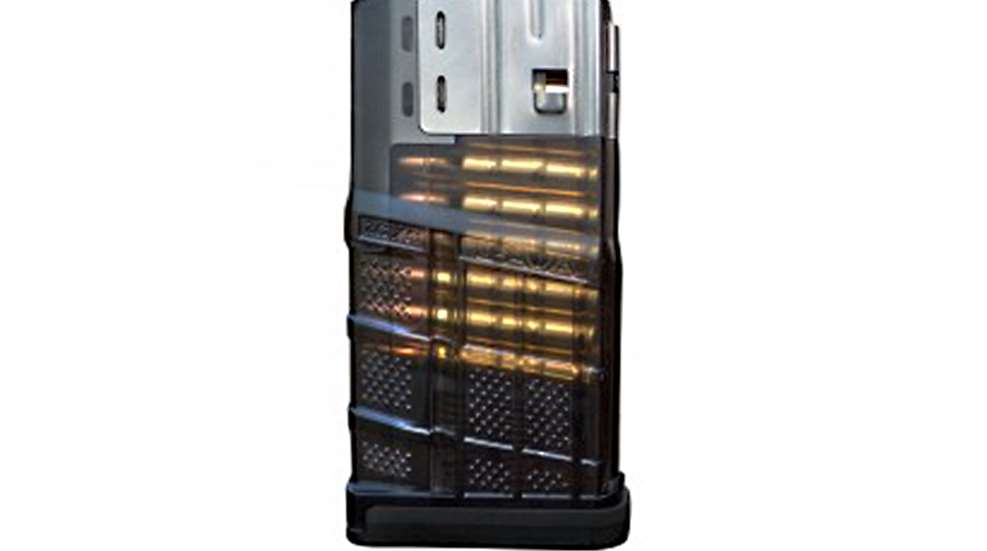 Lancer Systems LP announces the launch of the new L7AWM, an advanced hybrid magazine that combines the strength of steel with the toughness of polymer to form a lightweight, reliable 7.62x51mm magazine.
The Lancer L7AWM incorporates a unique, dual steel design that wraps completely around the magazine to maximize stiffness and feeding reliability while minimizing wear and dimpling to the front of the magazine that can result from high volume firing. The magazine body is made from impact resistant polymer and, like the L5AWM, is available with either a translucent or opaque body.
The magazine also contains a switchable drain located on the floor plate lock. This feature, in conjunction with drain channels in the floor plate, allows users to configure the L7 between water-borne and extreme dust conditions.
The magazine is designed to work in multiple weapon systems, including the SR25, SIG716, DPMS 308 and LM308. It is currently available in 5,10 and 20-round capacities with higher capacity versions planned for late 2014.
"We've found that innovation doesn't just happen; it takes knowledge, technology and passion," said Scott Vilardi, business area manager, Advanced Weapons & Components, Lancer. "Our engineers, technicians and scientists are the best in the industry, allowing us to continue to raise the bar as is evident in the design of the L7AWM. The L7AWM represents state-of-the-art design in weapon component technology."