Support NRA Shooting Illustrated
DONATE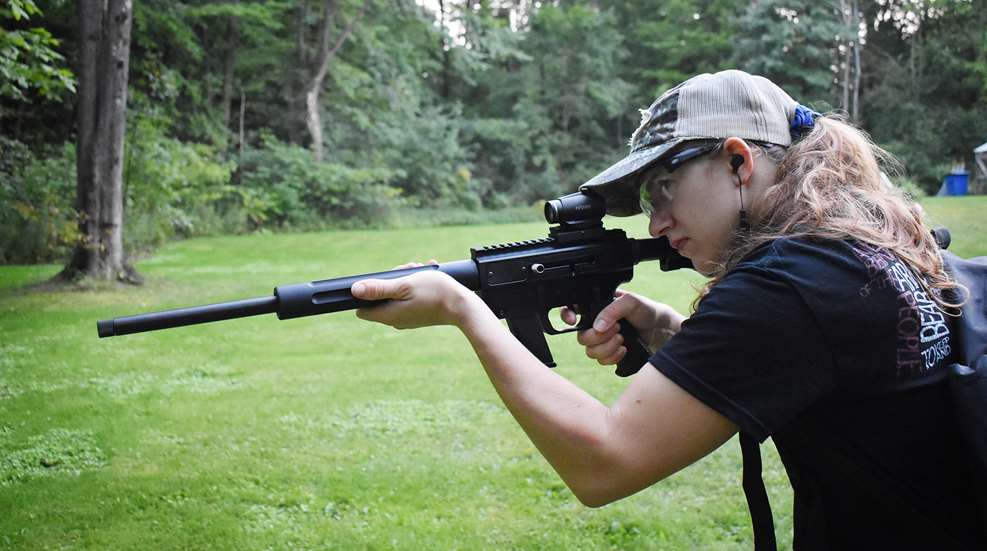 Crowded. The lines are long, people are obnoxious and you just want to get out. You find your escape in a little hole-in-the-wall restaurant, underappreciated and underhyped, though with the best food you've had in some time.
Just Right Carbines (JRC) is a hole-in-the-wall gun company. They produce an amazing product, though most have never heard of them – and they do it 100 percent in the USA. Made in New York, they produce models for everyone, restricted and unrestricted states alike, in several colors and patterns (model/configuration dependent).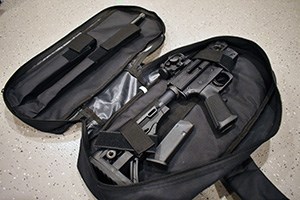 The stand-out feature of this carbine is its incredibly quick takedown. After ensuring the gun was clear, I unscrewed the fore-end, and pulled it up over the barrel. One twist and the barrel was out too. I could take this gun apart and put it back together in seconds — no tools required. The test model I received came with the JRC sling pack, a black crossbody 600-denier bag with special pockets and straps to secure the fore-end, barrel, and receiver. Aside from the interior which opens flat, there are several large pockets with magazine loops. The outside has an abundance of straps to accommodate MOLLE attachments. 
JRC = Just Right Carbine
I mounted a Hawke Vantage Red Dot on the receiver's integrated Picatinny and went to town furiously sending rounds downrange. I started at 7 yards, not sure where the rounds would hit, and moved back to 25 yards. While I'm certain this gun will hit consistently at further distances—and I'm curious as to group size at distance with a scope—my purposes in testing this unit were purely for self-defense with plinking as a bonus.
Carbines are generally fun to shoot, but I found this one especially entertaining. With an ambidextrous charging handle, magazine release and ejection port, the semi-automatic action felt like shooting a cross between an AR-15, Ruger 10/22 and a bolt-action rifle. The charging handle was easy to release. Lift up the handle and it would fly forward. Pull it back and push the handle down into a recess to lock the bolt open. All JRC carbines accept Glock magazines. I tested stock 9mm Gen 5 mags and magazines with a Glock Store Double Diamond extension. All functioned. I had one malfunction, but I believe this was due to operator error — the rear of case was not fully seated in the magazine. Considering the number of Glock-compatible magazines and drums available, capacity isn't an issue.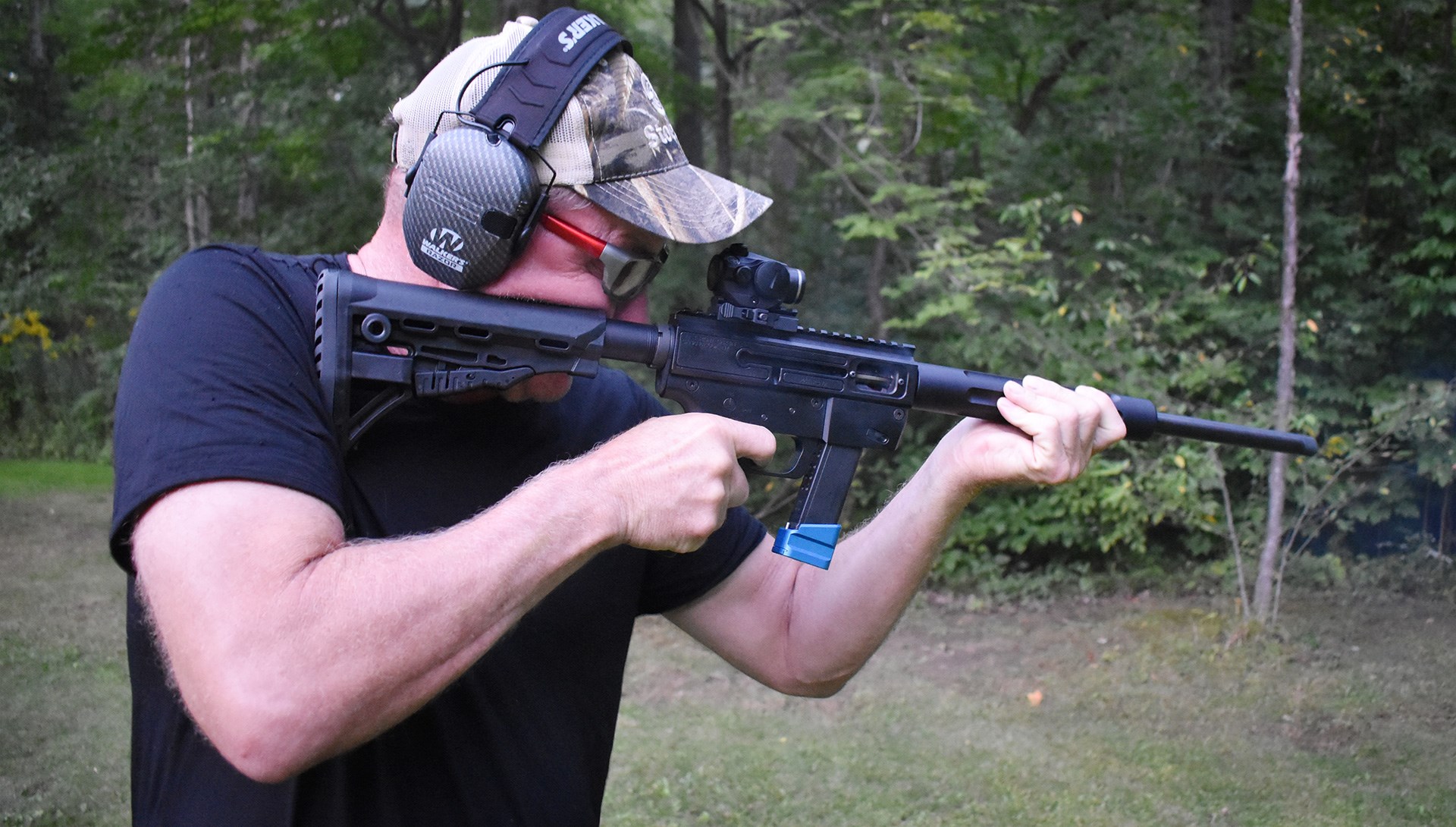 JRC's website advertises a limited lifetime warranty and great customer service, just like every site out there. I can personally attest they stand behind their products. I received a 9mm Standard Takedown Model for review and the parts fit so tightly I couldn't remove the fore-end and barrel. I contacted JRC and they determined I had received a model from the first batch coated by a new anodizing process.  The coating was just a little too thick, locking everything up. They swiftly apologized and remedied the situation. The warrantied gun takes down to receiver, barrel, and fore-end without much muscle at all.  
JRC carbines are available in several calibers: 9mm, .40 S&W, .45 ACP and 10mm. The 9mm and .40 S&W models also accept Smith & Wesson M&P mags. This essentially creates a modern version of the one cartridge, two guns model popularized in the Old West. While carrying any matching caliber pistol and the carbine allows for ammo compatibility, carrying a Glock or Smith & Wesson (9mm or .40 S&W) with the matching JRC carbine allows for complete magazine interchangeability. JRC also produces an FMK magazine well, making their guns compatible as well. 
Break It Down, Carry It With You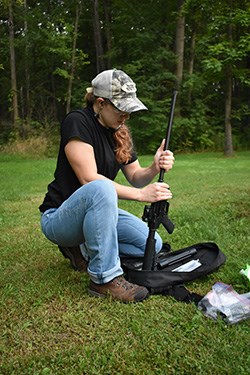 The takedown, as well as JRC's other offerings, are incredibly modular. Caliber conversions allow for several guns in one. If you decide you want more room for accessories on the takedown model, you can also swap out the fore-end for an M-Lok fore-end with barrel nut. The tradeoff is slower takedown, but you can always switch it back. 
I noticed it's important to twist the fore-end on as tightly as possible. I accidentally began to unscrew the fore-end when I grasped it to shoot. It's also important to keep your fingers fully forward of the action to prevent being hit with smoke, flash, and blast. The ambidextrous chamber design allows the user to check the chamber from either side of the gun, but also increases the visible blast.
The trigger was smooth and the 9mm barrel was threaded for ½x28 tpi muzzle devices. With a 17-inch barrel and a 34.5-inch overall length with the adjustable stock fully extended, this gun falls well above the ATF NFA specs. A short-barreled rifle becomes an NFA item when the full length of the gun is under 26 inches. With the minimum stock extension, the gun measures 31 inches in length, which is a bit long but is still quite maneuverable.
When firing the JRC carbine, it's important to keep track of how many rounds you have in your magazine, especially in a self-defense situation or if you need to perform a tactical reload. The JRC action does not lock open when you finish firing, so you'll need to drop the empty magazine, insert a new one and pull the charging handle back. This is still easy to do in about the same amount of time it would take to close an AR bolt, but you need to be prepared for it.
Ten-shot groups at 25 yards with three types of ammunition yielded consistent groups but varying results. Remington UMC 9mm 115 grain FMJ ammunition provided by Ammunition Depot produced approximately a 1.5-inch group, as did Federal American Eagle 147 grain FMJ FP. Federal Premium Law Enforcement 124 grain HST JHP produced approximately a 3 inch group and had a noticeably different recoil. Overall, I was very happy with its performance—I shot freehand and braced off readily available objects to simulate real-life uses. A scope and steady rest would likely produce even better results. 
JRC Carbine Specifications:
Manufacturer: Just Right Carbines 
Barrel Length: 17 inch
Overall Length: 34.25 inches extended, 31 inches collapsed
Weight: 6 pounds, 8 ounces
Operating System: Blowback
Action: Semi-automatic
Receiver: One piece machined from 6061-T6 Aluminum and hard-coat anodized
Components: STD, M4/AR15 pistol grip, safety, trigger, stock, and mil-spec tube
Ambidextrous: Yes – for ejection, charging handle or both
Fore-end: Fluted takedown tube
Stock: Telescoping & position collapsible M4 style buttstock
Finishes available: Black, Kryptek Highlander (10mm black only)
Models Available: Standard, California, Restricted/SAFE act (black only) and Canada-compatible
JRC carbine's takedown carbine is a great, portable option for self-defense, general plinking and the revered "truck" or "bug-out" gun. What really sets it apart is its modularity, available caliber conversions, and accessibility—there is a carbine just right for you no matter what state you live in. MSRP for the JRC Carbine starts at $649, and more information on this gun is available at justrightcarbines.com.