by
Shooting Illustrated Staff
posted on February 15, 2012
Support NRA Shooting Illustrated
DONATE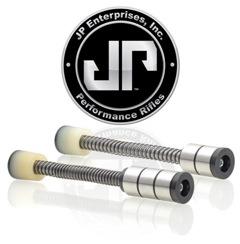 For 2012, JP continues this tradition with the debut of the new Silent Captured Spring System (pat. pend.) for both large- and small-frame ARs.
This self-contained spring/buffer assembly unit completely eliminates the AR's ever-present "wood rasp" sound generated by the scraping of coarse Mil-Spec springs in the extension tube each time the rifle is cycled. With the JP Silent Captures Spring, each cycling of the action is silent and smooth with no residual twang or vibration during live fire. Even in rough extension tubes, the JPSCS yields superb results since the spring runs on a rod guide similar to 1911 rod guide system and therefore never contacts the tube.
The quest for the smoothest, quietest AR has been an active pursuit of JP Enterprises engineers for nearly a decade. Beginning with years of highly critical review of buffer tube manufacturers with an eye towards the interior finish quality, JP finally introduced their own line of centerless-ground and precision-polished custom buffer springs in 2010, which made the crisp sound of a JP action all but unmistakable.
The final culmination of this quest, the JP Silent Captured Spring System is available in two models for either large- or small-frame rifles with an optional spacer for compatibility with both full-length and carbine operating systems. The JPSCS unit can also be easily disassembled to allow for precision tuning of the operating spring with substitute spring kits in a variety of rates coming soon from JP.
For more information on JP Enterprises and the Silent Captured Spring, visit their website at www.jprifles.com and keep up to date on the newest JP developments at www.facebook.com/JPRifles and http://twitter.com/#!/JPRifles.