What I mean is the best initial conceptions and/or modifications are born in the garages and basements of men who spend (or spent) their formative years sending lead and copper-jacketed projectiles into free flight and wondering how to do it more efficiently. John Paul of JP Enterprises is just such a man. The products his company provides were derived from his competitive-shooting experience spanning nearly four decades. JP Enterprises does not limit the design influence on its competitive AR platforms to a singular point of view, though. The company also draws from its customers' experiences and input to continually refine its product lines. (For a gallery of photos of the PSC-11, go here.)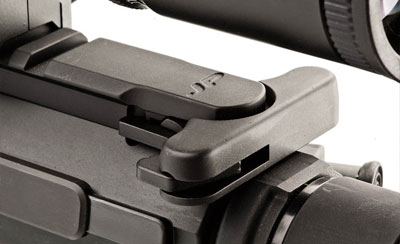 The company's original side-charging AR—the LRP-07—has been a popular tool in the hands of .308 Win. aficionados since it debuted several years ago. I tested one in 2008, and found it held sub-MOA to 600 yards and 1 MOA at 1,000 yards. Not many full-production gas guns can make such a claim.
The LRP-07's non-reciprocating, left-side charging handle was a big hit with customers, prompting the company to answer calls for a side-charging AR in 5.56 NATO with the SCR-11. The newest edition to the 5.56 line is the PSC-11 upper-receiver assembly, which will interface with any small-receiver AR lower (whereas the larger LRP-07 must be used with a JP Enterprises lower).
My test sample had a PSC-11 upper and a JPE-15 lower. This rifle outperformed any factory 5.56 NATO semi-automatic I have tested to date.
One common characteristic of all JP Enterprises rifles I've tried is they are built to shoot and move. The PSC-11 balances very well in hand and begs to be let out of the corral when picked up, in spite of its heavy barrel and 8.6-pound weight. I wasted no time hitting the range after mounting a magnified optic and bipod to do the accuracy portion of my testing.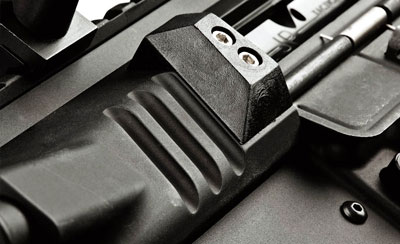 The PSC-11's flattop upper receiver provides the usual space for optics and the upper itself is JP Enterprises' unique design—beefier in some areas, but with unneeded metal removed in others. The left-side charging handle rides in a slot milled through the receiver, locking forward by way of a spring-loaded catch that doubles as the handle. The side-charger is not captive, meaning like a traditional AR charging handle, it cannot be used as a forward assist.
In the past, I had problems with the LRP-07's aggressive charging-handle flare catching on gear. As such, I was glad to see the PSC-11's handle is angled slightly inward to allow an easy grip without too much protrusion. A word of caution here: Ensure this handle is fully forward before releasing the bolt via the bolt stop. I learned the hard way the side-charging handle can catch your hand on its forward stroke as you press the bolt release if it is not pushed completely forward. This (self-correcting) shooter error feels eerily similar to a ruler slap on the knuckles.
A traditional forward assist is present, as is the old-school charging handle. The latter feature is unique to the PSC-11 and leaves the shooter with two choices for bolt manipulation. A polymer brass deflector is bolted to the receiver just aft of the ejection port. The JP Enterprises Full Mass stainless steel bolt carrier and SAE 9310 high-grade steel bolt provide extreme-duty reliability and simplify cleanup when the fun is over.
The lower receiver uses a JP Enterprises Low Mass buffer, ACE skeleton stock, Hogue rubber grip, Magpul enlarged polymer trigger guard and a beefy ambidextrous selector. The company's original-style, single-stage adjustable trigger and speed hammer are held in place by anti-walk trigger and hammer pins. I found the trigger to be consistently crisp, breaking cleanly at 2.8 pounds.
An optional, extra-long, free-float fore-end was included on my test rifle, adding to the already ample real-estate choices for add-on items. The low-profile gas block maintains JP Enterprises' signature adjustability by way of a hex-key screw. Its adjustable regulator is a boon to suppressor enthusiasts or anyone firing custom loads that require tweaking the gas system. I did not mount a suppressor. Instead, I opted to reap the rewards of the excellent JP Enterprises Compensator that was seamlessly blended with the stainless steel barrel. Recoil management with this rifle was excellent and on par with all my previous work with this same brake.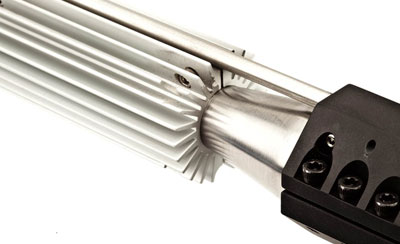 JP Enterprises' heat sink—installed around the barrel, under the free-float tube—came in handy during testing in the 95-degree Carolina heat. Distortion of my target image through the scope due to barrel heat was negligible. I enjoyed firing successive five-shot groups without having to stop for cooling. Accuracy with the PSC-11 was very good, with 77-grain projectiles averaging .6 MOA at 100 yards. The 1:8-inch twist rate also handled 55-grain projectiles well and, coupled with the .223 Wylde chamber, makes this gun a versatile shooter. The chamber allows use of both 5.56 NATO and .223 Rem. ammunition with better accuracy than a NATO chamber and none of the pressure issues associated with 5.56 ammo in a .223 Rem. chamber (which is never recommended).
I attached the PSC-11 to one of my AR lowers to ensure compatibility after accuracy testing on the company's lower. During a series of close-range drills, I enjoyed the rifle's great balance and rapid return to target. The system chewed through 130 rounds of mixed ammunition without a hiccup.
We all appreciate good rifles and I am always impressed when I come across a production gun that shoots as well as custom rigs. JP Enterprises continues to turn out high-quality platforms for discerning shooters around the world, and I expect the PSC-11 will grace more than a few equipment rosters in short order.
Manufacturer: JP Enterprises; (651) 426-9196, www.jprifles.com
Action Type: Direct-gas-impingement, semi-automatic with adjustable regulator
Caliber: 5.56 NATO (.223 Wylde chamber)
Capacity: 30 rounds
Barrel: 14.5, 16, 18, 20 (tested) or 22 inches; stainless steel match
Rifling: 6 grooves; 1:8-inch RH twist
Finish: Hard-coat anodized with black Teflon
Stock: A2 or ACE ARFX (tested)
Trigger: Single-stage, adjustable from 3 to 4.5 pounds
Sights: None
Length: 40.4 inches
Weight: 8 pounds, 9 ounces
Accessories: One magazine, operator's manual, "GasGunBasics" DVD
MSRP: PSC-11 with JPE-15 lower, $2,399 ($2,424 as tested); PSC-11 upper only, $1,699