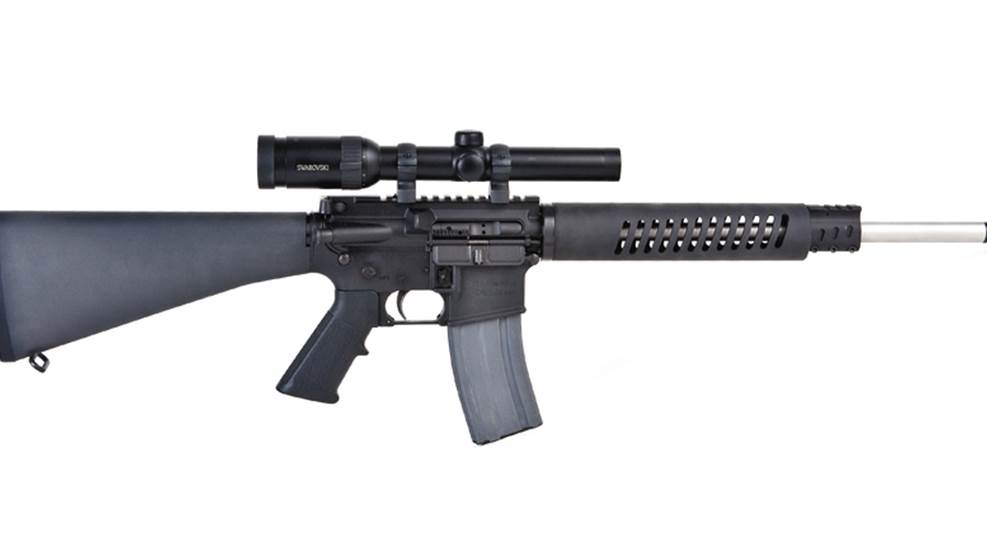 That is, until the company sparked a good deal of surprise within the firearms industry by adding the non-1911 GP6 to its handgun line. 
This year STI has proved, yet again, it's not afraid of attempting something new. It has released not one, but two AR-15 offerings as part of the company's new Sporting Rifle line. Given STI's passion for building quality firearms, it piqued my interest. Needless to say, when the rifles arrived for testing, my curiosity was primed. At first glance, both possessed the attention to detail and quality consumers have come to expect from STI. Unfortunately, I could only evaluate one and the Tactical Sporting Rifle won the mental ring toss.
A thorough examination of the rifle revealed a product just as contradictory as its name. Unlike the plethora of other "tactical" ARs on the market, a telescoping stock is absent. That's not necessarily a bad thing. As the office AR addict, I've worked with quite a few M4-style stocks, and none are without flaws. The most noteworthy is a sloppy fit between the buffer tube and buttstock, making a loose-fitting, wobbly and less-than-ideal platform for precision shooting. While the A2-style stock may score low for some on the "high-speed, low-drag" scale of coolness, the truth is it offers a rock-solid base from which to shoot.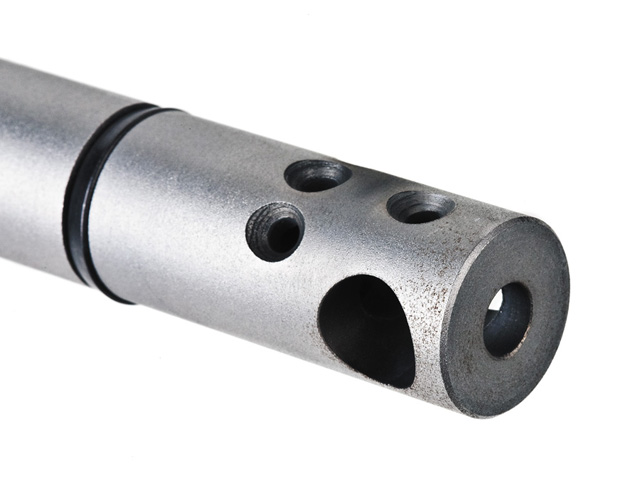 The rifle's upper receiver, A3-style with an integral Picatinny rail, adds to its versatility by providing virtually limitless potential for mounting a wide array of optics and accessories. Should primary optics fail, a second strip of Picatinny rail is also found of the top of the Tactical's gas block as a means of outfitting the rifle with iron sights. The rifle also features a mid-length gas system to help keep fouling to a minimum. One of the biggest clues this rifle is intended for tactical use pertains to its custom STI Valkyrie, free-float fore-arm. The tube contains several pre-drilled and tapped holes, 1 inch apart, at both the top and bottom to accept additional JP Enterprises Picatinny rail sections. I consider this a welcome change from the rail-clad fore-arms presently flooding the black-rifle market. The fore-arm also contains a number of slots, which I first considered a decorative attempt at dissipating heat. It turns out I was only half right. Their design and 1⁄2-inch centers enable owners to mount additional rails at virtually any angle on the fore-arm.
While it's true railed fore-arms have their place, I find the majority of civilian AR owners collect cool widgets on every rail section like Boy Scouts do badges. Newly acquired whatnots add to a rifle's wow-factor, but they also add weight. I consider STI's alternative to the traditional quad-rail fore-arm a much-needed cure for the dreaded AR affliction, accessoritis. To the untrained eye, STI's Tactical Sporting Rifle may seem rather sparse in its bare-bones configuration, but at just less than 7 pounds neat, I determined this AR possesses a tremendous amount of hidden potential—proving looks can be more than just a little deceiving.
I decided to pull the rifle's take-down pin to see what other goodies were concealed inside STI's latest offering. The inclination soon proved worth the price of admission as seen by the presence of a JP Enterprises Trigger Group, which includes a set of the company's custom springs along with a truncated mil-spec hammer.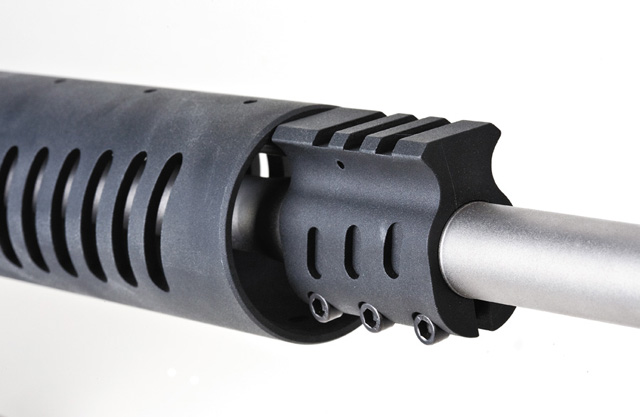 Available in either 5.56 NATO or .223 Rem., the Tactical's 16-inch, 410 stainless steel barrel contains a 1:8-inch rate of twist lending itself—yet again—to versatility through a wide range of bullet weights and uses. The barrel sports a Nordic Components Tactical Compensator attached via standard 1⁄2x28 threads. My only complaint regarding the barrel pertains to its finish. When it comes to tactical firearms, use of stainless steel is generally avoided to reduce glare.
When it comes to shooting ARs, I consider it the ballistic equivalent of "quality time." Something about Eugene Stoner's creation resonates with me. My time with STI's Tactical Sporting Rifle proved equally enjoyable—and surprising.
For optics I selected a Swarovski Z6 1-6x24 mm scope for two reasons: Its low-magnification range, which should prove more than adequate for precision shooting at either CQB or intermediate distances, and because it was my first opportunity to sample the company's products afield.
The Tactical performed quite well, but unfortunately not without incident. Numerous failure-to-feed-type stoppages occurred with Winchester 50-grain Ballistic Silvertip, requiring me to manually cycle the action for every shot.
Seeing no obvious flaws on the gun's factory-supplied 30-round magazine, I suspected the malfunctions were a result of STI's fondness for building firearms to tight tolerances, thinking the behavior would subside once the rifle wore-in.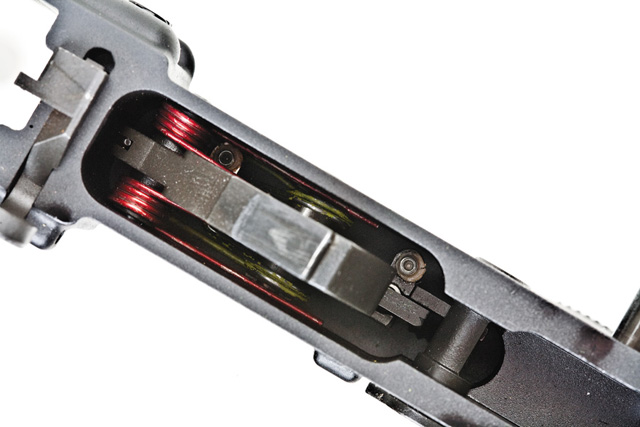 Unfortunately, the stoppages persisted. Despite the rifle ejecting fired cases, the bolt consistently failed to send Hornady's 55-grain load into battery. Despite the problems, with the aid of the rifle's divine, 3-pound sear release, the best Hornady group printed at .75 inch.
In the end, the day belonged to the Black Hills 69-grain hollow point, which not only cured the afternoon's jam session, but the heavier bullets also produced noticeable changes in group consistency.I talked to STI's Darrel Bishop, who is responsible for creating the company's AR line, and he said they use mil-spec buffer components to function with a wide range of bullet weights. He overnighted an identical rifle—to confirm the first rifle would have been one of the few to have ever been returned for work—and I returned to the range to function test. I sent a wall of lead screaming downrange and, as expected, the STI ran flawlessly with the lightweight bullets.
It didn't start smooth, but in the end STI's Tactical Sporting Rifle proved to be extremely versatile, and its potential for accuracy is eerily similar to what shooters have come to expect from the company's 1911 line.
Manufacturer: STI International; (512) 819-0656
Type: Gas-operated, semi-automatic
Caliber: 5.56 mm or .223 Rem.
Capacity: 30 rounds
Receiver: Machined, 7075 aluminum upper and lower receiver
Barrel: 16 inches; 410 stainless steel; complete with Nordic Components Tactical Compensator
Rifling: 6 grooves, 1:8-inch RH twist
Stock: Fixed; A2-style
Sights: None; A3-style integral Picatinny rail for use with optics
Trigger Pull Weight: 3 pounds, 6 ounces
Length: 36 inches
Width: 1 1⁄2 inches
Weight: 6 pounds, 7.8 ounces
MSRP: $1,328